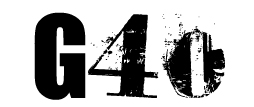 G40 Home Page Calendar of Events Mural and Exhibit Locations Participation in the G40
Mural Artists G40 Group Show Weapons of Mass Change Exhibit More Than Sunshine Exhibit

Aaron Jasinski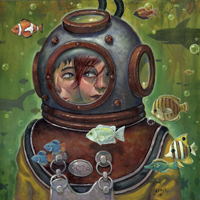 Aaron Jasinski, a Seattle native, graduated from Brigham Young University in Utah with a BA in Fine Art, with concentration on illustration and design. His passion for creativity is shown through his drawings, paintings, and music. "Design and art are the central passions of my life. I feel that my interest in visual and audio communication has given me added depth in problem-solving," His artwork can be classified as dark surrealism, and within it, he creates magical worlds. Jasinski explains, "The motivation behind my work is to create images that spark the imagination, art that questions rather than answers. I enjoy painting people in surreal and moody situations, often with an underlying sense of humor that I hope can be both endearing and poignant."
Aaron Kraten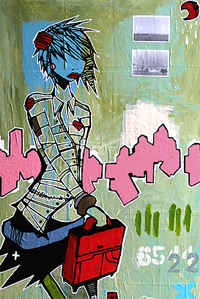 My art has a strong pop culture and graffiti influence , I really dig incorporating my surroundings into the finished pieces. The art is mostly mixed media on either wood or canvas , I don't use brushes and most of my methods are unconventional which keeps the creative wheels always turning to make new and exciting work.
Aaron Reichert
Painting, I participate in the boundless world-at-large. I paint because a painting lasts and I will not last. I only paint human beings and I expect that will not change. My interest has always been in individuals. Their emotion, their mysteries. Extinguishing color, I isolate each face absolutely. Sheering away vanity to present a humanity that is alive while in decay - just as we are.
Adrian Viajero Roman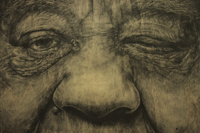 Adrian Roman is a mixed media artist focusing primarily on sculpture and drawing. His paths in life have been dedicated to the pursuit of simultaneously exposing himself to a wide range of learning experiences and cultures and sharing that information and knowledge with those he encounters. Exploring his search for identity and assimilation in the face of cultural differences and the impact it has in the reflection of a people. His work demonstrates that one's life is nothing more than a voyage of infinite possibilities. Through our travels, we stop briefly to meet, love and share encounters with one another; however precious, these moments are transient and serve as vessels to influence the lives of others.
Akira Beard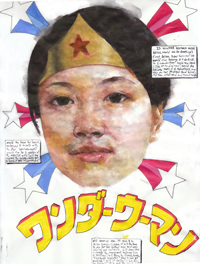 Whether teaching, exhibiting, or creating art itself the source of my practice is based on communication. Currently I teach painting and drawing at the Academy of Art University San Francisco, where I also graduated from in 2004. Besides teaching on the college level, I have worked with high school students, as well as teaching art to the elderly in hospitals and nursing homes through the non-profit group 'Art With Elders'. My personal work reflects on cultural/social/universal empathetic expressions, and can be found exhibited at White Walls gallery in the tenderloin district of San Francisco, as well as other galleries throughout the bay area. I also participate in various charity events aimed towards community involvement, such as a benefit for Japan relief fund, the Coalition on Homelessness' annual art auction, the SPCA (animal shelters) and the Oceanic Awareness Collaboration which aims at educating the youth about the harm of plastic on the environment.
Aleloop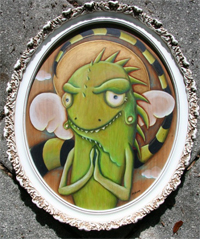 Award winning artist Aleloop, former Sr Art Director of Vh1, Nickelodeon and LOGO Latin America. Aleloop has been designing, illustrating & animating for MTV, 7UP, Dr Pepper, Cartoon Network, XBOX, iTunes, Nickelodeon, TNT, Nicktoons and many more brands from her studio in Coconut Grove, Miami. Originally from Argentina, Aleloop loves the Grove life surrounded by peacocks, giant Iguanas, weird stuff, cats, minidog and several imaginary creatures. After a lifetime of creating purely digitally, Aleloop successfully made the transition from design and animation to fine arts. Exhibiting immediately after starting painting in acrylics a whimsical world of quirky creatures that she doodles all the time and creates stories for each of them. Aleloop has exhibited her art at Optic Nerve at the Museum of Contemporary Art in Miami, Art Basel, Red Dot Art Fair, Miami International Art Fair, and many more. She's currently working on the first episode of an animated series with some of her characters including the Chihuahuas in Space FBI agents.
Alexander Key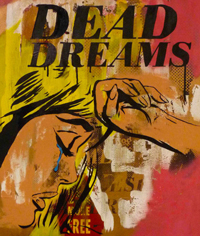 Alexander Key is a graphic design major with a passion for fine art. His work focuses on fusing graphic elements into their own compositions on canvas. His work is made using a variety of media and techniques such as screenprinting, stencils, and hand painting. His work could be classified as mixed media pop art; made with a combination of digital and analog methods. The work itself is often sampled fragments of pop culture juxtaposed together, making the viewer re-evaluate the new context of the imagery. "Appropriation can be used as such a powerful tool to examine the world around us, and make something exciting out of existing sources". Key will graduate from Virginia Commonwealth University in May 2012 and will continue making canvas work, hopeful that it can someday be his full time career.
Allison Sommers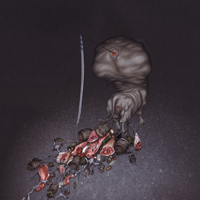 Allison Sommers is a Brookyln-based visual artist working primarily in gouache. She creates complicated, intricate, sometimes uncomfortable worlds of meat, vegetation, and birds and beasts of various sizes. She graduated from the University of Virginia with a BA in History.
Allison Torneros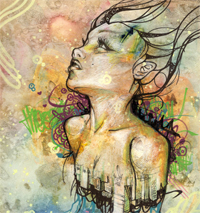 Allison Torneros is a new breed of pop artist. As a mixed media painter and graphic designer, she creates hybrid works driven by fast images and the online community. Taking a reactive approach to the creative process, she allows her paintings to do the 'talking': by throwing paint in an unpredictable manner, leaving it to dry overnight, then interpreting the random composition. Working on multiple pieces simultaneously, Torneros superimposes images implied by the paint. Her style is strikingly different, and the work is highly accessible. So much so that clothing giant The North Face recently teamed up with Allison Torneros to come up with her own unique line of art on apparel. And, following the success of Nom Nom Truck, food truck branding and design has also become a niche for the young artist.
Angry Woebots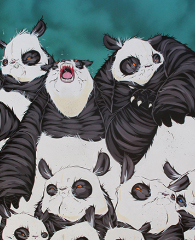 Aaron Martin was born on the island Oahu 1977, Hawaii. Most of his childhood was spent growing up and moving from Southern California to Nevada before finally landing back into Hawaii during his Junior year in high school. In 1999 a car accident changed everything; this life-threatening experience inspired him to leave the island once again, this time to Seattle, Washington. Inspired by the rain and being indoors, he started playing around with different art mediums again. He then left back to Hawaii with a new perspective, Aaron had his first show in 2002 and has not stopped. He has showed in galleries up and down California, the east coast, and even in shows that have traveled from the U.S. to Hong Kong. His focal medium is acrylic paintings on wood and canvas. Using minimal colors and detailed character design, these paintings are usually comprised of stressed out emotional pandas. The pandas tend to represent the story of struggle.
Arabella Proffer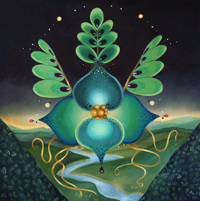 Arabella is a painter, designer, and co-founder of the indie label Elephant Stone Records. Her loose narrative themes revolve around a fascination with punk rock, aristocrats, Renaissance fashions, aging socialites, pre-code cinema, gothic divas, medical history, and rock 'n' roll groupies. She attended Art Center College of Design in Pasadena, CA before receiving her BFA from California Institute of the Arts, and has participated in solo and group exhibitions throughout North America and Europe. Born in Ann Arbor, Michigan, she has taken up residence in many cities including Laguna Beach, Los Angeles, and Boston. She currently lives with her husband on the shores of Lake Erie in Cleveland, Ohio.
Arijit Das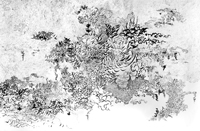 Arijit is an installation artist who works with paint, ink, water, rice, styrofoam, metal, mylar and other random materials. He swears he was Japanese in a past life, and is obsessed with clouds.
Aunia Kahn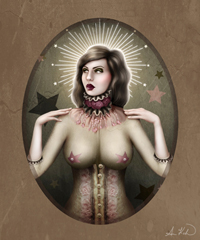 Born on December 5th, 1977 in Michigan, is a self taught figurative artist who began creating art as a therapeutic response to a difficult upbringing. Kahn's works combines many disciplines, wrapping them into a hybrid art form melding photography, painting and collage. She invariably designs, builds, and executes characters, non-existent places, dreams, illusions, fears and fables into creation, which meld elements of classical and contemporary art. Each work makes use of her own likeness in movie-like stills, dealing in varied taboo and often controversial subject matter to challenge the viewer, their understanding and preconceived notions; yet she connects through honest feeling and emotions. Aunia's work has constantly evolved, earlier works dealt more with her past, while her more recent creations delve into present emotional conflicts and inspirations.
Blaine Fontana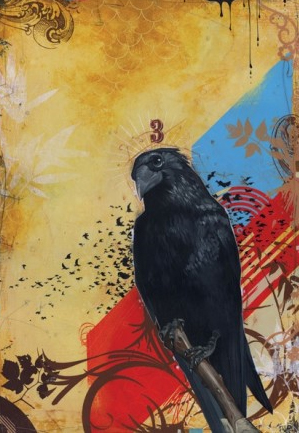 Blaine Fontana currently lives and works in Portland, Oregon. Imbuing his vision with the divine symbolism of religious myths, worldly folklore and current social dynamics, his works contain a kind of shamanic exploration of meaning that recognizes the totemic quality and power of the image. With extensive experience within the design world, including working as a designer for Felt Bicycles and acting art director for Zero+ Publishing, Fontana's work displays a virtuosic understanding of sign & simulacra and their role within our contemporary visual culture. Straddling the physical and metaphysical, organic and architectural, painterly and graphic sensibilities, Fontana fuses multiple visual strategies to forge an aesthetic language entirely of his own making.
Bobby Weres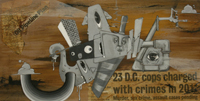 Born in Silver spring, MD, raised in Montgomery county, and now live in Fairfax county.Been an artist since I popped out of my mom. I find beauty in all art so I have not ever been judgmental of styles or other artists. I enjoy working with any artist who has a good head on their shoulders and loves to create. I don't no where art will take me in life and i don't really care as long as i create i am whole.
Brendan Tierney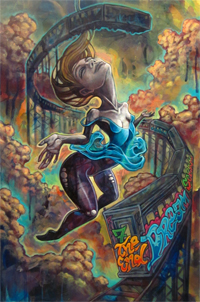 I was born in the magical land of New Jersey. Ever since my mother gave me my first set of crayons and then proceeded to cover her walls and furniture with imaginary creatures; I have been expressing myself with visual art of all sorts. From graffiti, to punk rock album covers, to fine art galleries, I have scrawled my way across the country. I started tattooing eight years ago, and love to do big, colorful, unique pieces that I sit down and design with each client until they know they can live with it for the rest of their lives.
Brent Houzenga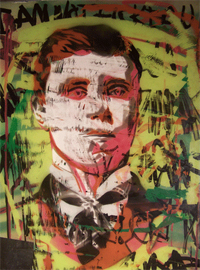 Six years ago, artist Brent Houzenga's life was altered dramatically when he stumbled across a pair of antique photo albums from the 1890's in the discarded trash of others. Since that discovery Houzenga has amassed an extensive body of work, attempting to bring these lost souls back to life through abstract painting and stencil work using vibrant colors and his own unique action painting techniques. Often displaying his subjects on re-purposed window frames suggests the antiquity of the subjects in his paintings as well as the rural and rustic background of this self-described 'Prairie Pirate'. Working on the reverse side of the glass, painting backwards and tirelessly scraping away existing layers of paint to create new marks, Houzenga pays homage to those he renders. Many subjects remain unscathed peaking out of chaotic abstraction while others are altered entirely.
Brian Robertson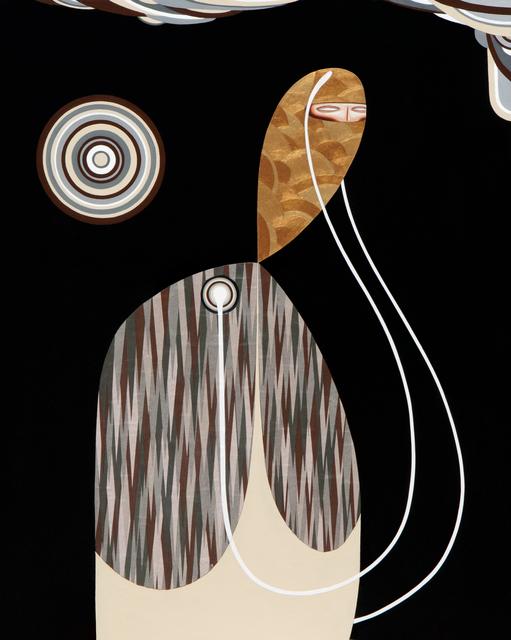 Los Angeles based artist, Brian Robertson Bridges the terrain between abstraction and representation, within the artists' figurative works, a convergence of disparate styles and technique combine to create a blended aesthetic. One finds in his collaged paintings meticulous geometric patterning and a highly developed sense of rhythm and movement. Robertson's highly graphic and vibrant pieces – themselves a hybrid of processes – invoke a fusion of personal and referenced mythologies to create works of great emotional weight.
Brooke Olivares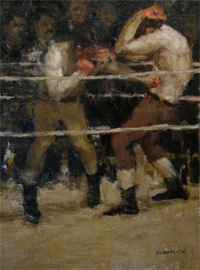 Brooke Olivares is originally from San Diego, CA, but currently resides in Sarasota, FL. She pursues her gallery work full-time and teaches as an Instructor at Ringling College of Art and Design in the Illustration Department. She is also a 2006 graduate from Ringling College of Art and Design and attended The Illustration Academy in Sarasota, FL. Brooke's work is currently represented in, Provincetown, MA, Charleston,SC, and Richmond,VA. Olivares' inspiration is rooted in biblical scripture, made relevant in the people, children, and neighborhoods of urban communities
Bryan A. Collins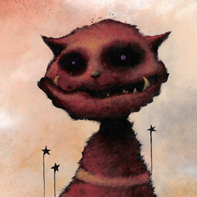 Bryan A. Collins is a whimsical surrealist who wanders about the Colorado mountains to clear his mind, and lucidly wanders around his dreams to gain inspiration. He is fascinated with marine biology, cryptozoology, and outer space. Bryan works in a variety of media and drinks a great deal of coffee while making art and listening to music. He has no art degree and doesn't want one.
Caia Koopman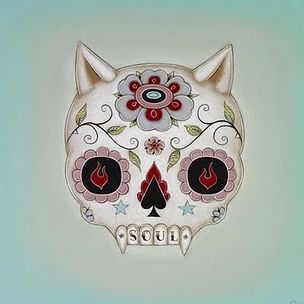 From the land of surf and sea, Caia Koopman has emerged as one of lowbrow's preeminent female artists. With a well-rounded background from her years spent obtaining her BA in Fine arts from UC Santa Cruz, to her time spent in the skateboarding and snowboarding scenes, Caia's environment has both molded and provided an eclectic background that makes her paintings come to life. With her fine detail for beauty, inclinations toward nature, and collectiveness of the female spirit, Caia has quickly become one of the quintessential artists fully encompassing the elegance, strengths, and vulnerabilities of femininity.
camden noir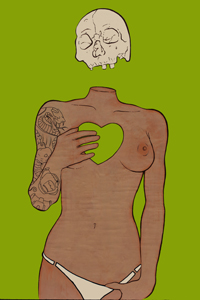 camden noir (lowercase) graduated from es-m high school in 2002 and joined the military immediately after graduation in which he did two tours overseas (afghanistan and iraq). after the military, noir enrolled in school in north carolina and furthered his art career, having multiple solo shows and even publishing a street art book entitled "label 228: a street art project" where he collected priority mail labels from artists all over the world. he currently lives in washington d.c., attends howard university as an art education major and is currently working on the second installment of street art books. noir has been featured in multiple group shows including this past art basel in miami and solo shows all over north carolina.
Carrie Ann Baade
Carrie Ann Baade is an internationally exhibiting artist whose surreal oil paintings are rich with allegorical meta-narratives inspired by literature and art history. She has been awarded the Florida Division of Cultural Affairs Individual Artist Fellowship, the Delaware Division of the Arts Fellowship for Established Artist, and a nomination for the prestigious United States Artist Fellowship. Exhibiting widely with the Pop Surrealists and her paintings have been featured in Metamorphosis, a survey of the top, contemporary Visionary Surrealists and will be included in the upcoming exhibit Suggestivism curated by Nathan Spoor, at the Grand Central Art Center in California.
Casey Weldon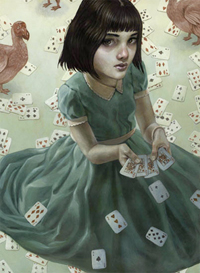 Casey was born August 27th, 1979, in beautiful Long Beach California. He spent his childhood in the then undeveloped eucalyptus groves of Yorba Linda and the labyrinth hills of Valencia, skinning knees, capturing flags, and drawing comic books. After a hazy stint in high school, he went on to study at the Art Center College of Design where he graduated with honors in 2004. He moved to Las Vegas, which was great. If you haven't been there, I highly recommend it. He had some shows, made some friends and met a girl. He now lives in Brooklyn, NY with said girl.
Cern One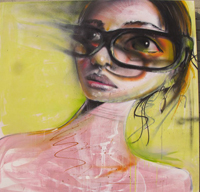 Cern began writing graffiti in the early nineties and has since been inspired by a range of artistic genres. Diverse in his scope, he has created numerous collaborative murals with the YMI crew and artists from Ireland to Brasil. Cern's individual canvas and watercolor works have been featured in galleries throughout New York City and beyond. His art is also showcased in several books including Burning New York and Graffiti World. Cern's unique blend of fantasy and realism exhibits a technical mastery of his medium that blurs the lines between graffiti and fine art.
Charlie Immer

Charlie Immer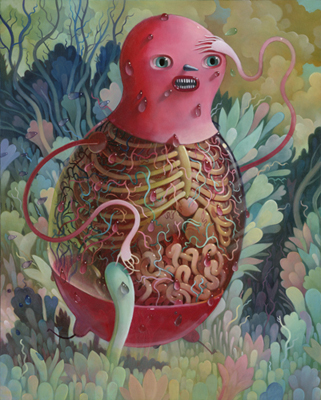 Charlie Immer, born 1983, lives in Maryland with a collection of skeletons and candy. Charlie enjoys dissecting his subjects which creates a contrast between colorful simple characters and the beauty of the anatomy within them.
Charlie Owens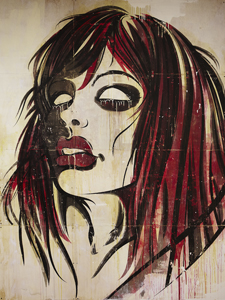 Born and raised in Knoxville Tennessee, artist Charlie Owens moved to Atlanta Georgia at the age of 18 to pursue a degree in Graphic Arts. During his years as a freelance graphic designer, Owens began developing a unique mixed-media style of art that combines his love of urban decay street art, design and iconic illustration. His gritty design and use of multiple mediums combine to create compelling and distinctive work that has been praised for its stylized female forms and complexity. Owens combines a variety of techniques to create deep texture and interest in his work, including freehand and vector illustration, stenciling, painting, and screen printing. From over-sized installations to poster art, Owens' pursuit of hands-on fine-art craftsmanship and edgy graphic design has combined to produce an amazing catalog of work.
Chris Bishop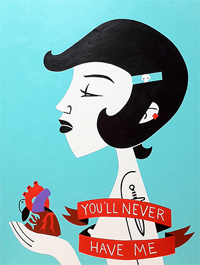 Washington DC based artist Chris Bishop pays homage to his two true loves in his Pretty Girls & Robots series of paintings. Bishop employs bold outlines, cartoon simplicity and bright colors to bring to life the empty, cold-hearted death machines--and those are just the girls!
Chris Brett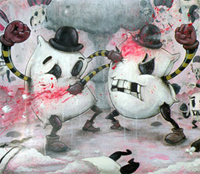 Chris is a mixed media artist from Vancouver, Canada. Born and raised in Calgary, Chris grew up pulling influence from the fairgrounds of the Stampede, the train yards of rural Alberta, and the cure from boredom that Mad & Cracked Magazine provided. Chris has taken his interest in graffiti, cartoons & children's books, and placed it all in the artistic blender creating a hybrid of styles. His works tend to focus on themes of Love, Lust, Nature, Manic joy & Heartbreak. Chris' work has a slightly goofy and jaded sense of humor; a laugh to keep from crying sense of mania in rich color and dark tones. A reaction to the good & bad things that life can sometimes hand you…
Chris B. Murray
Chris B. Murray grew up in a small, upstate NY town where he first discovered the beauty and color in comic illustrations, graffiti magazines, & various children's books. One summer during his high-school years, CBM created his first storybook, completely illustrated & narrated. The book depicted various situations he & his close friends encountered over the years. CBM soon realized the amount of hard work it would take to become successful in the art game. For the time being, CBM resides in sunny Philadelphia where he lives with his beautiful girlfriend Emily and spends countless hours creating new visual stimulations for the public.
ChrisRWK
A child of the 80s, Chris' world was often completely flooded with the imagery and ideas presented by his television, his comic books, and the music and movies of the time. Immersed in these various mediums, Chris began to store the images brought forward though these everyday experiences in what he refers to as a "mental journal". This journal was a haven of his thoughts that he could refer back to whenever necessary. Chris' paintings frequently cite past conceptions of popular culture embedded in his psyche's cache. This use of intertextuality also serves to offer a comfort or familiarity of sorts to the viewer. Chris' works frequently reveal everyday musings and people one would pass on the street without looking or thinking about twice. These images also aid Chris in the creation of a visual language comprised of his own iconographic imagery. Through the repetition of this imagery, Chris strives to familiarize his viewers with the language he has constructed. Chris believes that the notions within his pieces serve as a backbone to the many stories created by the onlooker when he or she is viewing the work. In 2001 Chris set in motion RobotsWillKill.com. Robots Will Kill is an arts site dedicated to community and exposure for artists/media often disregarded by the mainstream art world. Rather than featuring his own work exclusively, he opened it up to allow the possibility for it to become whatever it evolved into being. RWK has a core group of artists, those artists are Chris, Kev/Psyn, Veng and OverUnder. Along with overseas affiliates ECB (Germany), Peeta (Italy), Flying Fortress (Germany) and JesseRobot (Belgium). This extended roster of artists helps to promote RWK as we push the boundaries of art.
Chris Sheridan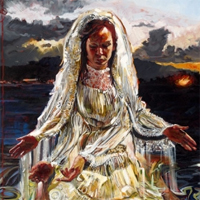 Chris Sheridan is a figurative oil painter based out of Seattle, WA. Born in 1977 and originally from Cape Cod, MA, Chris has spent many years changing addresses and showing his work all over the U.S., and internationally. Along the way, he earned a B.F.A from the Ringling College of Art and Design and an M.F.A. in painting from the Academy of Art University in San Francisco. His current body of work Shadows, Persona, and Trickery takes an in-depth look at magic and religion, their symbolism and ritual, how they played a role in building our early societies, and the disconnect between these theories and beliefs and contemporary modes of thinking. Deeply psychological, laced with multiple layers of meaning and references to the trickster archetype, the work also explores the manipulative quality found in us all. Also hidden in the work is the artist's search for the soul, which he believes is the construct that holds all of these ideas together in our collective unconscious.
Christopher de Leon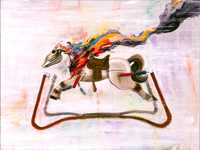 Even though Christopher has been classically trained in the arts from institutions such as Cal Arts, Art Institute of San Francisco and Academy Art University, he is most grateful for his box of Crayons he received as a child and his never-ending love for Legos and Play Doh. While attending school he dabbled in graphic design, animation and illustration. Christopher de Leon is a new up and comer in the gallery art scene. Armed with a wide array of skills in multiple mediums, Christopher pushes forward with determination to be seen. Breaking into the art scene with live painting at clubs, his passion and talent was soon recognized and was given the opportunity to demo his skills at the de Young Museum of San Francisco and The Asian Art Museum of San Francisco. His work has been on display at multiple galleries throughout the Bay Area. Christopher also was involved with Kulyan, an art program, where he taught classical art techniques to inner city youth.
Cita Sadeli (Chelove)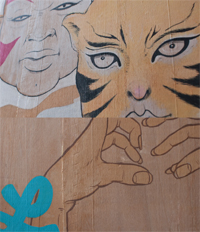 Cita Sadeli aka Chelove is the multi-disciplined Founder/Director of Protein Media: an art and interactive company in Washington, DC. A practicing fine/street artist in the early 90's DC graffiti scene, Cita's skill set has since expanded into entrepreneurship, design, animation and interactive media. In addition to serving as a Director at Protein Media, she continues to create digital and traditional illustration/fine art for commission, commercial projects and exhibition.
Craig Skibs Barker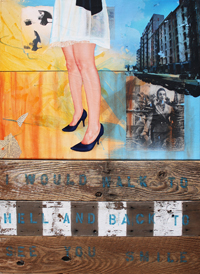 Craig "Skibs" Barker likes legs. This Southern Californian artist grew up during the early '80s in the midst of both the punk rock and surfing culture explosions. These influences soon inspired his own fine art. With a healthy dose of punk flyers, album covers, and surfing magazines buzzing through his head as a youth, Barker began making flyers and t-shirts for his friends and his own punk bands. Fast-forward to today: Barker's most recent paintings infuse his long-standing love for painting and rendering the human female figure with his punk-fueled graphic design. Mixing different approaches, techniques, and mediums, he creates a sense of memory, personal history, and appreciation for the female form. Combining elements of pop culture, literary censorship, and a positive mental attitude, he creates layered scenes of voyeuristic mischief. Barker's work explores the junctions between past and present, memory and imagination, fantasy and reality, while creating a dialog between image and viewer.
Cryptik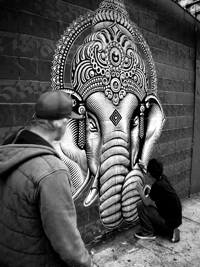 The Cryptik Movement is a public art campaign dedicated to helping humanity evolve towards greater awareness and understanding through the use of compelling, iconic imagery that demands both scrutiny and reverie. The purpose of this organization is to facilitate the development of a deeper, more meaningful philosophy of life. Our main objective is to challenge people to think of other possibilities and to see a different reality; one that encompasses many ideologies, philosophies, and belief systems in order to help us better understand our place in the universe. The organization is entirely free of any religious or political agendas and, therefore, serves only to provoke wonder and inspire thought. The goal of this organization is to serve as a catalyst for a change in consciousness on a global scale. At this very critical juncture in human history, either we evolve or DIE!! Join the Movement! The "Great Awakening" is upon us.
CUTTHROAT
CUTTHROAT was born in Houston, Texas. Soon after his family moved to Atlanta, Georgia for a few years, then they relocated to Mexico. His early years were spent in Rio Verde, San Luis Potosi. There in the dusty playground of a private school he tried to enamor his elementary sweetheart with elaborate colorings of his favorite Disney characters. As a teenager his family returned to Houston, where like most boys from the neighborhood attached themselves to a street gang where he was quickly assigned the group's "official tagger." The rush of illegal graffiti fueled his craving for more paint assaults on the streets. He delved into the hip-hop lifestyle and sharpened his skill using the East End and the train yards as a canvas. Now, years later, CUTTHROAT's art has become a widespread in-your-face campaign fusing striking images and a monochromatic palette to invoke politically charged emotions and cultural embracement.
Czr Prz
Czr Prz, born in 1980 as Cesar Augusto Perez De Arguezo, is an artist/designer from Stone Park Il, a western suburb of Chicago. He comes from a line of artists through his grandfather on his mothers' side, throughout his family history having great uncles that were writers, poets, painters, doctors and professors. He paints what could be considered contemporary illustrative street art and his technique, developed from a combination of comic book /representation/graffiti style can come off as both spontaneous and clean, as he tries to highlight marking gestures in his renderings as well as depth and balance through color and shape. He works primarily in spray paint, acrylic, and digital programs, but also fabricates props and background sets for installations and events. He's been involved in projects with Museum of Science and Industry, Field Museum, Nike, Camel, Toms Shoes, head ran an installation for the Chicago Reader during North Coast Fest, COCA I Cancer Society, Pop Cultour, to name a few. Czr currently resides in Chicago IL where he does freelance art.
Daniel Barojas "R5"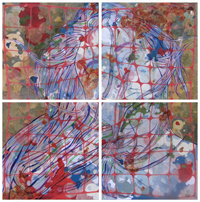 Daniel Barojas is an artist who works in many various artistic mediums including: mixed media illustration, sculpture, watercolor, graphic/product/digital design, jewelry, photography, toys & graffiti. Born in Mexico – Mexico City and now living in the USA, Daniel uses his cultural and street influences as inspirations for his art.
Dan Fleres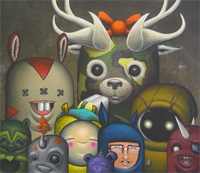 "Life and all of its complexities is the source of artistic inspiration for Dan Fleres and what pushes him to take his art to new levels. Through his experimentations with acrylic, paper, and mixed media on canvas, wood, and found objects, Fleres creates streamlined portraits of mournful yet vividly colored characters against skillfully rendered backgrounds. His work is flavored with his subtle yet insightful views of pop culture and society."
Dave Chung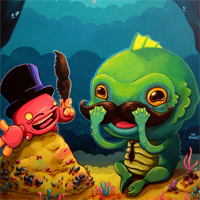 Dave Chung's (aka The Chung!!) work of cute and colorfully vibrant creatures is an observation of the awkwardness and humiliations we experience as we age and live as human beings. Due to his father's job, the Chung family was always moving around. Having grown up in fast paced brightly colored cities such as those found in Hong Kong and Taiwan, and then spending the later years of his childhood in Upstate New York and the Midwest, Dave was always new to every town he moved to. And being the new kid to every town and city meant many awkward and humiliating experiences. Although the stories that embody his paintings are generally reflections of his own unique personal experiences, many people are able to relate and laugh along with them. Dave has had his work shown in galleries world wide and is currently living in Los Angeles, California as an illustrator/Fine Artist.
Dave Lowell
Dave uses a combination of multi-layer stencils and freehand aerosol work. His themes range from sexy to urban to country to comedic… The use of reclaimed and found objects in his art pulls from the environment and the aesthetic of early work only found outdoors. The name 'Anomi' is an old name used for street pieces that reappears often in his work. He earned his B.A. studying Design at Texas State University and currently resides in Austin, Texas with his wife and two cats.
David Soukup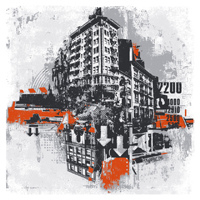 David Soukup started his career working as a spray paint stencil artist living and working in Chicago, IL. Gradually he has incorporated new techniques and evolved his process and ideas. Having built a reputation as one of the most detailed stencil artists in the country, Soukup is no stranger to finger-numbing precision and perfection. At first glance, his work may lead you to believe it's is a digital transfer or electronic print-out, but on closer inspection, you'll see what makes David's work so special: the details. Each painting is produced by a precise layering of stencils, meticulously cut by hand, and applied using layers of spray paint.
Decoy
I am a Washington, DC artist who paints the nickname, DECOY. I was born near Brussels, Belgium, and spent most of my childhood in the villages of Europe. My art focuses on figures not the figures alone, but their intersection with color and space. I am especially passionate about recording my immediate surroundings with my art. The art concentrates on the situations, people and places that form daily interaction. The images chosen are the ones that leave a lasting impression, whether they are born from social encounters at work or at play. The resulting work is generally a distorted reflection of the original idea. The idea is not to copy life, but to express my memory of it. I received a Bachelor of Fine Arts Degree from Berry College in Rome, GA in 2001. I also studied at Studio Arts Centers International and Fuji Studios both of Florence, Italy. In the past few years my work could be seen on such things as, Modern Luxury, Capitol File, Worn Magazine, BBC world News, The Washington Post and more.
Dez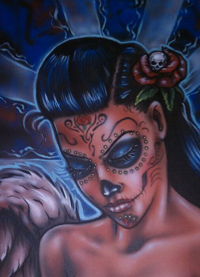 Born 1976 in Los Angeles and raised in Northern VA, David 'DEZ' Zambrano takes his influences in his art from everything he sees and experiences. His love for graffiti came when he saw 'Beat Street' as a young kid, and was further flamed riding the Red Line to Maryland to visit his father. With no proper schooling and no disciplined lessons in art, DEZ has been 'street schooled' in his art. You can see a lot of the graffiti influence in his work; the over expressed details, contrasting colors, vibrant figures and exaggerated anatomy. DEZ is always evolving, changing, growing, and never hesitant to try new mediums and surfaces. He has done everything from canvas work to walls, cars and motorcycles, airbrushing and spray cans, and now on the verge of completing his tattoo apprenticeship he will have conquered every aspect of his artistic goals. Moving forward DEZ is always ready for more challenges and strives to exceed the expectations of himself.
DIABETIK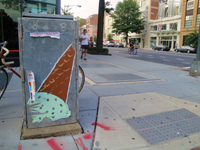 After being discarded on the production line for being "too sweet, with an odd sour aftertaste", DIABETIK was repackaged and shipped off to an unknown future in Washington, DC. It wasn't long before the city's residents began getting a whiff of acrid sweetness on the streets and finding morsels of cutesy, twisted humor on street corners, boarded up buildings, and the occasional gallery. DIABETIK has shown at Joan Hisaoka Healing Arts, Honfleur, The Fridge, Mead Theatre Lab, and Pyramid Atlantic Art Center. Featured in DC Magazine, DCist, ReadySetDC , WeLoveDC, Brightest Young Things, The Pink Line Project, Sticker Drop, Illicit Exhibitions, Urban Outfitters Blog, and The AV Club.
Downer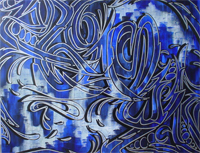 The juxtaposition and frequent battle between the natural and man-made worlds provides Downtimer with the opportunity to explore the ways in which these opposing forces interact, attack, and even complement each other. With a focus on depth, flow, and perspective, Downtimer's new works range from abstract designs to figurative and three-dimensional pieces. Although his technique often varies, the interplay of natural patterns remains at the core of his art. "flickering fire, crashing waves, leaves and bark on a tree, cracks in a sidewalk. These patterns are complex, yet totally sporadic and free flowing," he says, "Perfect yet completely imperfect. 'planned imperfections'.
Dustin Spagnola
This current work is inspired by the contemporary urban landscape. The images reference the texture, depth, and color of structures in decay and the visual language of graffiti. The walls of the world are often seen, but frequently overlooked. They are beautiful, bold, sprawling structures embedded with history. The landscape of urbanity is punctuated by the organic marks left from water and weather, poster art and spray paint. These images reference the imperfect and rough texture of concrete and use these characteristics to create fragments of worn and crumbling walls. While the imagery is built upon a definite design aesthetic, the spontaneous application of pigment contributes to the overall dynamics of each composition. This process pushes the rhythm of each piece towards a visual cadence. The interplay between the color fields and the spray enamel struggling for dominance creates tension and movement. The finished paintings are artifacts of this intuitive process.
ELSTABO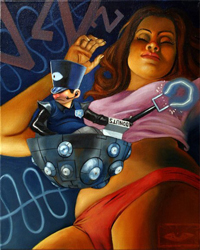 ELSTABO is a product of Brooklyn New York. His professional career was realized when he saw one of his designs displayed on a highway bill board. His Talents have been utilized through out the Commercial and Fashion industries. Designing anything between CD covers to children's seasonal clothing. The Fashion Institute of Technology was where he acquired his BFA, and shortly after he dived into the Fine arts field. Showing in such places like CBGB Art Gallery to Art at Large (Pet Silvas) Erotic art gallery. In 2006 he moved to Northern Virginia where he balances a Fine Arts and Commercial art career. He has affiliated himself with such places like ArtWhino located in Maryland's National Harbor. Recent published works can be found in "Aphrodisia: Art of the Female Form book" Aristata Publishing, The World's Greatest Erotic Art of Today" by Erotic Signature and his " Elstabo's Spanish Fly series" on Blurb.com
Emma Overman
Emma Overman was born in Sete Lagoas, Brazil and raised in a small town in Tennessee. Being equal parts reclusive and escapist, Emma spent her early formative years retreating into books and records. It is largely a lingering appreciation for children's literature and imagery that inspires her work today. She graduated from Hanover College in 1997 and completed the Post Baccalaureate Program at Maryland Institute College of Art a year later. Creating art full time since 2000, Emma has illustrated a few picture books, designed posters for area events, and won two international illustration competitions. These days she spends most of her time on her own independent projects and showing her paintings nationwide. Her work was recently featured in the book, "Edgycute: from Neo-Pop to Low Brow and Back Again," by Harry Saylor. A dominant theme that runs through Emma's work is a sense of elegant nostalgia. Children and animals are often used because she feels they have a greater capacity to communicate emotion than adult characters. Emma loves all the curiosities of childhood, the sense of wonder and uncertainty when experiencing something for the first time, and how the world seems to change from year to year. She has an appreciation for anything that is part sweet and part sad, like the frail and fleeting nature of youth. Emma's paintings are inspired by children's literature, stop-motion animation, and the "It's a Small World" ride. She finds greater influence, however, in the most unlikely places and at the most unlikely moments.
Erin Asmussen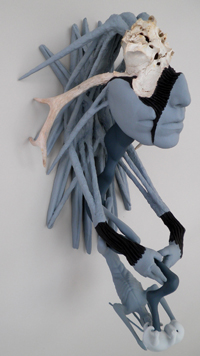 Erin Asmussen was born in rural South Dakota. Her life began in a state where dynamite is necessary for sculpting, corn is used as decoration for a palace, the talent of farmers is viewable in every direction as far as the eye can see, and the animal population far exceeds that of the humans. Erin began creating on this land at a very early age and after graduating high school she set her sights on an art school near the Rocky Mountains. In 2001, Erin received a Bachelors degree in Industrial Design Technology from the Art Institute of Colorado. After graduating, the next several years were spent making mannequins, carving giant play lands, and building theatre sets. Over three years ago, Erin made her own work a priority, dedicating all of her time to images filled with surreal creatures, landscapes, and objects from the imagination. She has shown her work in various galleries around the U.S., and is an active member of Spark Gallery in Denver, Colorado, where she lives and works.
Esho
As a child I was always drawn to creation of visual scenes, art came second nature. Raised on appreciating art and seeing European museums at a young age, I developed an intense passion for the art of the "old masters" I followed my passion to take painting seriously. I studied at the American Academy of Art in Chicago and learned the traditional styles and techniques of the art of painting and sculpting. I am continuing my ongoing education at the Vitruvian School of Art. Believing strongly in good fundamentals and classical theory, I follow the concept of knowing the rules before you can break them.
Frank Gonzales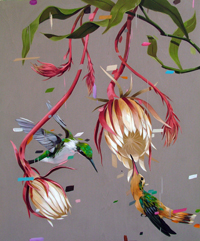 Frank Gonzales is an American contemporary artist who is rapidly gaining recognition from collectors throughout the U.S. and Europe. He explores classical subjects, organic and geometrical shapes, color theory and composition-elements that establish a dialogue between the viewer and canvas. Gonzales was born in Mesa, Arizona where he received classical training in the arts. After four years of working under master instructors Darlene Swaim and Jim Garrison, his exceptional talent was rewarded with a scholarship to the Laguna College of Art and Design. There he experimented with many mediums until he chose to work in acrylic paint due to its immediacy and elastic possibilities. Gonzales explains that his work is "process oriented" which means that the creative process remains open to possibilities from the beginning of a composition until the final brush stroke is applied. In the process, he is at liberty to shift and merge conceptions that are abstract or representational, or a combination of both. His influences and inspiration derive from different sources ranging from the Old Masters to contemporary innovations in graphic design.
In his own words: "My work is the result of an exploration and love I have for nature and living. I am constantly striving to portray a sense of beauty and energy through the manipulation of design, color and compositional elements"
Gene Guynn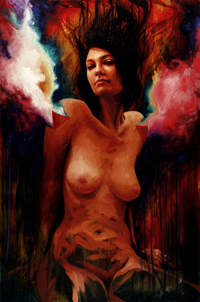 Gene Guynn was born and raised in Fort Worth, Texas, and from a very young age was immersed in the world of art. With a painter for a mother and a musician for a father, his world was always one of creativity and expression. He began painting in college courses during high school, and in fall of 2004, began his BFA at the Academy of Art University in San Francisco, California. Gene takes inspiration from the thriving urban, outsider, and lowbrow art culture of SF, LA, and NYC, and combines it with a fine art sophistication.
Ghostpatrol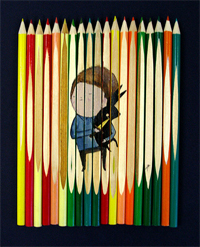 Born In Hobart, Australia and currently living and working in Melbourne Australia. A self taught artist, Ghostpatrol has moved from the field of stencil art to exhibit his drawing based creations worldwide. He currently resides in Melbourne at his 'Mitten Fortress' studio. His work ranges from fine ink drawing, street-art, commissioned murals and soft sculpture.
Gigi Bio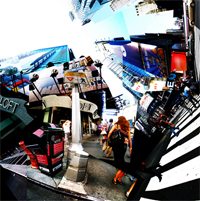 Living in New York, I see life in 360 degree hyper views. I am surrounded by culture, bustling streets, speeding traffic to buildings being torn & built back up in an instant. My current series is an evolution of my work. It is inspired by the life rhythms & flow of nature. In search of balance between madness & calmness, I evolve harsh city streets & sharp edge buildings into industrial grace. My view of the world is a product of the past colliding with the present. I aim to expose the emotional side of the city streets pushing the final image to abstraction & constructing a new view of the world. My artwork is greatly inspired by the world, but hidden between the layers is a narrative of life. My art is a prism of life, beauty and transformation. I expose the beautiful complexities of being human.
Glenn Arthur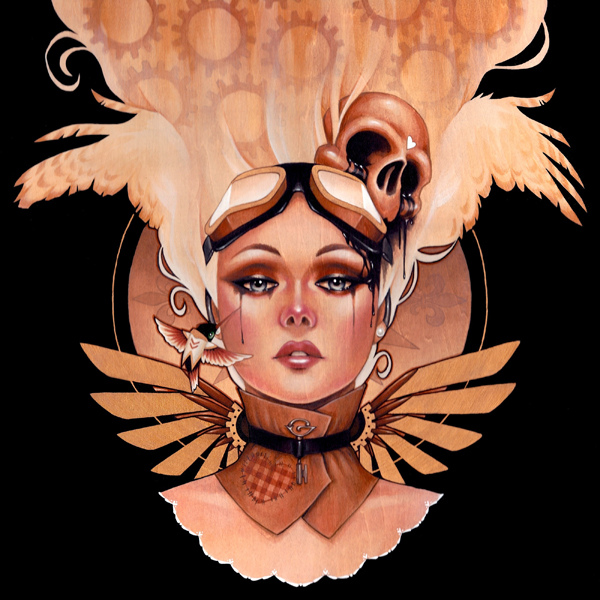 Glenn Arthur is a self taught visual artist from Orange County, California. Born in February of 1979, he grew up in a conservative, religious household with little to no influence in art. After shedding his roots he quickly realized that creating art would be his calling. Although he constantly doodled and sketched throughout his youth, Glenn did not come into painting until later in life when a friend forced a paintbrush into his hands and said, "You need to do this!"

Since then Glenn has been diligently working on creating his own brand of beautifully painted images. Using acrylic paints on wooden panels, he adds in elements and influential symbols of his past and present to each piece. Beyond the aesthetics of his artwork, Glenn brings an overwhelming sense of passion to his paintings. Touching on themes of love, death, conflict and duality, Glenn's art tells stories of strength and hope through emotion and sentiment with his sensual beauties and signature hummingbirds.
Graham Franciose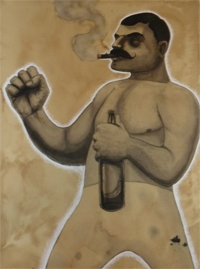 Relatable and honest, Graham's works are some of the most gentle, yet emotionally evocative works ever featured at Art Whino. His imaginative illustrative paintings are small in size and big on emotion, each depicting its own little narrative, often dreamily reminiscent, reaching deep into the human condition and showing us all little pieces of ourselves along the way. "A lot of my work deals with the quiet moments in a story, between the excitement and action where characters deal with internal conflicts, doubt, loneliness, wonder, apprehension. My work often comes across as sad and melancholy, but there is always a sense of hope that I am trying to portray." Graham Franciose graduated with a BFA in Illustration from the Hartford Art School in 2005. He has exhibited his work for the last five years across the United States and has been published in various art publications and children's educational books. When he is not painting he is probably riding his skateboard, rolling skeeballs, spending time with his girlfriend, or wishing he was doing any of those things.
Gregg Deal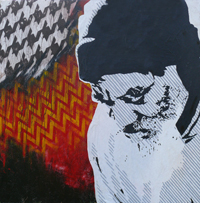 Gregg Deal, a 13-year resident of the DC area, is an artist that is constantly pushing the mold of art through contemporary mediums. From his time immersed in the 90's as a graffiti and street artist, to his training as a fine art painter to the technical world of graphic design and sign making, Gregg marries all of his experience into an incredibly self informed work that is humorous, insightful and comments on the social aspects of the world he lives. Working primarily in paint on surfaces from wood to canvas to glass like acrylic, he is a master at portraiture, and uses animals as well as typography to create work that speaks to anyone willing to engage it. While his work takes on a roll of irony and humor, it has a sense of drama and social commentary that can't be missed. He is a member of the Pyramid Lake Paiute Tribe, a husband and a father, and he is coming about as a prolific and impactful artist in the DC area.
HKS181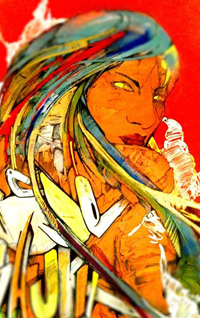 HKS181 was born during the height of the Civil War in Central America, thru trials and tribulations he found himself first in the D.C. Metropolitan Area and then later trickling down to the suburbs of Northern Virginia. An Artist from the early age of 5, art as he knew it would take a slight curve upon seeing the writings on the walls of Washington D.C. and the surrounding areas, he caught the bug and it's still circulating thru is body. Doing both local and national shows he keeps pushing himself both with a pen and paper as well as with a spraycan to create not only works of art but his own fingerprint in the world.
in.fa.mousIKB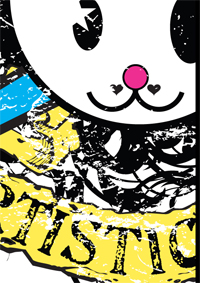 Imani K. Brown (in.fa.mousIKB) is an internationally known tattoo artist for her custom inkplay in the urban arts industry. She is a Washington, DC native and well rounded artist. Establishing herself as a tattoo artist in 2006, IKB created ARTISTIC SOLE, an artistic entity committed to and inspired by wearable art. Artistic Sole has gained a name best known for its custom hand painted kicks, customized toys and more. Painting days bright with her spokes-kitty brand, Indian Pussy and teaming up with Artistic Sole Collective members and friends, IKB encourages a lifestyle of artistic expression and puking kawaii.
J★RYU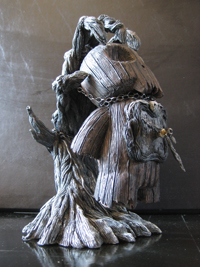 J★RYU, AKA the Purdy Supremacy, is an east coast-based designer/sculptor/artist focused primarily on exploring the themes of life and death and more intriguingly, what lies beyond. Primarily recognized for his signature Forest of Sorrows series, with its emotive, eerie and ghostly themes, J★RYU has garnered an avid fanbase of fans who eagerly look forward to seeing each subsequent new piece and how the accompanying narratives add to the ongoing story. In his career, J★RYU has worked on projects for clients such as Marvel Ent., Sony Ericsson, Wonderbra, AT&T, NCAA Final Four, Columbia Pictures, TOPPS, Mia Hamm, Michael Crichton, IBM, Slim Jim and more and has shown in Los Angeles, San Francisco, San Diego, Sacramento, New York, Nebraska, Washington DC and Miami. He is a proud member of the world famous Army of Snipers as well as TEAM PIKA and OLS crews.
James gaNyan Garcia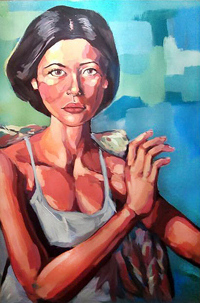 He graduated in 2002 with a BA in Art from San Francisco State University. Since then he has participated in numerous exhibitions across the United States and the Philippines. James combines his love for character driven art and portraiture into his work, blending narratives to create a fantastical world of creatures and beings living in his own mythos.
James Walker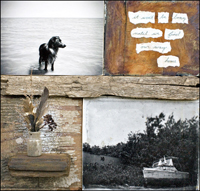 …..I never made a conscious decision to become an artist, it's something I've always done for as long as I can remember. I take pictures and draw and paint and collage debris and objects as intuitively as possible and I've never specialized in anything except making the best art that I can. Real artists don't have a choice about making art, it's simply a matter of satisfying an insatiable urgency to create…..
Jared Davis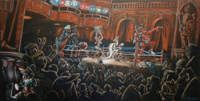 Jared is an artist/scenic designer. Originally from Pontiac, Michigan, Jared moved to DC in 1999 where he began working for events companies and theaters, enjoying the opportunity to paint on a large scale. Highlights include Al Gore's 1999 Halloween party (the intervening decade has seen over ten of Jared's own epic Halloween parties).
His painting style began to embrace kitsch and lowbrow in 2002 and most recently his work has centered on daredevil monkeys, science fiction, and tiki. He has teamed up with many of the local burlesque artists to help enhance their performances with scenic design. Notably, he created the scenery for the renowned acrobatic superduo Trixie Little and the Evil Hate Monkey's show "Mumbo." As assistant technical director for Arlington County Cultural Affairs, Jared has also had the opportunity to execute design grants for many supported theater groups, and has even designed an indoor putt putt course for the Ellipse.
Jason Levesque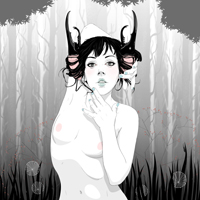 Jason Levesque, better known by his online moniker "Stuntkid" is a self-taught illustrator living in Norfolk, VA. Working with a Wacom tablet and Photoshop he composites line work along with digital coloring and scanned textures. His work regularly depicts "pin up" style girls with elements inspired by a fascination with natural sciences, often featuring vibrant mollusks and elegant cephalopods. His work strikes a balance between the beautiful and the ugly parts of nature. Jason's work has been exhibited throughout Europe, Asia and the Americas. Over the past few years his work has graced the covers and pages of magazines and periodicals including Playstation Magazine, Digital Arts Magazine, LA Weekly, Village Voice, Coilhouse, and most recently, comic books for Marvel. Most recently his work won an Eisner award for the cover of "Comic Book Tattoo" book published by Image Comics.
Jeff Faerber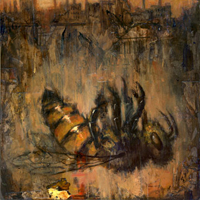 Jeff Faerber grew up in CA and studied art at San José State University (San José, CA) and School of Visual Arts (NYC). His art has appeared in magazines, books, CDs, and websites. He has shown extensively in New York, as well as many other major cities in the U.S. and abroad. He paints for fun and for profit and likes it best when its for both. He currently lives in Brooklyn, NY with a very classy lady and two cats.
Jeremiah Ketner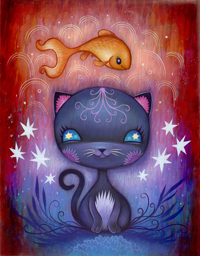 Jeremiah Ketner's paintings are instantly recognizable amongst his contemporaries in the pop surrealism movement. His early work, characterized by mischievous sprites and whimsical patterns, has evolved into lush, richly colored environments inhabited by a cast of pensive, dreamy young women. Each character presents a unique brand of beauty, created entirely within Jeremiah's imagination and painted completely from memory. Jeremiah's pop culture-inspired style and unconventional creations have a traditional foundation. With his family's encouragement, he began formal art studies at the age of 12. He holds a BFA from Columbus College of Art and Design and an MFA from Southern Illinois University. Jeremiah's paintings and toys have been featured in solo and group exhibitions in more than 50 galleries across North America, and he's acquired a strong international following through his dedication to the Internet and social media.
Jesse Hazelip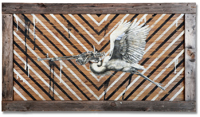 JESSE HAZELIP was born in 1977 and raised in the mountain desert town of Cortez, CO amidst Navajo and Ute Nation territory. At the age of 14 he relocated to Santa Barbara, CA and into an environment so vastly different from that of his childhood. It was there that Hazelip took root in the world of graffiti. Through his involvement with this underground sub-culture, Hazelip gained an aesthetic and technique that is woven into his artwork alongside the imagery and history of his childhood. Hazelip received his BFA from Art Center College of Design and currently works and resides in New York. Hazelip has shown extensively at galleries throughout California and his work resides in numerous private collections.
Jesse Smith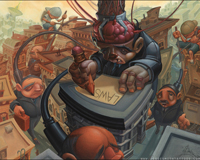 Born of fickle nature, Jesse has scoured the corners of the earth in search of something to fill his creative void. From an early age it was rather obvious that he was a little off. A master of many mediums, Jesse was once spotted decorating the wall beside his crib with the contents of his diaper. It was then that his creative adventure would begin. Since then, Jesse has conquered many other mediums, the latest being the tattoo machine. At the age of 21, Jesse stumbled upon a fella named Carlos who had just been released from jail. He enjoyed Jesse's art and soon taught him how to build a ghetto gun. From there Jesse consumed every minute of his life learning as much as he could about the art of tattooing. While steady crunchin along in the tattoo world, Jesse decided to move to Richmond, Virginia to seek a
Bachelors Degree
in Fine art. In December of 2004 he received his degree and hit the ground running. Since then he has been published in dozens of tattoo magazines and has also won a ton of awards for his brilliant use of color. He still lives in Richmond, Virginia and tattoos at Loose Screw Tattoo located in the heart of Carytown.
Jimbot
James (Jimbot) Demski Jr. lives in Milwaukee, WI with his wife, his daughter, his 2 dogs, and possibly a captive robot he keeps in his basement. After graduating from art school, James began re-programming his over-schooled brain, and took work as a freelance artist... he has been doing it ever since. Besides painting and sculpture, he really enjoys working on his plans for world domination, and creating his robot army (which he will use for said world domination plans). Jimbot's influence comes from his childhood, and the fears that followed him as he grew up. Cartoons, comics, toys, fun, insecurities, happiness and anger all intermingle in his work. He brings all of this together in paintings, drawings and mixed media. His work usually deals with different emotions and feelings: happiness, sadness, curiosity, anger, etc, but more than anything, he likes to have fun with his imagery. Usually though, the interpretation of his work is left up to the viewer, letting them establish their own ideas of his world, much like we are left to interpret the real world on our own.
Jim Doran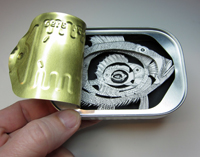 Jim Doran makes tiny pen and ink paper cut-out dioramas in an attempt to give life to his drawings in our three dimensional world. He puts his ideas inside of other objects. Jim lives in Baltimore, MD.
Jim Mahfood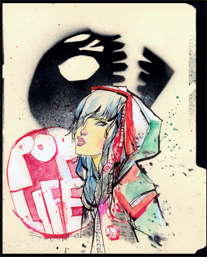 Jim Mahfood aka Food One is a freelance artist working professionally in the fields of illustration, advertising, comic books, murals, fine art, animation, live art in nightclubs, and custom body-painting. He has worked for every major comic book company and his illustrations have appeared in such publications as Playboy, Spin, Spectrum Illustration Annual, Star Wars Gamer, URB, the Hollywood Reporter, BPM, the Phoenix New Times, Mad Magazine, Heavy Metal, and more. Highlights of his career include illustrating director Kevin Smith's "Clerks" comics, handling the art chores on the entire ad campaign for Colt 45 malt liquor in 2007-08, painting the murals on Comedy Central's "Sarah Silverman Show", illustrating the "Kickpuncher" comic book that was included in the Season 1 DVD of NBC's hit show, "Community", illustrating and art directing reggae legend Ziggy Marley's "MarijuanaMan" project, and providing custom car art for Nissan's new "Juke" Artist Series. His current project is illustrating the new Tank Girl graphic novel, due out in 2012.
John Collier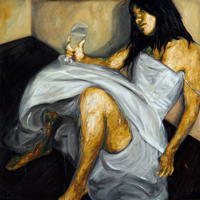 John Collier is an oil painter specializing in portraits and subtly narrative figurative pieces. Working from models and photographs, his figures are realistic in dimension, but have a flesh created from thick oil paint that appears to have been forced onto the canvas.
John Malloy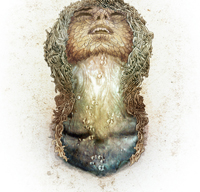 Born in rural northern Pennsylvania to a cemetery caretaker and a coal-miner's daughter, John Malloy began drawing at a very young age. He later earned a background in old master's style painting and has since been self-taught in fine art, illustration, comics, and design. His illustrations have been featured in a variety of publications, including The Big Book of Contemporary Illustration and the 'Illusive 3' Book of Contemporary Illustration. In sequential art [comix] he has designed and illustrated musician-interviews for the award-winning Lemon Magazine, and is presently at work on a semi-autobiographical graphic novel titled, "Queasy", which appears in Image Comics' PopGun Anthology #4. He currently lives with Amy, his heroine, Wren, his daughter/teacher, and Lucita, his steed [a chihuahua].JoKa
JoKa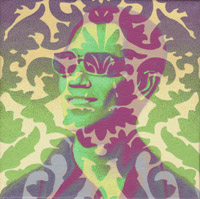 JoKa is a Philadelphia based painter specializing in hyper-pointillism, using toothpicks as his sole form of paint application. Using collage, he skews and distorts, pushing familiar images into the surreal. He has been exhibiting his work since 2005 across the country as well as internationally, and in national art publications. In true "necessity is the mother of all invention" fashion, his unique method was developed in lieu of learning how to silkscreen, but instead developing a technique to provide the same desired effect, by dotting black over solid color backgrounds. Extrapolating on that practice, he decided to execute more fleshed out and multi-layered pieces of art, in an effort to update and showcase an underused and, nowadays, academic form of painting. Using such a regulated and precise technique leaves no inch of surface without extreme care to detail, and the works beg for closer and repeat inspection
Jon MacNair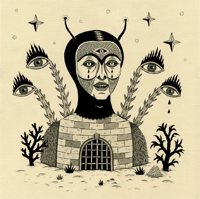 Jon MacNair was born in South Korea and grew up in the suburbs of Southeastern Michigan where he developed a love for drawing at an early age. He attended the Maryland Institute College of Art and earned a BFA in illustration. He currently resides in MI where he works as a freelance illustrator and gallery artist. His work has appeared in publications like Faesthetic, Beautiful Decay, Elle Girl Korea and IdN. He has exhibited work in Portland (OR), San Francisco, Los Angeles, NYC and Glasgow (UK).
Jophen Stein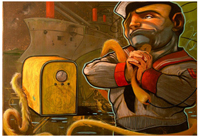 Jophen Stein is a graduate of the Laguna College of Art and Design. After establishing the Snootson family showcase in 2004 his distinctive style has gained national recognition over the past couple of years. Despite the minor set backs of being banned from Idaho and Iowa Jophen Stein continues the SFSC series from his studio in Pomona.
Josh Taylor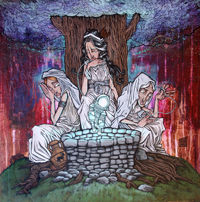 JOSH TAYLOR was born in New Jersey and continued his downward trajectory in hellish locales in up-state New York and North Carolina before honing his art skills at the prestigious Pratt Institute. Upon earning his degree, he traversed the country, from California to Vermont, pursuing his art career. His fine art has appeared in galleries in LA, NY, Europe, and the Philippines, and has also been featured in art and design publications worldwide. He currently resides in a basement next to a lake where he works on Black Powder/RedEarth, a graphic novel published by Echelon Software, and various other comic, toy and illustration projects.
Juan Pineda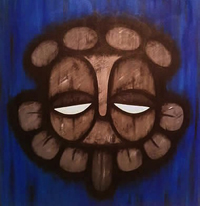 Juan Pineda is a DC-based graffiti/visual artist whose distinct style, is also characterized as urban-contemporary/street art, combined with his connection to traditions resulted in unique mural work in Maryland and Washington DC area. Pineda has built a solid portfolio with murals, design and Illustrations since the mid 90's. He has received Proclamation Award from the city of Hyattsville for his mural "In Memory of Freddy". Besides creating original works of art, he also specialized in restoration and preservation of historical art. In 2005, Pineda was recognized by The Washington Post for restoring the first and only remaining Latino outdoor mural in Washington DC, entitled; "A People without Murals Is A Demuralized People" 1977. Pineda consults and volunteers for various causes that are related to art and culture. He works closely with non-profit organizations and is a member of the UW and BT graffiti crews from NY.
Justin Lovato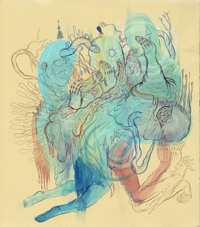 Justin Lovato is a working painter from Sacramento. He currently resides in Berkeley, California. He creates dreamlike, ethereal landscapes that reflect his thoughts on nature and our relation to it, human belief systems, the psycho-political-control system, multidimensional concepts, and esoteric symbolism.
Kat Gun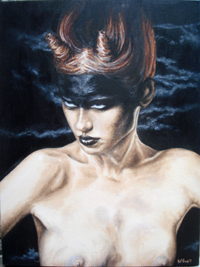 Kat Gun is an artist and model based out of Philadelphia PA. Her eerie paintings and illustrations tug at the viewer to go deeper into their psyche and consider mortality, sexuality, and the things that go bump in the night. More importantly, however, Kat is a jelly bean and vodka connoisseur, and has a serious obsession with hairless cats.
Kelly Castillo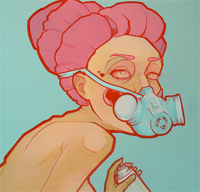 Kelly Castillo is an artist intertwined in the underground emerging artist scene in Southern California. Not only an urban contemporary artist, she is also a gallery owner, an arts Commissioner for the City or Anaheim and the owner of Dr. Sketchy's anti art school: Anaheim Chapter. Castillo made her professional debut in 2009 as an artist and has since been featured in galleries throughout Southern California and on the East Coast. Her involvement with Dr. Sketchy's Anti Art School is evident in her work. Mainly focusing on portraitures, she used bold lines to create an illustrative quality in her work using modern media techniques with like spray paint, marker and acrylic paint. Bold color and design juxtaposed with vintage subjects lends itself to a multidimensional audience in love with the old and inspired by the new.
Kelly Towles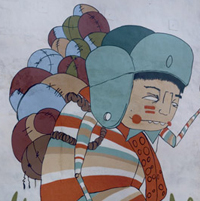 Kelly Towles is based in Washington DC. His work depicts people dealing with the society in which they live and the emotional arsenal with which each person is equipped. Striking characters with physical deformities, boxing gloves, and masked identities reveal Towles' vision of how individuals deal with the world around them. There are no methods of creation that he will not touch to bring his characters to life. He is also extremely talented at writing in third person.
Kevin Bednarz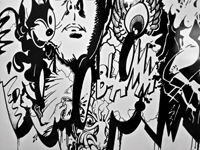 Born & raised in Upstate NY, Kevin began drawing & designing at a very early age and has a continued love for graffiti, comic book art, design & illustration. Influenced by hip hop & retro rock styles, Kevin's style is a bold, urban blend of elements that takes the viewer on wild ride of visuals and textured lines.
Always reaching new audiences and pushing limits, Kevin owns & operates Double Down Designs out of Northern Virginia and most recently is developing a new series of crisp, strong black and white images that are unique as they are challenging.
Koch1no
David Niño alias Koch1no, born in Bogotá , Colombia south america in 1976, work as a freelance illustrator since 2003, and have published some of his artwork in magazines and children´s books. Since 2004 or so, have been painting some os his artwork in the walls of Bogotá.
Lamour Supreme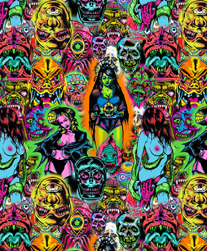 Lamour Supreme is currently working as a freelance artist and designer choosing various types of mediums ranging from vinyl toys to large moving 3d objects to convey his message. He also works as an architectural designer . His current base of operations is the MiSHKA ware house in Brooklyn, NY. Lamour Supreme's list of clientele includes Nike, Mishka, Super 7, Major Lazer and Scion.
LECKOmio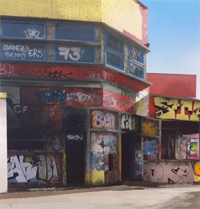 Born in Lörrach, Germany, LECKOmio grew up in a household where painting was a daily activity, and was exposed to much creativity from an early age. Painting comics and characters had always been one of his favourite hobbies as a kid and with the help of a school friend, he was introduced to graffiti. Following that small introduction, LECKOmio was hooked and they started sketching together; sneaking out at night to paint the neighborhood walls. After several run-ins with the law, he took a break from painting outside and concentrated on school, which led him to a future of business management. However, as a burgeoning artist, he was not satisfied. LECKOmio continued sketching and painting, and in 2002 began experimenting with stencils, though completely unaware of the well-established stencil movement in street art outside of his own developments. His work has been entirely self-taught, with trial and error being his greatest mentor. Following his move from home to studio, and finally quitting his job in management, LECKOmio has taken off with his art, cultivating his personal style, developing innovative stenciling techniques like transparency, and exhibiting work in galleries all over the world (U.S., Middle East, Australia, and all over Europe). From small beginnings in regional art clubs in Germany, to recent successes in huge international exhibitions, he has spent most of his artistic career working alongside the world's top graffiti artists, to include his chief creative influence and personal friend, the late, Sigi von Koeding, aka DARE. Drawing from his years of artistic experimentation, and influence from his colleagues, LECKOmio's talent is profound. He takes a very simplistic approach to such a broad genre, turning objects that are so overlooked into a complex series of physics, urban attitude, fine art, and creates a "universe of colors on one square centimeter."
Lelo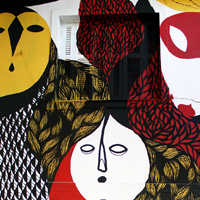 Lelo is a self-taught artist from Rio de Janeiro, Brazil. Best known for his urban art works - done since 1999. His production includes murals, paintings, drawings, prints (screeprints in particular, the artist's assumed passion), videos and more recently, sculptures and objects. His work, full of symbolism, is the result of the artist's reflection on the values and behavior of the society in which we live.
Lightup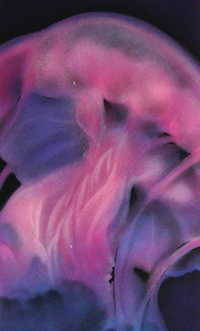 Whither he went, or who went with him, it is impossible to say. But I myself believe that his godmother took him on his traveling-cloak to the Beautiful Mountains. What he did there, or where he is now, who can tell? I cannot. But one thing I am quite sure of, that, wherever he is, he is perfectly happy. And so, when I think of him, am I.
Lou Pimentel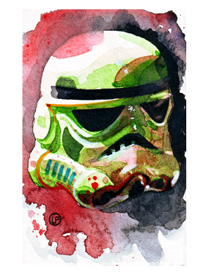 Lou Pimentel is a multidisciplinary artist based out of New York City. Born in Santo Domingo, the heart of the Dominican Republic, he and his family made the move to Florida when he was four years old and subsequently settled in Brooklyn five years later. Having started drawing at age four with the help of his father, he eventually found inspiration in his teenage years from the pages of comic books and the vibrant street art scene of his adopted city. However, not satisfied with relying soley on his self-honed skills, Pimentel applied and was accepted to the prestigious School of Visual Arts in NYC, where he earned his BA in Illustration. Upon graduation and now armed with the techniques of the old masters but still retaining the indelible influence of street and pop-art, his work is a visual outpouring, reflective of the inspirations that guide his life - his daughter Maddie, cartoons, graffiti and the art that surrounds us in our every day lives. No matter what the medium, whether it be oils, acrylics, spray paint, water colors and sculpting, Lou takes pleasure in utilizing whatever methods necessary in order to convey his artistic directions. Recent projects include artist sketch cards based on Lucasfilm's Star Wars series via Topps Trading Cards and collectible toy designs for myplasticheart, a NY-city designer toy institution, shop and gallery.
Marie Barr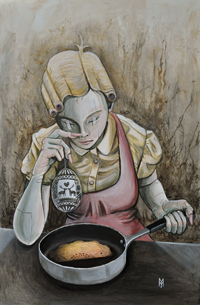 I grew up in Connecticut, the youngest of 9 children. With so many kids in the house, there are few things which you get to claim as your own, and crayons are not one of them. Somehow the red was always missing, or the only colors not worn to the nub were the waxy generic store brand. Still, I always found a way to create my art. I made it through grade school by being in charge of decorating the bulletin boards and excelling in the art of diorama making. When it came time for college, of course I studied Art & Design. I spent the years since then working in Web, Graphic Design, Illustration and eventually becoming an Art Director. During all of this, I've continued to work on my own art. I find people fascinating in both our eloquence and awkwardness. My works express the complexities of humanity and the knowledge that we are all strange puppets. I currently live in Los Angeles where I enjoy all the avocados and cupcakes any one person can.
Mary Spring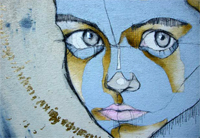 Mary Spring's figures are at once both self portraits of the present and projections of internal hope for the future. Each representation depicts the panoptic range of mental, emotional and physical conditions experienced in a mere snapshot of time, enabling the observer to merge silently into the psyche of the artist. From ultimate pleasure to unbearable sadness, each expression communicates the profound casualties of insight. The integration of medium and mechanics with design and spirit, lead to the paradoxical enlightenment and anguish portrayed at the moment each stroke is applied. Self-realization emerges from the artist as the feminine heart, the kinesthetic demands of performance and dedication, and the consequential strength are unveiled in each expression. Pain synthesized into passion. Time united with eternity.
Mathew Curran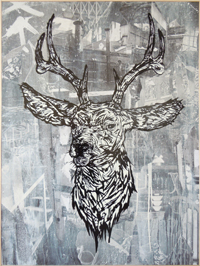 Mathew Curran received his Bachelors of Fine Arts in Art and Design at the University of North Carolina at Greensboro. Curran is best known for his elaborate and large scale stencil work. He sites street art and graffiti from around the world as major influences. Recent gallery shows include NCNC at SECCA in Winston Salem, North Carolina;Divergence at North Art Space in Jakarta, Indonesia and Fat Cap Gallery in Sao Paulo, Brazil. He has a mural currently on view at the North Carolina Museum of Art in Raleigh, North Carolina and Gallery AM in St. Louis, Missouri.
Mauricio Murillo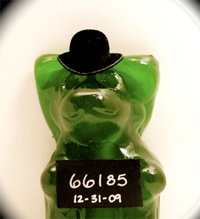 Mauricio Murillo is from Orlando, Florida where his art background came from street art and has now emerged as one of the most "out of the box" fine art/photographers in the New Brow genre. The ability of incorporating his use of Photography along with his humor, craftsmanship, and colorful depictions of life through a Gummy Bear's eyes has brought him much recognition in the art world; from doing shows all over the United States such as D.C., Boston, Philly, Orlando, Tampa, Miami Art Basel and soon the United Kingdom. Another passion of Mauricio is his involvement with The Icla Da Silva Foundation. Where They match bone marrow donors with leukemia patients that have helped save many lives.
Megan Kimber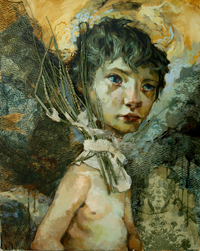 Megan Kimber graduated from Rhode Island School of Design in 1997 with a BFA in Illustration. After living and creating in Orlando, Florida and New York, she then moved to Savannah, Georgia, where she received her MFA in Illustration from The Savannah College of Art and Design. Her illustration work has been published for clients including Lipstick Magazine, Yellow Brand Skateboards, musicians Rob Huddletson, Louis Schefano and Ancestry magazine, as well as creating an upcoming CD cover for The Delicate Cutters, and upcoming promotional campaign work for Briton Bees Motorbikes. Along with creating commissioned work for private collections, she also maintains consistent gallery showings throughout Alabama, Georgia, New York, Pennsylvania, California, Rhode Island, and Orlando.
Melanie Pruitt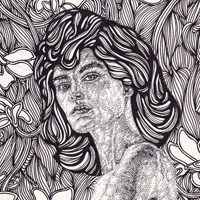 Rural southwestern Nebraska is where Melanie Pruitt was born and raised. She completed a Bachelor of Fine Arts degree from Fort Hays University. Denver, Colorado is now her home. Melanie finds solace in studying the beauty of human history. The details of its emotional complexity to the organic patterns of the Rocky Mountains that surround her inspire an obsessive love of line, form, and movement. These intricacies translate both realistically and abstractly into her creative process.
Michael Auger
Michael Auger (last name pronounced: O-'zhA / rhymes with okay) was born and raised in the Washington DC area. He attended the Columbus College of Art and Design in Ohio on a four year merit scholarship and graduated in 1998 with a Bachelor of Fine Arts. He then returned to the DC area and established a freelance graphic design and illustration business. When not bringing to life the ideas of his clients he can be found creating paintings that feature a wide assortment of whimsical characters that appeal to the young at heart.
Michael Owen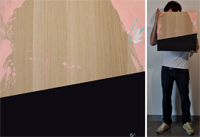 Michael Owen is a contemporary artist who's paintings are found in galleries as well as on the streets; from LA to Miami, Baltimore to Seattle. Visually, Michael's work uses bold, graphic imagery to pull the viewer into the piece, to divulge softer and intimate messages and metaphors. While Michael's work could be classified as figurative, it's subtle compositional details and and deep messages ring true of a more conceptual genre. Typically, less is more in Michael's work as he employs minimalism to access a wider audience, allowing more room for each viewer to insert their own story. Michael is also the artist behind one of the world's longest murals, as well as a 20-mural city wide project called the Baltimore Love Project. Michael currently is a resident artist at the esteemed Creative Alliance, in Baltimore, Maryland, where he continues his artistic practice and leads workshops on street art.
Michael Waraksa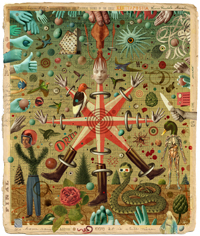 Michael Waraksa is a Chicago based artist/illustrator and a graduate of The Milwaukee Institute of Art & Design. He has exhibited his work at various galleries across the United States and his illustrations have appeared in numerous publications including Time, The Progressive and The Los Angeles Times. His work has also been included in the Communication Arts Illustration Annual, The Society of Illustrators annual competition and The Society of Illustrators of Los Angeles's annual Illustration West competitions.
Mr. Christopher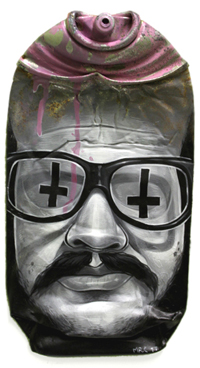 Born and bred in the Midwest, Mr. Christopher has developed a unique style and ethic for someone residing in the Bible Belt. Dropping out of artschool at the age of 19, he decided that the academic world did not have much to offer him. At that time he was still a very active graffiti writer and preferred developing painting techniques on his own. Film, sexuality, politics and street art were all key in what was to become Mr. Christopher's style and content. Although he says he is retired from graffiti, he still manages to catch a few tags and paint a few trains. The allure of painting whatever you want, wherever you want is an addictive quality and that addiction has carried over into his other work as well. He can't go a day without painting, drawing, taking pictures, making music or shooting 8mm film. If creating were cocaine or heroin, then he'd be River Phoenix.
Nicolas Gracey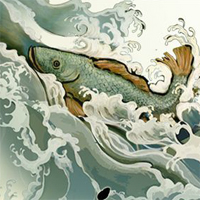 Nicolas Gracey was born in 1974 in Lima, Peru. Since his early childhood, he felt art to be an integral part of his life. His formal art education began at 11 with a private art teacher. At age of 14 he began studying painting and drawing at the Art Museum of Lima. Later, as a teenager, Nico pursued studies under Austrian-Peruvian artist Adolfo Winternitz, founder and chairman of the Art School of the Pontificia Universidad Católica of Perú. In 1992 he began to study Industrial Design at this school. After a year of design studies, Nico was torn between his love for design and his passion for art. So he consulted Professor Adolfo Winternitz, who advised Nico to follow what he knew to be Nico's passion: art. He heeded the advice and changed his major to art. In 1995 he traveled to Mexico City to study art for a year at the Universidad Autonoma de Mexico. In 1999 he was awarded a scholarship to study art at Columbus State University in Columbus, Georgia, USA, where he received his degree in Fine Arts in 2001. Varied life experiences, including studies abroad and diverse work opportunities, have made him a resourceful artist, with skill and knowledge in fields ranging from traditional art in several medias to digital design. Presently Nicolas Gracey lives in United States (Atlanta, Georgia), where he work as an artist, designer, illustrator & concept artist. His artworks are in private collections in Peru, Mexico and The United States.
Nick Morris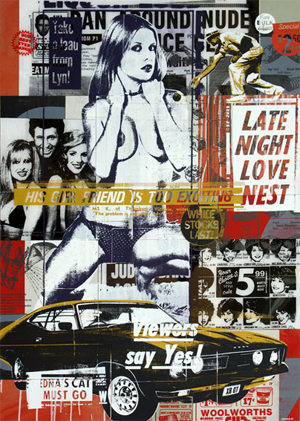 I was born in Ballarat, just over an hour out of Melbourne. At the age of six I knew I wanted to be an artist and, at a similar time, discovered surfing and my passion for the coast had begun. When I was at secondary school, one of my teachers had said only two per cent of living artists make a living off their art, so I decided to become a graphic designer. In many ways it was a positive result for eventually becoming an artist. I went to Chisholm Institute in Caufield where I met fellow designer Dave Bowers and, over time, we hit it off. After working in Melbourne for a few years after college I moved to the west coast of Victoria and, in 1990, Dave and I started a clothing label called Umgawa. It was incredibly successful but our inexperience caught up with us and from there I went on to become the art director at Quiksiver in Torquay, which had been something I had always aspired to. To be living down the coast working in an industry that moulded in around surfing was a dream come true. A few years later I bean my own freelance graphics company called Anyhow, servicing the surf streetwear industry working for the biggest labels in the world. The business peaked around 2004 when we were invited to speak at Semi Permanent graphics conference in Sydney and then later at Agideas with a host of international designers.
Nightmare Mikey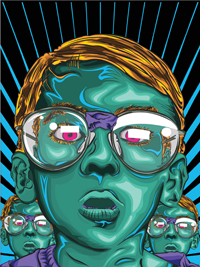 Nightmare Mikey is a Washington D.C based Designer/Illustrator . He graduated College with a BA in Graphic Design in 2008, then shortly after, founded the Company Beautiful Nightmare® in 2009 as a way of introducing his artwork to the world.The purpose of his existence is simply to deliver narratives without words, Majority of his Illustrations/Designs are projects created to deliver specific messages to specific audiences. While some of his projects are pure experiments, meant to grasp the attention of any person willing to think.
Nils Westergard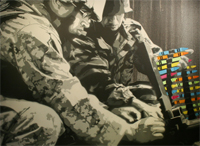 Nils Westergard started stenciling at age 13 when a friend introduced him to the world of street art. Now 18, he is a high school senior with plans to attend VCUarts to study film in the fall. His work with stencils and sculpture focuses on the conflict and legitimacy of street art as well as the nature of authority and rebellion. Aside from painting Nils works with film, sculpture, and set design where he takes his influence from a variety of sources ranging from Carl Sagan to the Cold War. When he's not creating art Nils enjoys nature, film, friends, history and science.
NohJColey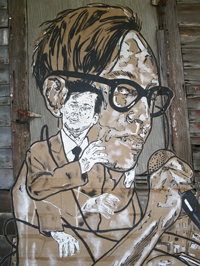 After an early interest in creating CD and DVD cover designs NohJColey became highly fascinated with street art. Using his background in graphic design and collage, he began pasting 22x17 posters in public spaces throughout New York featuring graphic and textual commentary designed to change how individuals function in society. Following a period of disillusionment with the mechanical aspect of this approach, he revisited his early love of fine art and returned to his work with a more nuanced and highly crafted aesthetic. Working in a surrealist realm NohJColey expresses him self through imagery and text hoping that the viewer has gained something in return.
Nosego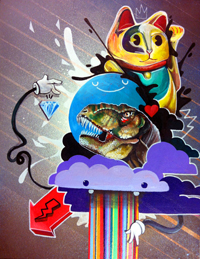 NoseGo is a Philadelphia-based artist with a passion for illustration and media arts. He mixes fine art with a contemporary style to deliver highly energetic work. His designs feature an assemblage of patterns, vibrant colors and characters derived from his imagination and his surrounding environment.
NTG
No Touching Ground (NTG) is a street and installation artist. His life sized graphics of animals transported from the wilds of Alaska to the urban maze of Seattle and other national and international cities are haunting reminders of our distance from nature. The pure, imagistic quality of NTG's work exists outside the traditional graffiti paradigm and focus on producing moments of pure transcendence.
Patrick Fatica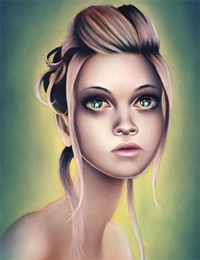 My paintings usually start with a color idea, along with an emotive concept. They then evolve into compositions in which color and light are the primary subject. The subject matter usually revolves around "pop surreal" portraits mostly of women. I try to create a feeling in the color choices and their expressions rather than illustrate it through symbols or content. Over the last two years my color palette has changed from the very vibrant spectrum to a more subdued and subtle representation. The idea is for the viewer to read the title, such as: "Back in the Woods, Under Ashes, There is a Stone" or "Bright and Bubbly Terrible Thing that was Doing Her Thing" and relate it to the painting in order to create a visceral narrative and back story of the subject. All of my paintings are done on hardboard with thin oil glazes separated by layers of Crystal Clear. Upon approach the viewer can see the many underlying layers, which can be seen as "technical symbolism".
Patrick Haemmerlein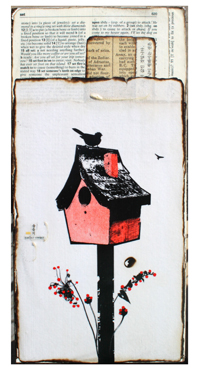 A native of Kinderhook, NY, Patrick Haemmerlein is a freelance graphic designer & artist living in Los Angeles. After receiving his BFA from The Savannah College of Art and Design in 2000, Patrick took the long road trip cross country and settled down in LA. There he began to obsessively photograph the city and its components. This gradually moved into a new art form as he started to combine & create with the images he was shooting. Reflecting on the issues of the day, Patrick explores themes of nature Vs. industry and how they can coexist or clash. The images are all designed from photographs that Patrick has taken. The buildings and cityscapes are from Los Angeles while the animal and farm photos were
mostly taken around his hometown area in upstate NY. They are not only a juxtaposition of nature and industry, but a combination of imagery from his two homes - one rural and one urban.
Paul Chatem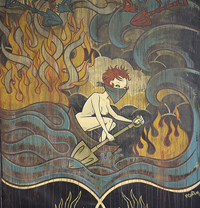 Paul Chatem was born in 1974 in Bellevue, Washington, but grew up in La Crescenta on the outskirts of Los Angeles. He spent most of his time hunting snakes and scorpions in the Tujunga Wash, exploring ruins of forgotten ranches, shantytowns, and asylums, and ducking punches at punk shows with his friends. Growing up in an environment where nature, history, and the impoverished were constantly being pushed aside to make room for golf courses and mini-malls, Paul developed a keen talent for representing the rift between rich and poor, the working man and the boss man, in his surreal, often nightmarish, narrative paintings.
Paul Shih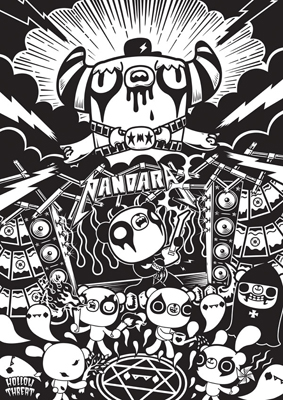 Paul Shih is an artist / designer in New Zealand, originally from Taiwan, where culture is a heady mix of diverse influences. Paul was educated in New Zealand, he graduated from AUT (Art and Design) in 2004.

His work is about events, characters, and is inspired by his surroundings to create a visual world that tells the story. Throughout the time, Paul has developed a unique style called 「Paper Diorama」, which combined illustration and photography techniques.
Paulo Arraiano ( YUP )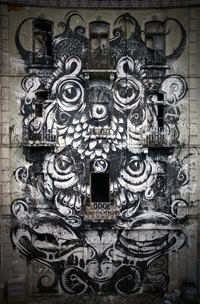 In the organic flow of lines, shapes, colours and compositions that form Paulo Arraiano's visual universe, there lies a duality that merges the natural and the artificial, nature and urbanity, emergence and creation. In the intersection between these two seemingly opposite and excluding worlds, he has managed to set a new-found balance which emerges from the primitive energy that flows between one and the other and is at the root of the visual language he has created and so intensely expresses. In this universe, the all-encompassing nom de guerre of Yup is an exclamation of positivity, an exhortation to life at its fullest, to the primeval motion which is channelled forward by means of those same lines, those same meridians that express the subject of drawing in its purest and most essential form.
Peter Adamyan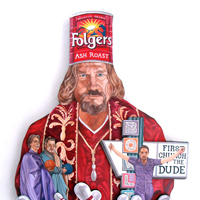 Peter Adamyan is at the ripe age of 24 years old. He grew up in the suburbs of Los Angeles watching cartoons and eating tons of junk food. All throughout his childhood he would draw the cartoon characters of the shows he loved. In high school he was accepted to the Ryman Program, an organization designed to teach young aspiring artists the basics of life drawing. Before attending, during and to this day he spent much time teaching himself the basics of drawing and painting in many mediums eventually leading to his love of oil painting.
Pez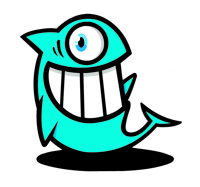 José Sabaté (Pez, fish on Spanish). Born in Barcelona in 1976. He started to paint in 1999 on the outskirts of Barcelona. At first he used to write his signature, and soon it evolved into a fish. One day he decided to paint a fish character near the styles. El Pez was born! He found the huge smile as a way to pass on good vibrations to the walkers on the streets. In a few years his artwork spread throughout Barcelona, and soon he began to travel and to paint in European cities. So he became being recognised and rose quickly thanks to his perseverance in the street. His works appear in some of the best-known street art books: Street Logos, Art of Rebellion, Street Art, Bcn New York, Graffit Planet, Sticker Bomb2 etc.. … and in specialized documetals like "Bomb It", "Next","Exit through the gift shop". Last Years he was paiting and doing exhibition on cities like Tokio, Hong Kong, New York, Los Angeles, Paris,London, Amsterdam, Bogota and many more…
Eric "Phoneticontrol" Broers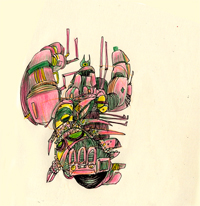 Eric John William Broers (since 1975) is a San Francisco based illustrator, muralist and curator. He also is a designer of websites, figures and clothing. In 1999 he moved from the suburbs to Chicago and pursued record label management and illustration. Finding that he had to choose one over the other, he decided on visual over audio. After visiting SF for an art show he was involved in 2005, he completely fell in love with the city. One year later, he packed up his cat and his stuff and pushed west to the Left Coast. He now lives in the Hayes Valley with his wife, Alice Koswara and two fighting cats. He and his wife also paint together as PHOKOS.
Pixel Pancho

Pixel Pancho was born in Turin Italy in 1984. As a child he found interest in color and form, thanks to his grandfather, an occasional painter. Pixel always has had a passion for art and design and knew that this would be part of his life since the beginning. In 2003, he inscribed at Albertina Academy of Fine Arts School in Turin, after two years he transferred to the Academy of Fine Arts in Valencia where he is to obtain his degree this year. His years in the School of Fine Arts has led him to the world of design, graphics, and above all the graffiti and street-art scene. Pixel's studies and his determination for experimenting with different mediums opposed to the classic formula of the academy made him stand out from the others, as he followed his passion for using spray cans and marker and working on out door surfaces opposed to the classic paper and canvas. Traveling between his hometown of Torino and Valencia Pixel Pancho took every occasion to be noticed on the streets, using different mediums such as tiles, wall painting, sticker/poster art, etc. Like every artist Pixel Pancho has been influenced by many different artists of the past and the present, such as the historic painter Joaquin Sorolla, the surrealist Salvador Dali, the political painter group El Equipo Cronica to the more modern Ron English, San and Takashi Murakami. Traveling to countries such as Paris, Amsterdam, Warsaw, Vienna and many others for graffiti jams and expositions in galleries has made it possible for Pixel Pancho's style to evolve from the simple Robot character to the more complex compositions that we can see in his work today. Pixel Pancho moved back to Turin in 2010 and has opened his first painting studio where he produces his art works. There is a lot to be expected from this young and motivated artist, the work of Pixel Pancho has just begun
PONSHOP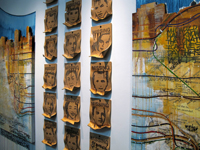 Scarlett and Gabriel are 1997 graduates of Virginia Tech where they received their undergraduate degrees in Architecture. They worked in the architecture profession in New York City until 2005 when they moved to Fredericksburg and started their family. Fredericksburg offered an ideal environment for them to flip their careers and pursue their art (Scarlett in ceramics and Gabriel in painting).
Pun18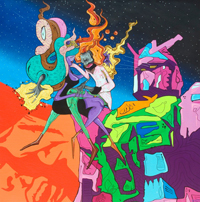 Pun18 was born september 22 1985 in San Juan, Puerto Rico. From his childhood he had a fascination with drawing "comics" and animated series. Influences that inspired him to create his own characters. At 10 years old met the world of graffiti and not until his 15 years old when he decide to get involve. What began as hobby became his career. Pun18 came to participate in exhibition in and outside of Puerto Rico, in countries such as Spain, France, Germany, United States, Belgium and Canada. His current work is more personal. Talking about personal experiences and what surround in his live. With a influence of neo pop, graffiti, abstract expressionism and the urban landscape.
Rei21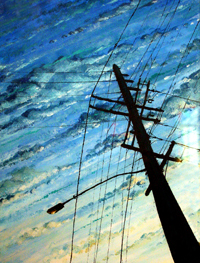 Involved in the graffiti art scene at an early age, Rei21 (pronounced "RYE 21") has strived to consistently deliver quality works in the multiple facets of his artistic expression throughout his career. He began his art endeavors in 1992 in Frankfurt, Germany and quickly learned the necessary tools to develop an artistic repertoire and solidify a unique expression. After moving to Northern Virginia in 1997, his work evolved to new heights, partnering with other local artists to produce large-scale murals and other commission works in the area, and throughout the East Coast. His gallery showcases became regular, and steadily became recognized as one of the area's premier graffiti artists.Rei21's style combines technical and organic elements, with an emphasis on flow. He has come to be known for his artwork containing industrial themes, often using elements relating to power lines and the railroad industry.
Richard Alan Haugh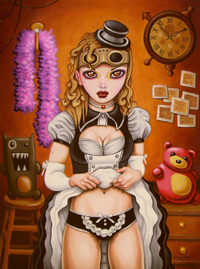 Artist born and raised on the Mississippi gulf coast. I've been an artist all my life. Striving to make each painting better than the last. My work tends to evolve, yet remain recognizable. After a break, I went back to college for fine art in painting. I show in numerous galleries across the country in group shows and sometimes at Art Whino gallery near DC. I feel like a fish out of water because I paint lowbrow portraits and live among an art community that is primarily coastal art; landscapes, seascapes, nature, birds, fish, etc... The thing is that living in south MS makes me wonder if I would fit in with artist with similar taste in art. I don't know that I fit in with artist in MS because of the age and subject matter. But I also don't know if I would fit in with artist, for example, LA because of the culture and politics. I would like to think that people didn't judge my art based on me or my views on life, religion and politics.
Ron Zakrin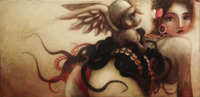 Ron Zakrin has been an ever present creative force in Detroit since the mid nineties, when he emerged on to the underground electronic music set with paintings that provided a visual counterpart to the Detroit sound that was taking the world by storm. Since those early days Ron's work has expanded in scope and scale; no longer strictly focused on man and his relationship with technology, Zakrin probes the veins of society, and explores the nature of man, love, and loss. Zakrin lives in Detroit Michigan, where he was born and works daily. In 2011 Ron Zakrin was voted Best Artist by Real Detroit Magazine.
Rosina Teri Memolo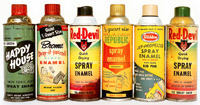 Rosina Teri Memolo is a fine art and commercial photographer from Washington, DC, known for images inspired by her urban landscape. Rosina serves as a visual archaeologist by digging into our human culture to document what she finds. Her images are intuitive, sometimes even happy accidents; they stay with you and provoke memories, thoughts and emotions.
For the G40 exhibition, Rosina is showing "Jessica with a Squirt Gun" which references DC's violent history as the "murder capitol" that Rosina witnessed sometimes too closely while growing up, as well as her efforts to use creativity to change the surrounding culture of violence. Currently, Rosina is also showing in her home, which has recently been transformed into a gallery space to show off her unique collection of art. In addition to her fine art offerings she depicts street and music culture in books such as Streetworld and Enamelized, as well as Swindle and Urb magazines.
Ruben Ubiera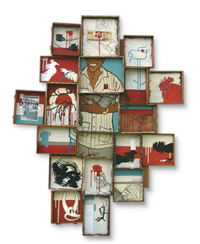 Ruben Gerardo Ubiera Gonzalez (born October 19, 1975 in Santo Domingo, Dominican Republic) is a Dominican neo-figurative artist, known for his strong use of the line, who has been drawing and painting ever since he had use of reason. Ruben paints and draws in a style considered by many as Pop-surrealism, but he prefers to call it urban-pop, since he has lived most of his life in the urban, populated areas and most of his inspiration is derived from the interactivity between man and his urban environment. At the age of 15, his family moved to the Bronx, NY, where he was heavily influenced by the grafitti art that surrounded him, something he wouldn't realize until much later in his life. He strives in all his work to capture an essential part of his past, his present and his subjects through the use of the line and form. His work includes still-life and situational portraiture but Ruben tends to primarily focus on city landscapes.
Scotch!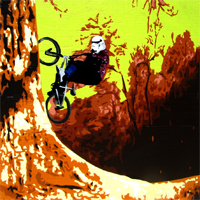 Scotch! began his artistic stencil career in 2005 by experimenting with self-taught techniques and learning from his then roommate. Best known for the crotch grabbing stormtrooper, his first show was a major success, leading to recognition by the San Antonio Current, the city's leading cultural publication, as the Best Anonymous Public Artist in both 2005 and 2006. In 2007 Juxtapoz Magazine featured Scotch! for his triumphant coordination of a public art installation, "Uniting Artists through Crime". The artists combined efforts to cover an entire building in their work. Galleries around the world are catching wind of Scotch!'s achievements. Besides art shows, he started a line of t-shirts for German company, 500godz, which has taken off since its 2008 inception. It would seem that intelligent, artistic, well-made, hilarious shirts are in high demand. Scotch! is happy to fulfill this need. Scotch!'s continues to work on new techniques and ideas towards street art and the evolution of his canvas - all further expanding the number of galleries happily welcoming his work.
Seamo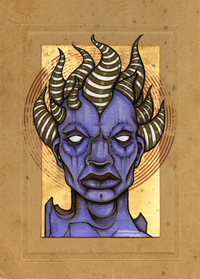 Born in Albuquerque, New Mexico in 1980. Seamo has been involved with Art since he could hold a pencil. Most school days were spent creating graffiti lettering, comic & urban styled characters. Living in a small town in Oklahoma during the 90's, inspiration came from skateboard art, magazines, books & freight train graffiti.
Scribe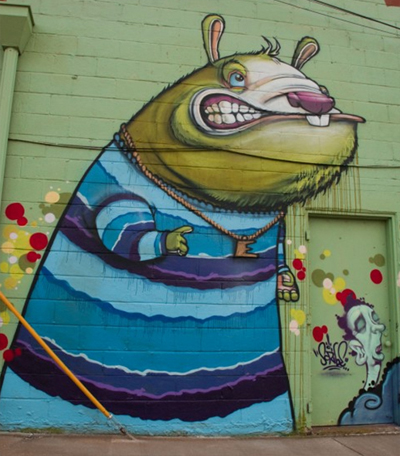 Donald Ross also known as "scribe" is 34 years old and currently lives in Kansas City, Missouri of the United States. The animated, public murals by Scribe are readily recognizable in Midtown Kansas City and throughout different part of the United States, Canada and down into Mexico where he has both painted murals and had gallery shows. Scribe incorporates a menagerie of animal characters developed over many years representing a particular, self-referential trait that he inserts in various scenarios. Scribe intersperses personal iconography, biblical and fairytale references, animation and metaphor in works intended as contemporary parables for public audiences, hence the use of his artist name and persona. Through accessible idiom and image, Scribe incorporates humor and play in the conveyance of serious messages regarding personal integrity, attainment of knowledge, and adventure.
Shojono Tomo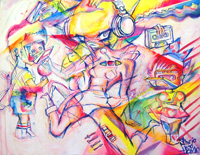 Shojono Tomo ("Friend of Little Girls") worked as a graphic and goods designer before becoming an independent freelance illustrator in 1990. She has produced illustrations, comics, music, fashion, and more, and is increasingly well-known at a global scale. Shojono Tomo takes inspiration from the colorful life that she leads to create eye catching and eclectic illustrations which she then blends with fashion pieces and accessories. In 2011, Tomo exclusively illustrated Nicki Minaj's stage wear for concert and special events. Currently, she is developing a My Little Pony artist series and "Snow White" themed collaboration with reality tv star Onch Movement.
Skinner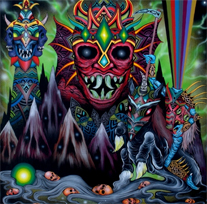 Skinner is a self-taught artist from Sacramento, California who has meticulously crafted a balance of extraordinary mural work, mighty powerful wall to wall installations and a prolific commercial career. Influenced by 80's pop culture, human struggle, myths and violence dungeons and dragons and the heavy metal gods, Skinner's mind is one full of mayhem fueled by a calculated chaos. His work has been shown all over the Universe at places like the museum of graphic design in Breta, Netherlands, Japan, Illustrative festival in Berlin, Germany, France and the states from LA to New York and in between…recently participating in the epic suggestivism show at the Grand Central Arts Center. His most recent solo exhibit entitled The Fear You May Know reigned at the White Walls Gallery in San Francisco in the summer of 2010. Skinner's work has made known in various publications including Blisss, Juxtapoz, Hi Fructose and Beautiful/Decay.
Patrick "Star27" Deignan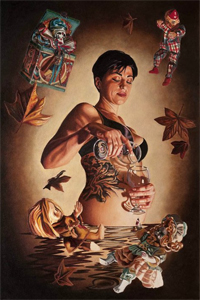 Patrick "Star27" Deignan and his work seek to discover a beauty in the flaws of the human condition. A self taught oil painter who delved into the arts at a young age, seeking refuge from his inner demons, he found a love for the figure early on. After a very uncreative period in his life, a near-fatal night occurred at the age of twenty seven. Encouraged to pick up his brush again, Patrick adopted his moniker "Star27" and found a love for the process he had lost since childhood.
Driven by obsession, his work encourages a wordless dialog, engaging the viewer to glimpse into a world where our darkest secrets and most intimate moments are shared. Through an unabashed attention to color, Deignan conveys pure, raw emotion from his subjects that resonate in the viewer. The works are telling stories of our vices, shortcomings, and weaknesses. They speak of our freewill, and our predisposition to err. Being reflections of his deepest feelings and experiences, the work, like Patrick himself, grow, change, become more complicated or simplified and continue to evolve with each new piece.
St.Clair "EL Blaga" Castro
St.Clair Castro is the name, or you can call him "EL Blaga" . I'm a visual artist in the culture cloister city of Washington DC. I like to work in many mediums, but my favorite is illustration and mixed-media collages. St.Clair is an avid counter culture advocated and social reformer through the artistic realm. He is also Creative Director and Publisher of No Homework magazine, a publication dedicated to art, films ,music, and conscious/counter culture.
Sylvia O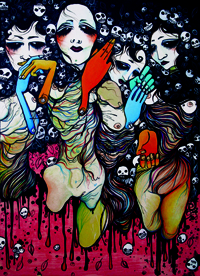 New York born and raised, Artist Sylvia Ortiz attended Cooper Unions prestigious Portfolio Prep Program. Later obtaining a B.F.A. from Parsons School of Design and has been heavily active in the urban art scene since 2002 having her first solo exhibition that same year. Her work has been exhibited across the globe from New York to Germany, Paris and Japan. The Beautifully Grotesque is Her body of work where pushes and pulls the boundaries of what is considered "Beauty" and "horrid". Sylvia O. uses bright and colorful colors to lure and seduce the viewer into delving deeper into their own identity by using the female form as an "object" as opposed to the "subject". In 2010 Ms. O had to put her career aside to battle Breast Cancer; which is ironic because her signature floating bubbles of breast are an iconic part of her work. She currently resides in Baltimore where she spends most of her time battling cancer and in her studio painting when she can in hopes to pave a road of consciousness that women would follow as she prepares for her artistic comeback.
Terry Platter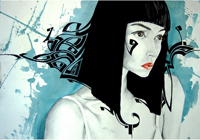 "Everybody wears a mask. People wear them to protect themselves from the world, which can sometimes be cruel. The masks that I make are a physical manifestation of that façade," he says. Although his masks are an important part of his art, Terry got his start with a simple pencil and paper at the age of five. "The first thing that I ever created was a comic book called Comet Man. I still have it in my room somewhere," he recalls. In school he was on the outside of different social groups although he got along with most people. He was also somewhat against the grain within his own family. "He was a weirdo. He did all of the strange stuff in the family, wore the weirdest clothes, He was just strange, " said Margo Terry's oldest sister, "It's like being the family outcast, everybody loves you but you're still strange." No matter how strange he was art was still a part of his life. "Terry drew no matter what. When he was happy he drew, when he was sad he drew. It didn't matter how he was feeling Terry was going to draw," says his brother Solomon Plater.
Thom Glick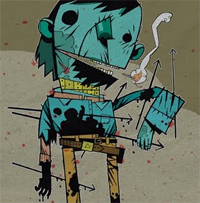 Currently residing in Columbus, Ohio, with his lady friend, Zuz, and their teeth beast, Pilot, Thom Glick teaches at the glorious Columbus College of Art & Design, and, when not teaching, or doing something else, makes artwork stuff, mostly illustrating things. Until recently, Thom was a ghost living, or actually not living, in the woods surrounding West Milton, Ohio, a tiny village filled with farms and dogs and high school football. A group of ghost hunters trapped him and placed his misty ghostliness inside a shiny robot body, as part of an elaborate college frat party prank gone wrong. Before becoming a ghost or robot, Thom was a famous explorer, who's name no one can remember. As best he can, Thom draws inspiration from the countless cultures and places he discovered during his famous exploring days.
Thomas Pearce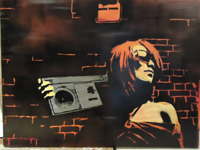 His art is inspired by the likes of Andy Warhol & The Infamous Banksy Street Artist. Growing up on the streets of South Baltimore he discovered he wanted to be an artist. Seeing graffiti & stencil art on the trains & alley walls of Baltimore fueled his passion to become an artist. He now consider himself versatile in many areas of art, but he primarily focuses on stenciling & graffiti. Passionate about what he creates or does as an artist, he hopes one day to leave his mark on society long after he is gone. Looking to a break out in 2012. He knows its time to show the world just how Syck of an artist he is. His name is Thomas Pearce & he is one of the syckest undiscovered artist in the Maryland Area.
Tim Rodgers
Tim Rodgers, Jr. is a DC-based artist and designer. As a member of Albus Cavus, he explores new ways to improve people's lives in the District through creative expression and art. His colorful "downers" are fascinating characters, all with their own names, personalities and expressive hidden stories.
Tobar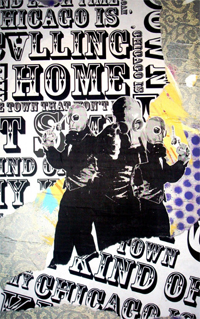 Christopher "Tobar" Rodriguez is a local Orlando multimedia artist and graphic designer specializing in stencil art, digital design and character drawing. Working with spray paint, exacto knives, black ink pens and paint, Chris makes art inspired by the world around him. Chris has been making art for 18 years, and is a co-founder of local street artist collective B-Side artists and Inprogress Magazine.
Todd S. Hale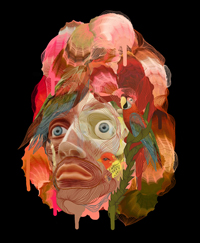 Todd Hale (b. 1973) is a mixed media artist based in Richmond VA and the Outer Banks of North Carolina. Traversing between the worlds of emerging electronic media and the traditional techniques of painting and drawing, his work revels in transformation while seeking transcendence. Through the juxtaposition of found imagery, a personal visual language, and abstracted natural forms, he explores a lifelong interest in the mystery of human consciousness and perception. Large psychedelic field paintings coexist with intimate compositions, each seeking to catalyze revelation and inspire meditation. For the past 8 years Hale has opened his studio to the public on a monthly basis, presenting works in progress alongside finished pieces. While hosting countless other artists and musicians in his studio, this project has become an integral part of his creative process.
Tony Philippou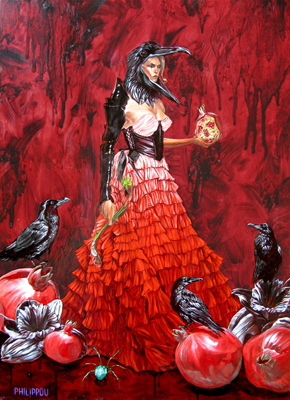 Tony Philippou's work centers on the juxtaposition of conflicting stereotype's. To create a sense of harmony in a world that shouldn't be possible. His body of paintings is based on figurative forms of Iconic personalities that are then tightly rendered in very loose or controlled environments. A blend of Art Nouveau, figurative, abstract, and surrealism are fused for a more dynamic composition. Recently, Tony has completed a longstanding series on the religious figures of Jeezus Piece, Judas Piece, and The Vixen Mary. A complete remix on the Iconography and ideology of these characters, Intending them to be as far away from what you would expect. They are everyday people looking fly in different stylized settings. The halo and sacred heart symbolizing their divinity was individualized for each character. Mary has her heart adorned with flowers, Jeezus Piece has thorns and Judas Piece has a snake. All halos were meant to be design elements with contrast in color and dynamics. His new body of work centered off of Greek Mythology, Roman art, and New York ideology. In which a variety of Mythic super heroes from huge civilizations can exist in a retroactive lifestyle battle to see who is the Flyest.
Tracy Tomko

Tracy Tomko attended the Art Institute of Colorado for Industrial Design, and has spent the past few years working as a Sculptor and Master Maker for companies such as Warner Bros., Porch Light Entertainment, Friends With You, The Children's Museum of Manhattan, Nike, Hollister, and many more. In her personal work, she places imagery from memories or dreams in a world where music and thought mutate the living into a new vibrancy in the present. Having been influenced by books about scientific experiments that seem to prove that plants are sentient beings, they play some of Tracy's main characters. Tomko is interested in the profound nature of the symbiotic relationships of different species and shines a light for them in her story. She maintains a studio in Denver, Colorado.
ULTRA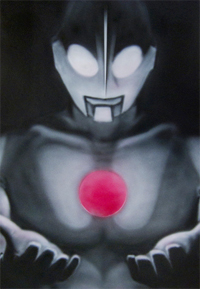 Asad, an experienced street artist and designer, has been an innovator in Washington DC's hip hop and graffiti art movements for over 20 years. He is featured in the book "Free Agents: A History of Washington, D.C. Graffiti" and was interviewed for two recent documentaries: "Chocolate City Burning" and the upcoming Cool "DISCO" Dan film. He has spoken at a DC City Council panel and was even invited to paint at an exhibition at the Smithsonian. Since his release from prison, he has been busy painting both canvases and walls for galleries and as part of the Albus Cavus collective, whose work was featured in a recent Washington Post. He also has been teaching, both for the interested public and at-risk youth in DC and Maryland. One of his proudest teaching moments came when he was invited to return and teach at DC Jail as part of the Incarcerated Youth Program. Asad continues to work hard using his years of experience as a street artist to produce beautiful and meaningful works of art.
Ursula Xanthe Young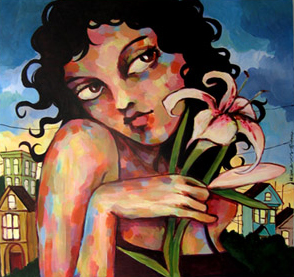 Over the past fourteen years Illustrator, Painter and Designer Ursula Xanthe Young has become known for her unique flowery urban fairytale illustrations. Graduate of Parsons School of Design (Illustration, BFA, New York 1996) Ursula exhibits frequently in the bay area and has sold paintings in New York, London, Singapore, Manila, Hong Kong and all across the U.S. Ursula finds inspiration in the organic yet urban landscape of San Francisco and its surrounds; the crossed wires, victorian buildings and fog-filled horizons, that are oft backdrop to her brightly painted doe-eyed flower girls. She is also highly influenced by her frequent travels to the far-flung reaches of the globe and the variety of colorful characters that she encounters - both real and imagined - along the way. Due to her love of electronic music since the early 90's, and the culture that surrounds it, Ursula's art can be seen on CD & record covers of dance music labels including Om records, Safe In Sound Music, Loveslap recordings, 2 Block Radius & Panhandle records. Along with murals, apparel & club flyers, her art can be spotted in magazines & ipod covers and in boutiques across the city of San Francisco and beyond. Originating from the green rural dales of Northern England, Ursula has spent much of her time since then traveling and has studied art in New York City, Florence, Vermont, Oslo, and London. After ten years making her mark in the Lower Haight neighborhood of San Francisco, she recently relocated to the Sierra Nevada foothills of Northern California - this time to a remote spot in the forest - where she's busy finding a whole host of new inspirations.
Viceversa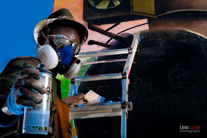 Originally from Monrovia, Liberia West Africa, Eric B has been residing in the United States with his family as a political refugee since 1990. He completed high school at Quince Orchard High where he was first introduced to his first love, traditional film photography. After graduating from high school, he briefly pursued photography at Montgomery College. During the 90's Hip Hop culture Blooming in the DMV which was underscored with the "Aerosol Street Art Scene". Eric was drawn in and immersed into the scene and committed to a life pursuit of this culture. Later his interest expanded as he explored many other forms of creative self expressions in traditional painting (acrylic and oils), collage, sculpture, fashion design, book making, interior design and remodeling. Seeing himself as a life long student to the many disciplines of creative expression, the arts has been the focal interest which has lead him to a path of spiritual awareness and self enlightenment. Witnessing the destructive side of mankind and being a child survivor of war, Eric B uses art as a medium for hope, change and love.
Walt Hall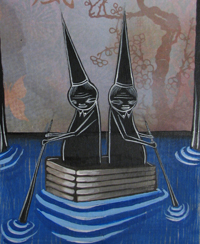 Walt Hall was born and raised on the mean streets of kilaminjaro. at the age of seven he stowed away onboard the hms mcguillicuty, whose privateers had sworn a blood oath to seek and destroy the barbary pirates. after twelve years at sea he bid farewell to his comrades and joined up with a series of leftist guerilla movements in the jungles of peru. although the liberation front hated to lose his contributions, three years into the struggle he was secretly extracted, via the underground pipeline of jesuit missions and chinese yo-yo distribution centers, and given a new secret mission. a mission from the very top. the objective- the elusive double agent marco. marco was a worthy adversary indeed, constantly slipping away just when he finally seemed within reach. but in the end he was no match for walt hall. Aided by his superior horsemanship and vast knowledge of local cossak customs, he finally trapped marco once and for all inside of a creaky church copula somewhere in south west ukbekistan and promptly turned him over to the turnip police for a lengthy internment on a secluded penal island thirty two minutes north west of guam. In his spare time walt hall enjoys weaving oversized afghans from the wool of his prized llama, freddie and he also fancies painting.
Yosiell Lorenzo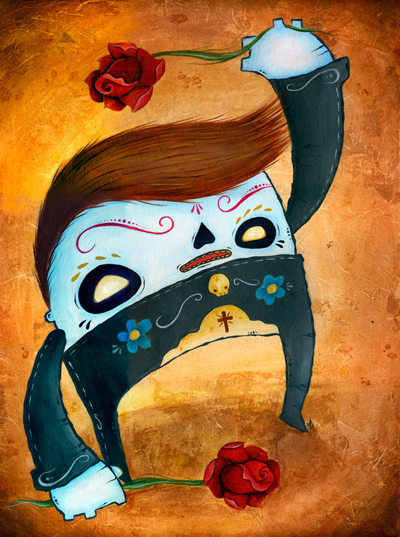 Yosiell Lorenzo's work fits into that saying: "never judge a book by its cover". At first glance, his artwork is all cuteness: cupcakes, cherries and candy. But beneath the facade of frosting and the rainbow sprinkles camouflage, a sadness is stirring. Yosiell uses sweetness to reel us in. Once he has us in his saccharine net, we settle and see beyond the surface: these are cheerless creatures. They are all searching for love.
Zoë Williams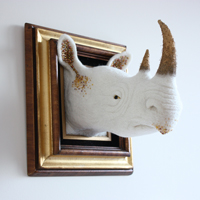 Zoë Williams was born in 1983 in New Orleans, Louisiana where she lived until hurricane Katrina devastated the city in 2005. Having spent the greater part of her life in New Orleans, she has been considerably influenced by the aesthetic of that place. The natural world, especially animals, provide inspiration as well, although the majesty of nature is often infused with a hint of the macabre. Her work also reflects a passion for the inner world of dreams. Ever since childhood, she has enjoyed a vivid and active dream life. She was introduced to dream analysis by her parents, who imparted an understanding of the basics of Jungian psychology at an early age. Dream imagery and symbolism play an integral role in her work.