2013 Richmond Mural Project
July 22nd - Aug 2nd
2013 Richmond Mural Project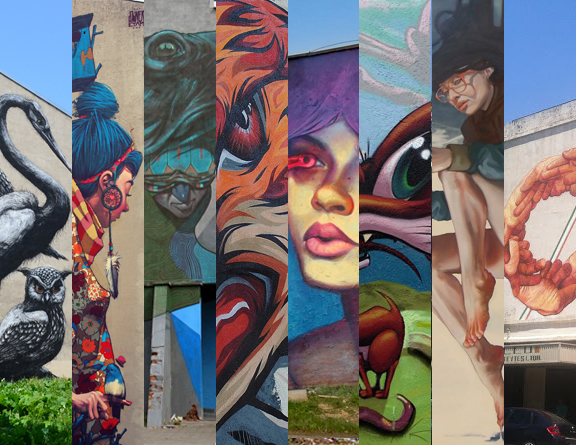 12 Muralists. 2 Weeks. 20+ Murals throughout the City of Richmond
Art Whino, returns to Richmond, VA to continue with
last year's
greatly successful Richmond Mural Project. Art Whino will curate another edition of murals with eight to twelve of the top muralists from around the world. This second project will build on the twenty three previously created murals and will add another twenty throughout the city, bringing the number of murals to forty three upon completion.
The Richmond Mural Project is a yearly event with the goal of creating over 100 murals by world renown talent in the first 5 years alone. The recurrence and solidification of the project throughout this time will establish Richmond as a landmark destination for internationally recognized murals and will create exposure for the city, establishing it as a premier art destination. By concentrating a large number of murals throughout the city the project will increase tourism and will bring the much needed "Feet on the Street" which will help local business thrive. Along with this mission there are many additional benefits that these murals will bring to the city of Richmond. These murals will serve as positive catalysts for change by specifically placing them in areas that are in disrepair. These environments include neighborhoods with abandoned buildings and low foot traffic, areas with high crime, and newly developed areas in need of identity.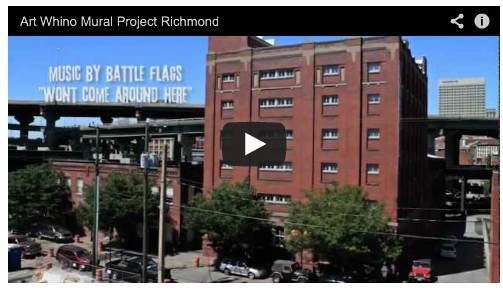 MURAL LOCATIONS
Various Locations
Map will be released soon by our media partner
Gungho Guide
Information and Exhibit Space
Stop by and pick up a map of the murals as well as check out a special art exhibit and prints by muralists participating in the project.
Location:
202 West Broad St Richmond, Virginia 23220
Hours:
Tues Jul 23rd - Fri July 26th 4pm-7pm
Sat Jul 27th - Sun Jul 28th 10am-6pm
Mon Jul 29th - Thurs Aug 1st 4pm-7pm
Reception with our Cultural Partner RVA MAGAZINE
Saturday July 27th Noon-6pm


Live painting and signing by Muralists
DJ's on the turntables:
Long Jawns from Gent & Jawns
Mike Kemetic of Audio Mass Transit
DJ Phenom
Reception Location: Selba Restaurant
2416 W Cary St Richmond, VA 23220
Selbarichmond.com
For more information and to see last years murals go to
http://richmondmuralproject.wordpress.com/
2013 Mural Locations:

534 N Harrison St
EVER

2416 W Cary St Side 1
EVER

2907 W. Cary St
Sonni

2 N Rowland St
Gaia

2929 West Cary Street
(Inside Back Patio of "Dont Look Back")
Kelly Towles

300 West Broad St
Stormie Mills
3336 N Blvd

Stormie Mills
203 N. Lombardy St

Stormie Mills
2107 W Main St
Stormie Mills
105 S Addison St

Stormie Mills
Secret Location (in the Fan)
Stormie Mills
821 West Cary St

Stormie Mills


825 West Cary St
Angry Woebots

2416 W Cary St Side 2
Angry Woebots
807 Oliver Hill Way
Angry Woebots

14 S 15th St
Andrew Hem

2103 west Main St
Natalia Rak

535 N 2nd St
Aniekan
205 east Marshall Street
Aniekan

1011 W Grace St
Etam Cru

2600 W Main St Side 2
Greg Mike
821 West Cary St
Greg Mike


Art Whino Gallery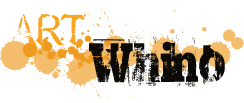 Art Whino is a DC based art gallery whose mission is to bring together the pioneers and freshest talent from around the world. With over 1200 artists in the Art Whino arsenal, ranging from California to New York, Germany to Japan and beyond, Art Whino has become an all encompassing force in the art world. Exhibitions cover the whole spectrum of new art forms ranging from exposing emerging stencil and wheat pasting artists to showcasing the most skilled leaders of many different genres.
RVA Magazine
- OFFICIAL MEDIA & PRESS PARTNER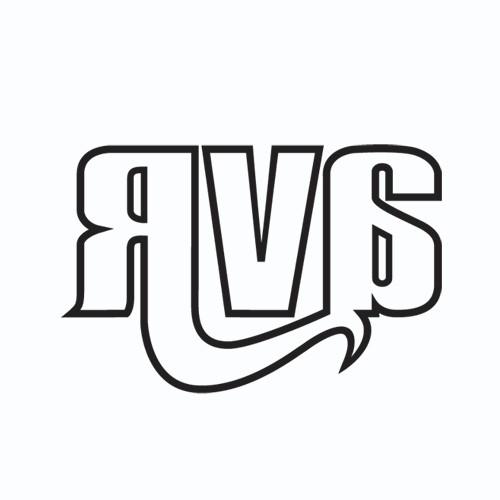 From day one (April 2005) we set out to lend voice to a subdued creative class of Richmond. RVA has succeeded in creating a brand that searches out the best artists, ideas, events, bands, photographers and culture-jammers Richmond has to offer and gives them a platform for exhibition that "gets" them.
Access to talented and creative people is to modern business what access to coal and iron ore was to steelmaking. --Richard Florida, economist and author. In a city best known for it's role in the Civil War (insert eye-rolling here,) the battle to be bigger than our past has been formidable. For generations, city leaders have banked on the faded silver of dubious honors - Capital of the Confederacy etc, and ignored the 21st (and 20th) centuries. With world-class schools such as VCU growing organically on their own record of excellence, media giants like the Martin Agency cementing their footprint in our cobblestones, and Fortune 100 companies relocating to attract the hordes of creatives emerging here, Richmond is exploding. New construction and development is rampant in heretofore decaying downtown retail and nightlife centers.
http://rvamag.com/magazine
RVA Magazine - OFFICIAL MEDIA PARTNER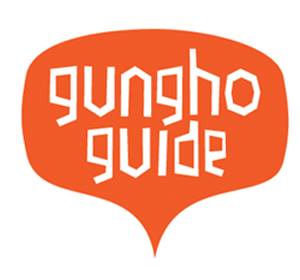 GunghoGuides.com is a place to celebrate the best things we love about Richmond. We picked the top hundred or so places that we feel contribute to the pride of living in this city. We wanted to create a site that presents these unique experiences and JUST these experiences as places you absolutely SHOULD patronize.

As you discover the website you'll notice that there's a lot of good businesses not listed. When a friend comes in from out of town and asks your opinion on some fun and/or simply interesting ways to spend their time in Richmond, you don't hand them a phonebook. You give them an excited "You've got to go to ____!" We tried to find the places that elicit THAT response and give them a little piece of the internet where they can be recognized for being THAT special.

This comes with full knowledge that we, the editorial staff of this site, have not been EVERYWHERE (and if we had, we'd be bored out of our skulls) and that there's always something new and incredible popping up in the city. Keep us on our toes, recommend some great places, and keep our lives interesting too :) We hope you enjoy interacting with the site and that you find reason to tell your friends about it. In the meantime, go gungho on these joints and keep coming back for the blog and the regularly updated event schedule.

2013 Muralists:
Angry Woebots - (California)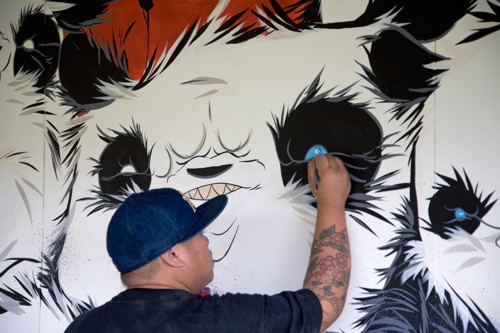 Aaron Martin was born on the island Oahu 1977, Hawaii. Most of his childhood was spent growing up and moving from Southern California to Nevada before finally landing back into Hawaii during his Junior year in high school. In 1999 a car accident changed everything; this life-threatening experience inspired him to leave the island once again, this time to Seattle, Washington. Inspired by the rain and being indoors, he started playing around with different art mediums again. He then left back to Hawaii with a new perspective, Aaron had his first show in 2002 and has not stopped. He has showed in galleries up and down California, the east coast, and even in shows that have traveled from the U.S. to Hong Kong. His focal medium is acrylic paintings on wood and canvas. Using minimal colors and detailed character design, these paintings are usually comprised of stressed out emotional pandas. The pandas tend to represent the story of struggle.
Aniekan (DC)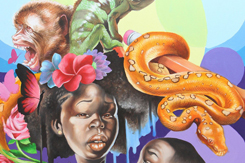 The 36-year old Udofia achieved local notoriety for his towering murals of Duke Ellington, Fredrick Douglas and George Washington as well as his solo and group live paintings at Washington events sponsored by the likes of Red Bull, Heineken, Honda, Current TV, Timberland and Adidas. He garnered national attention with his caricatures and photorealistic illustrations for urban publications XXL, Vibe, Rime, Elemental, DC Pulse, Frank 151 and The Source. He further entrenched himself within the visual vernacular of the hip-hop landscape with designs for urban athletic wear companies And 1 and the D.C.-based Native Tongue.
Andrew Hem (California)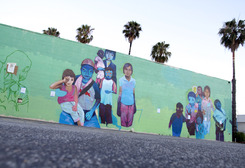 Andrew Hem's introspective, otherworldly paintings explore realities one step away from our everyday waking life. What if our thoughts flickered across the surface of our skin like ephemeral silent movies? What if spirits walked among us, trying to find their path? What if there were no racism, and even the most outlandish people were accepted? What if the children of Andrew's native land had been allowed to live in peace and thrive?

Born during his parents' flight from Cambodia in the wake of the Khmer Rouge genocide, Andrew grew up poised in the balance between two cultures — the gentle animistic society of his Khmer ancestors, and the dynamic urban arts of the tough Los Angeles neighborhood where his family eventually came to rest. Fascinated by graffiti at an early age, he honed his skills with graphics and composition on the walls of the city before following a passion for figure drawing to a degree in illustration from Art Center College of Design. Working in gouache, oil and acrylic, he weaves atmospheric, richly textured narratives in a vivid palette of twilight blues enlivened by swaths of deep red and splashes of golden light. His haunting impressions of culture and landscape evoke the life of the spirit through the visionary manifestation of memories and dreams.
Bezt - Etam Crew (Poland)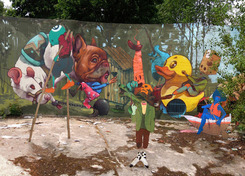 Born in 1987 in Turek (Poland). After study in Academy of Fine Arts in Lodz he moved to Warsaw where he is still doing canvases and murals around the europe and world.
Founder of ETAM group. Started to paint about 10years ago in Turek, after few years of doing styles and illegal walls he started to paint graphic characters, started to travel to graffiti jams, meeting people. Collaboration with association Stumilowy Las opened him to big murals and collaborations with good polish painters. On study he learned and still learning techniques of academic painting and uses it in painting big murals. He's influences are artists like Mucha, Klimt, Vania, Malczewski and many many more. He grown in graffiti and hip hop culture so it's still a big influence in his paintings and walls. He's paintings are made in characteristic illustrational style.
Ever - Nicolás Romero (Argentina)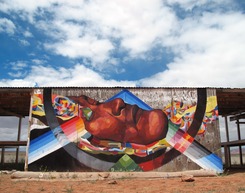 Ever (Nicolás Romero) is a former graffiti writer who began painting in the streets of Buenos Aires in the 1990's. From the beginning, he was inspired by the street's potential for projecting concepts and colour into the daily lives of thousands of passers-by. Though he began as an artist practising letter-based graffiti, Ever's style developed over time and moved into the realm of murals and street art. As he moved further away from graffiti, he began to explore different subjects such as portraits of ex-lovers, his brother and anonymous faces. He also experimented with more conceptually motivated pieces; such as giant portraits of chihuahuas, meant to refer to materialistic cultural tendencies. Ever is highly skilled with both aerosol and brush work and frequently integrates both into his murals. Recently he has begun to explore creative juxtapositions between his strikingly realistic portraits and abstract details, such as bright-patterned thought clouds pouring out from the eyes of his faces. With his more traditional "painterly" style, Ever often creates works one would expect to see hanging in a gallery instead of adorning a concrete urban wall. This is part of what makes Ever's work so engaging. The anonymous faces he paints acquire gravitas through being recreated at scale throughout the city, and with his style seldom seen in the context of the street, it becomes all the more powerful for its unexpected presence.
Gaia (New York)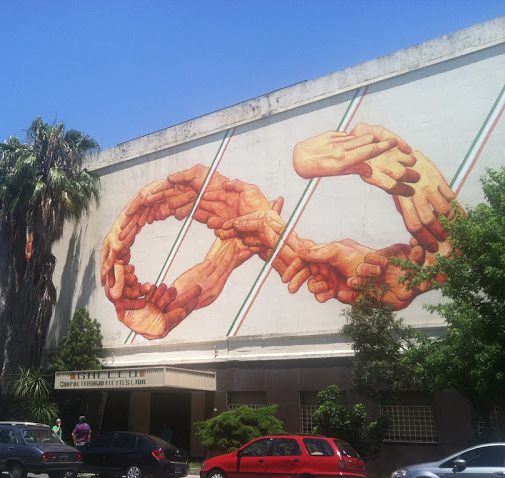 Drawing on his new and evolving body of imagery depicting human and animal figures, Gaia's work reflects on the ancient themes of animal and human sympathies, but now in the context of the city and the human built environment. Working with myth and symbolic animal figures, Gaia's street murals are like the works of an urban shaman drawing on a positive force from animal protectors. Gaia employs recognizable animal figures to remind us of lost human connections to nature and the environment. He constructs an image of a reversal of the "natural order" where animals intervene as protectors and avatars for a new awareness of the human condition in the natural world. He is known world-wide for street murals placed in areas to elicit surprise and reflection by passers-by who encounter the symbolism and fragile narratives of his work.
Greg Mike (Georgia)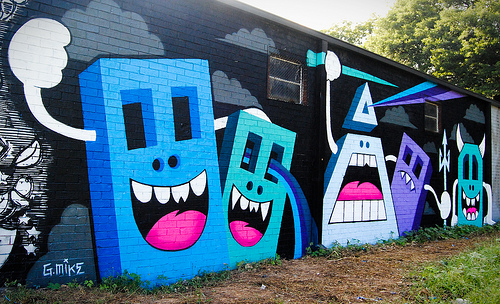 Born and raised in Connecticut, childhood trips to NYC in the mid-'80s exposed Greg Mike to the creative potential of reinventing public spaces through art and design. Always obsessed with the boundless energy and crisp line work of iconic American mid-century cartoons, by his early teens Greg began using the walls of his native state to fuse these two passions together. Mixing the take-no-prisoners bombast of classic NYC street art with the eagle-eyed precision of mass market illustration and animation has been his goal from the beginning. Further inspired by his deep involvement with skate culture and his intersections with the fashion world, he has become known for pieces that incorporate vivid explosions of incandescent color filtered through a Surrealist Pop Art perspective. Populated by gleefully twisted characters, his world is unsettling, mischievous and uniquely captivating.
Kelly Towles (DC)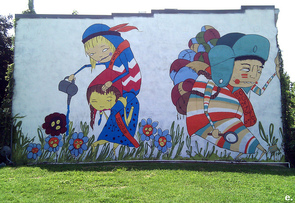 Kelly Towles is a professional artist living, working, and making things happen in DC.
Currently represented by David Adamson Gallery located in DC. Towles tries to capture our individual and collective triumphs and failures with an arsenal of characters armed with boxing gloves, masks and even their own physical awkwardness. He makes work that interacts with the environment as well as the viewer. Creating murals with DC Brau, Toki Underground, U Street Music Hall and numerous spots in DC, looks like he wont stop.
Natalia Rak (Poland)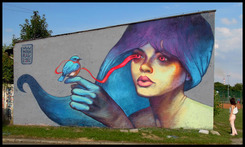 Since childhood I knew that I wanted to paint and use my imagination to create. I have always enjoyed exploring with a variety with many different media such as drawing, screen-printing, graphic design, package design, traditional graphics, painting, sculpture, and visual identification. I have been working with spray paint for three years now and find a connection to nature in street art. I enjoy the changing experience of it and the sort of magic that painting at that scale creaters. My influences are old photos, daydreams, book illustrations, Marvel Comics, and artists like: Stanisław Ignacy Witkiewicz (Witkacy),Jacek Malczewski, Norman Rockwell, Hans Rudolf Giger.
Sainer - Etam Crew (Poland)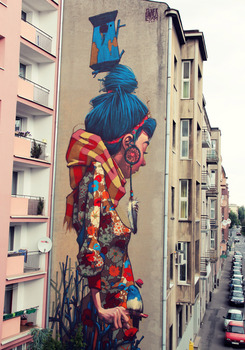 Sainer is a graduate of Finish Academy of Fine Arts in Lodz and works as a freelance artist and designer. His paintings are mix of people, animals and things seen in everyday life and uses these forms in a way that they become surreal to the viewer. His work is influenced by all that surrounds him, the street, people around him, music, films, books, etc,. Inspiration for him is everywhere.
Sonni (New York)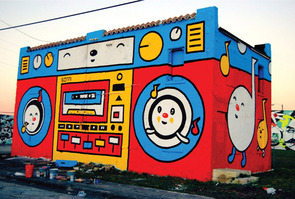 Sonni was born in Buenos Aires, Argentina, where he studied graphic design and worked as an Art Director for animation and film companies, he resides in Brooklyn, New York. In his art, he is constantly searching for that lost moment in adolescence where adventure makes dreams a reality, where the imagination and playing develop invisible forces to re-capture those lost momeries from your childhood. He works with different mediums that include paper and pencil, illustrator, acrylic on canvas, and wooden sculptures. Yet, his passion is to paint murals in public spaces, finding that dialogue with the public through primary colors and playfulness!
Stormiemills (Australia)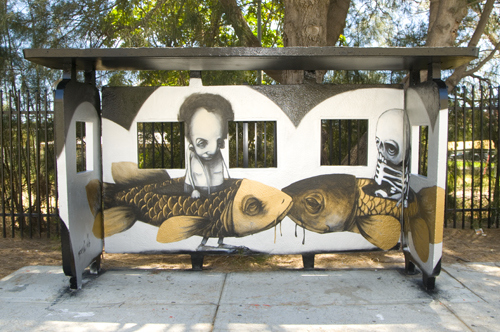 With a career that spans over 25 years Stormie is starting to emerge as a serious mid-career artist as he continues in his quest to examine the human condition through his though provoking work. With a strong international following for his iconic character based work that has seen him travel, work and show across the globe including London, New York, Tokyo and Miami, Stormie has carved a distinctive niche that's seen him sited in a global context as a highly collectable contemporary artist

With sell out solo shows in Melbourne, Sydney and Perth over the last two years Stormie's work has been taken to a new level in Australia attracting a broad collector base for his signature style of work that explores the idea of isolation in a restricted palette of black/dirt, white/the attempt to remove dirt, grey/for the cityscape & silver/for dreams.