Art Basel 2011
December 2-4
Art Whino: ART BASEL
3 Day exhibit during Art Basel Miami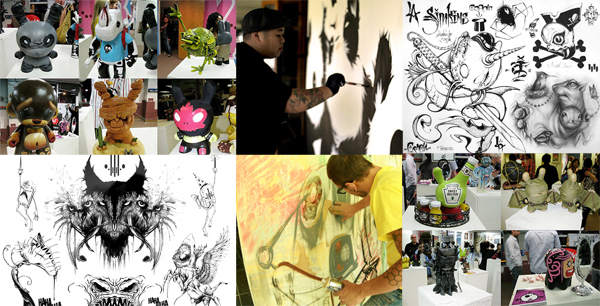 In conjunction with Art Basel, Miami and its surrounding Art Fairs, Art Whino will present three exhibitions unified in one space. The focus this year will be to present New Brow's distinct subcultures to the Art Basel world. The custom vinyl exhibit will showcase the premiere artists in this genre. With a series of large scale murals, we will bring street art indoors and accompany each colossal piece with smaller works by each artist. Finally, we will team up with Hope Gallery to bring Quick & Painful. This exhibit will feature the work of more than 15 important artists and designers with backgrounds in fine art, graffiti, and illustration in a unique exhibition where Fine Art becomes tattooed skin. The exhibition will be located in the heart of the Wynwood Arts District along with other accompanying art fairs.
Also in front of the exhibit participating artists will be painting Large Scale Murals on the outside of 10 buildings stretching from NW 2nd Ave to NW 5th Ave. Participating Mural artists include Angry Woebots, Pixel Pancho, J*Ryu, Luke Chueh, KaNO, Jim Mahfood, Josh Taylor, Lou Pimentel, Mauricio Murillo, Tobar, Sket One, Scotch, Ritzy Periwinkle, Shane Jessup, Tristan Eaton, Czr Prz, Boosher, LEZA ONE, Joe Iurato, Galo, Zedone, Mathew Curran, Steve Lew and Many More!
Event Location:
425 NW 26th St
Miami, Florida 33127

Friday Dec 2nd and Saturday Dec 3rd
General Admission
Noon-8pm
Free Admission

Sunday Dec 4th
General Admission
Noon-5pm
Free Admission

Show Reception Saturday Dec 3rd
8pm-Midnight
Live Painting by participating artists
Complimentary Beverages by Milagro and Izze
Music by DJ Adrian Loving
RSVP ONLY EVENT
RSVP to ArtBasel2011@artwhino.com
Tattoo Artists on the premise Friday-Sunday to immortalize your favorite piece! $40 Tattoos will be provided by industry elites Joe Capobianco, Jesse Smith, Eric Merrill, Christian Perez, Scott White, and Jason Stephan.
Outdoor Murals and Aleloops Mini Showcase Reception Friday Dec 2nd
4pm-8pm
Live Painting of murals by participating artists on over 10 walls in front of the exhibit.
Check out Aleloops tricked out 10 Mini Coopers!
For more info on Aleloops Minis click
here
Complimentary Beverages by Milagro and Izze
Art Whino

Art Whino is a DC based art gallery whose mission is to bring together the freshest and rawest talent from around the world. With over 1200 artists in the Art Whino arsenal, ranging from California to New York, Germany to Japan, and beyond, Art Whino has become an all encompassing force in the art world. Exhibitions cover the whole spectrum of new art forms ranging from exposing emerging stencil and wheat pasting artists to showcasing the most skilled leaders of many different genres.

Kondoit is a not for profit organization whose purpose is to expose artists within its collection to the Art Community and to encourage discussion about art culture and art business. For Art Basel Miami Kondoit will share works from its personal collection including pieces by Jennifer Roberts Kokay, Mars 1, Tiffany Bozic and a brand new sculpture titled "Courage" by Peeta.
Mural Show
Large scale has a powerful effect on its viewer, creating an other worldly because of its larger than life size. This mural show allows each artist to take on the challenge of creating a mural piece, providing the viewer the opportunity to see the work like never before. Accompanied by smaller pieces, one is also able to see each artist exhibit as an art installation, where mural and conventional piece work together to bring forward the artist's point of view.

Mural Artists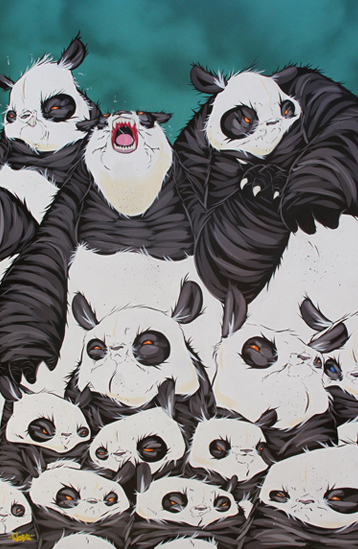 Aaron Martin was born on the island Oahu 1977, Hawaii. Most of his childhood was spent growing up and moving from Southern California to Nevada before finally landing back into Hawaii during his Junior year in high school. In 1999 a car accident changed everything; this life-threatening experience inspired him to leave the island once again, this time to Seattle, Washington. Inspired by the rain and being indoors, he started playing around with different art mediums again. He then left back to Hawaii with a new perspective, Aaron had his first show in 2002 and has not stopped. He has showed in galleries up and down California, the east coast, and even in shows that have traveled from the U.S. to Hong Kong. His focal medium is acrylic paintings on wood and canvas. Using minimal colors and detailed character design, these paintings are usually comprised of stressed out emotional pandas. The pandas tend to represent the story of struggle.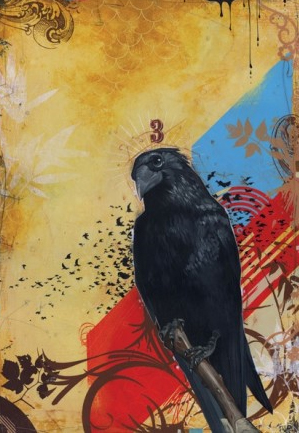 Blaine Fontana currently lives and works in Portland, Oregon. Imbuing his vision with the divine symbolism of religious myths, worldly folklore and current social dynamics, his works contain a kind of shamanic exploration of meaning that recognizes the totemic quality and power of the image. With extensive experience within the design world, including working as a designer for Felt Bicycles and acting art director for Zero+ Publishing, Fontana's work displays a virtuosic understanding of sign & simulacra and their role within our contemporary visual culture. Straddling the physical and metaphysical, organic and architectural, painterly and graphic sensibilities, Fontana fuses multiple visual strategies to forge an aesthetic language entirely of his own making.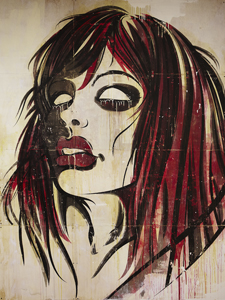 Born and raised in Knoxville Tennessee, artist Charlie Owens moved to Atlanta Georgia at the age of 18 to pursue a degree in Graphic Arts. During his years as a freelance graphic designer, Owens began developing a unique mixed-media style of art that combines his love of urban decay street art, design and iconic illustration. His gritty design and use of multiple mediums combine to create compelling and distinctive work that has been praised for its stylized female forms and complexity. Owens combines a variety of techniques to create deep texture and interest in his work, including freehand and vector illustration, stenciling, painting, and screen printing. From over-sized installations to poster art, Owens' pursuit of hands-on fine-art craftsmanship and edgy graphic design has combined to produce an amazing catalog of work.
Pixel Pancho was born in Turin Italy in 1984. As a child he found interest in color and form, thanks to his grandfather, an occasional painter. Pixel always has had a passion for art and design and knew that this would be part of his life since the beginning. In 2003, he inscribed at Albertina Academy of Fine Arts School in Turin, after two years he transferred to the Academy of Fine Arts in Valencia where he is to obtain his degree this year. His years in the School of Fine Arts has led him to the world of design, graphics, and above all the graffiti and street-art scene. Pixel's studies and his determination for experimenting with different mediums opposed to the classic formula of the academy made him stand out from the others, as he followed his passion for using spray cans and marker and working on out door surfaces opposed to the classic paper and canvas. Traveling between his hometown of Torino and Valencia Pixel Pancho took every occasion to be noticed on the streets, using different mediums such as tiles, wall painting, sticker/poster art, etc. Like every artist Pixel Pancho has been influenced by many different artists of the past and the present, such as the historic painter Joaquin Sorolla, the surrealist Salvador Dali, the political painter group El Equipo Cronica to the more modern Ron English, San and Takashi Murakami. Traveling to countries such as Paris, Amsterdam, Warsaw, Vienna and many others for graffiti jams and expositions in galleries has made it possible for Pixel Pancho's style to evolve from the simple Robot character to the more complex compositions that we can see in his work today. Pixel Pancho moved back to Turin in 2010 and has opened his first painting studio where he produces his art works. There is a lot to be expected from this young and motivated artist, the work of Pixel Pancho has just begun
Custom Vinyl Show
D.I.Y. (Do It Yourself) Vinyls are the blank canvas of collectible toys. Starting as a lifeless shape, artists conjure up characters with their creative tools, transforming these figures into unique toys bearing the mark of their creators. While most shows that feature these artists' D.I.Y.s show several artists' versions of the same given blank toy, this customized vinyl show will turn the tables by highlighting the work of this medium's leading artists with various toys. Art Whino will team up with Vinyl Artist, Sket-One to show the countless possibilities explored by these artists; from simply painting the figures such as KidRobot's Munny, to morphing the collectibles beyond their vinyl beginnings.
Andrew Bell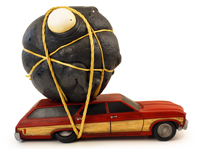 Andrew Bell was born in England in the waning days of the rip-roaring 70's. As a wee lad he packed a lunch and headed for the U.S.A. to pursue dreams of monster truck racing and professional skateboarding. Having failed in these endeavors, Andrew now lives, works, and slowly absorbs industrial waste in Brooklyn, NYC. From his shelter he operates Dead Zebra Inc, producing artwork and projects such as 'the Creatures in my Head'. His work straddles the line between the humorous and the grotesque, and is often accompanied by underlying social commentary. He has been featured in publications from the New York Times, Wired,
Kidrobot
, MTV,
Juxtapoz
and more.
Angry Woebots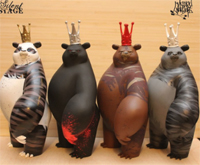 Aaron Martin was born on the island Oahu 1977, Hawaii. Most of his childhood was spent growing up and moving from Southern California to Nevada before finally landing back into Hawaii during his Junior year in high school. In 1999 a car accident changed everything; this life-threatening experience inspired him to leave the island once again, this time to Seattle, Washington. Inspired by the rain and being indoors, he started playing around with different art mediums again. He then left back to Hawaii with a new perspective, Aaron had his first show in 2002 and has not stopped. He has showed in galleries up and down California, the east coast, and even in shows that have traveled from the U.S. to Hong Kong. His focal medium is acrylic paintings on wood and canvas. Using minimal colors and detailed character design, these paintings are usually comprised of stressed out emotional pandas. The pandas tend to represent the story of struggle.
BabyVtec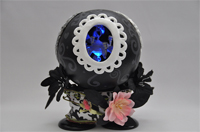 Babyvtec is a food connoisseur on a diet, dog lover with only one dog, and an accountant in love with the arts. She graduated UCLA with no background in art but doodled her way through boring mathematics and
computer programming
lectures. Although she found her niche in crunching numbers, she knows her heart belongs to a world of color, creativity, and crafts.
Beast Brothers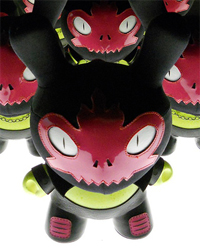 Born in an Aztec temple, deep inside the jungle of Mexico, The Beast Brothers spent most of their childhood developing their unique and distinct style of art. Through the years this royal pair have used their mighty twin powers to create memorable works for NIKE, KIDROBOT, REEBOK, BACARDI, and VANS. Carlos and Ernesto East continue to make paintings, illustrations, and sculptures in their secret jungle laboratories located in Mexico City, Miami, and New York.
Brent Nolasco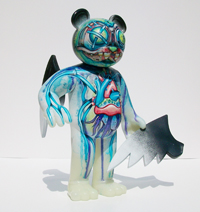 Artist / The development of my art involves constant evolution to new ideas and new forms. Progression and change are what I live for. My art gives me the opportunity to create different situations and environments from the landscapes in my mind. I like to break down and rebuild surfaces using various mixed media. Everything in my life and art intermingle into harmony for me.
czr prz
Dust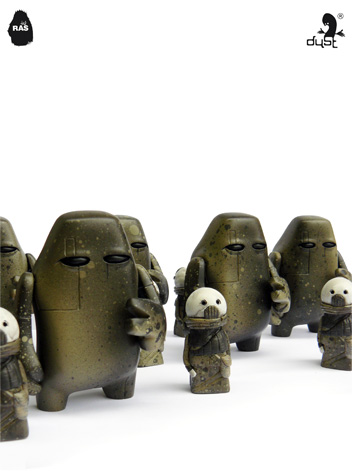 He has been working under the pseudonym "dust" since 2000. His artistic background is Streetart. In 2005 he graduated as licensed graphic artist. Since then he has been working as a freelance Designer and Illustrator. Through this field of activity, respectively projects and orderings he is able to foster his freelance work. He does illustrations and conceptualizations, but his freelance activities in the fields Contemporary Art and New Art fulfil him artistically. To design and to experiment, as well as the creation of sculptures, respectively Art/Design toys fill him with enthusiasm. Moreover the creation of Design toys form the main part of his occupation. He started his first Design toy collection in 2006 and his first turnout were the "RAS" (Radical Action Suit), which could be found, initially only as stickers or paintings, at various places/exhibitions. Later that year he accomplished to take the next step and created a 75mm tall Mastermodel, that watched over his working table. Several months later the first "RAS" arrived in stores. In 2007 the "RAS" were followed by "the teddies" with the motto "Angst vorm Sterben?"( "afraid to die?"). All his Design toys are lavishly produced limited editions. They are manufactured in Germany and uniquely painted.
J★RYU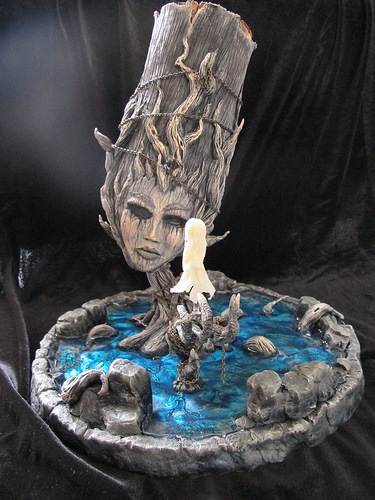 J★RYU, AKA the Purdy Supremacy, is an east coast-based designer/sculptor/artist focused primarily on exploring the themes of life and death and more intriguingly, what lies beyond. Primarily recognized for his signature Forest of Sorrows series, with its emotive, eerie and ghostly themes, J★RYU has garnered an avid fanbase of fans who eagerly look forward to seeing each subsequent new piece and how the accompanying narratives add to the ongoing story. In his career, J★RYU has worked on projects for clients such as Marvel Ent., Sony Ericsson, Wonderbra, AT&T, NCAA Final Four, Columbia Pictures, TOPPS,
Mia Hamm
,
Michael Crichton
, IBM, Slim Jim and more and has shown in Los Angeles, San Francisco, San Diego, Sacramento, New York, Nebraska, Washington DC and Miami. He is a proud member of the world famous Army of Snipers.
Jared Deal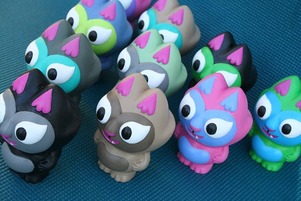 Jared Deal is an animator/painter/toy designer based in New York. He focuses primarily on 2D traditional animation. He has been in the industry since '98 working on shows for MTV, Comedy Central, and Cartoon Network just to name a few. Jared currently works on the popular Nickelodeon kids show Team Umizoomi as lead drawn animator, and was recently nominated for a Daytime Emmy for his work on the show. Jared's work can be seen all over... on both the television and the web. He's animated and designed for cartoon series, music videos, shorts, and even jumbotron animation! When he's not animating, Jared is busy designing toys and creating art. His hand sewn plush, resin figures, and vinyl characters have become quite popular in the art toy community. Jared's art/toys have been featured in numerous galleries and shops spanning the globe from New York to Austrailia and everywhere in between. He lives in Beacon with his girlfriend Michelle, his dog, two cats, and turtle.
Jeremiah Ketner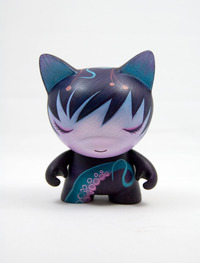 Jeremiah's pop culture-inspired style and unconventional creations have a traditional foundation. With his family's encouragement, he began formal art studies at the age of 12. He holds a BFA from Columbus College of Art and Design and an MFA from Southern Illinois University. Jeremiah's paintings and toys have been featured in solo and group exhibitions in more than 50 galleries across North America, and he's acquired a strong international following through his dedication to the Internet and social media.
Jesse Smith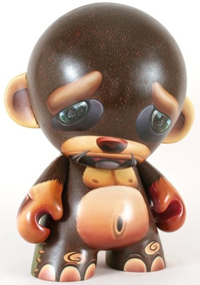 Born of fickle nature, Jesse has scoured the corners of the earth in search of something to fill his creative void. From an early age it was rather obvious that he was a little off. A master of many mediums, Jesse was once spotted decorating the wall beside his crib with the contents of his diaper. It was then that his creative adventure would begin. Since then, Jesse has conquered many other mediums, the latest being the tattoo machine. At the age of 21, Jesse stumbled upon a fella named Carlos who had just been released from jail. He enjoyed Jesse's art and soon taught him how to build a ghetto gun. From there Jesse consumed every minute of his life learning as much as he could about the art of tattooing. While steady crunchin along in the tattoo world, Jesse decided to move to Richmond, Virginia to seek a
Bachelors Degree
in Fine art. In December of 2004 he received his degree and hit the ground running. Since then he has been published in dozens of tattoo magazines and has also won a ton of awards for his brilliant use of color. He still lives in Richmond, Virginia and tattoos at Loose Screw Tattoo located in the heart of Carytown.
Jim Mahfood
Jim Mahfood aka Food One is a freelance artist working professionally in the fields of illustration, advertising, comic books, murals, fine art, animation, live art in nightclubs, and custom body-painting. He has worked for every major comic book company and his illustrations have appeared in such publications as Playboy, Spin, Spectrum Illustration Annual, Star Wars Gamer, URB, the Hollywood Reporter, BPM, the Phoenix New Times, Mad Magazine, Heavy Metal, and more. Highlights of his career include illustrating director Kevin Smith's "Clerks" comics, handling the art chores on the entire ad campaign for Colt 45 malt liquor in 2007-08, painting the murals on Comedy Central's "Sarah Silverman Show", illustrating the "Kickpuncher" comic book that was included in the Season 1 DVD of NBC's hit show, "Community", illustrating and art directing reggae legend Ziggy Marley's "MarijuanaMan" project, and providing custom car art for Nissan's new "Juke" Artist Series. His current project is illustrating the new Tank Girl graphic novel, due out in 2012.
John"Spanky"Stokes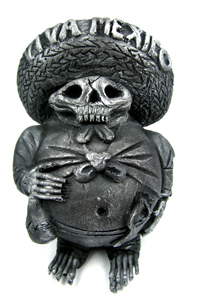 By profession I am a Graphic Designer, and enjoy all aspects of design… that eventually turned into a hobby where I started a site called SpankyStokes.com, it's a news hub for at, design, vinyl toys, urban culture, graffiti, music and pretty much anything that sparks the creative genius! I started doing custom toys for fun, and the result has been about 4 years now multiple customs from vinyl to now creating my own resin figures.
Josh Taylor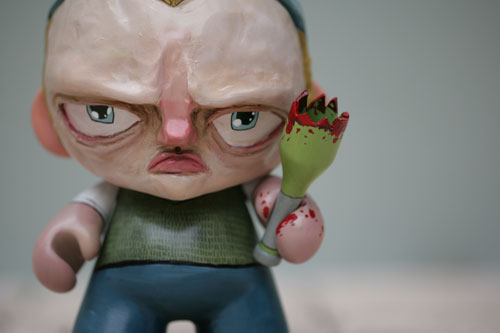 JOSH TAYLOR was born in New Jersey and continued his downward trajectory in hellish locales in up-state New York and North Carolina before honing his art skills at the prestigious Pratt Institute. Upon earning his degree, he traversed the country, from California to Vermont, pursuing his art career. His fine art has appeared in galleries in LA, NY, Europe, and the Philippines, and has also been featured in various publications worldwide. He currently lives in Florida where he works on Black Powder/RedEarth, a graphic novel published by Echelon Software, his web comic Bird and Girl(birdandgirl.com) and various toy and illustration projects.
Julie West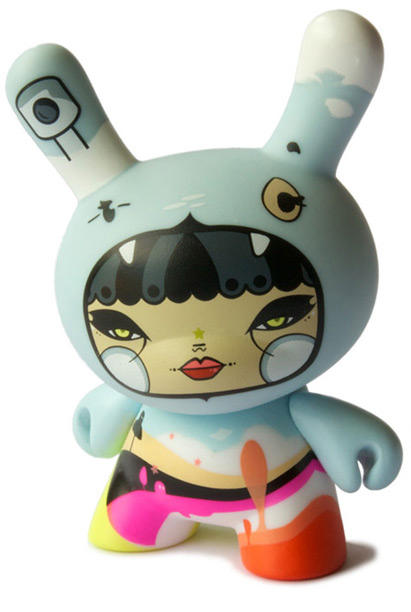 American born and UK-based artist Julie's West creates sweet and otherworldly female characters that have been accurately described as a cross between a robot and a Russian doll. Birds and bees also turn up constantly in her work (literally, rather than in the naughty sense), though we do wonder if she's trying to tell us something… Julie has also produced her characters Bumble and Tweet as vinyl toys for STRANGEco (complete with magnetized birds and bees), made embroidery patterns for Sublime Stitching and her work has appeared on Flow snowboards, Jansport bags and in Wired and Complex magazines.
KaNO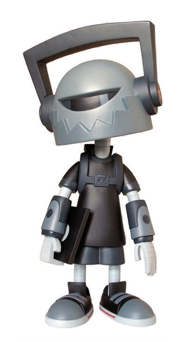 Born and raised on the streets of New York City, kaNO now makes a living as an illustrator, designer and animation artist. From the silver screen to billboards and even on to toy shelves across the world. kaNO is a jack of all trades.With up to 10 years of experience as a commercial artist, he now focuses on creating urban content for his company kaNO kid, LLC. His clients include: ASPCA, Nike, Jordan, Upper Deck, Disney and Hasbro to name a few.
Keithing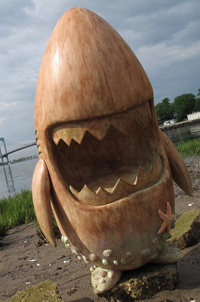 Keith Poon AKA Keithing , is a New York based artist. Born in Hong Kong and moved to NY at the age of 16. Keith has worked on several toy design projects over the years. He has collaboratively worked with Futura Laboratories, 360ToyGroup, Tokidoki, Frank Kozik, Huck Gee and KaNO to name a few. He has worked with various popular artists in promoting their toys and designs too. His projects were influenced by his passion for aquatic life therefore created his vinyl toys based on them. In 2009, besides making his toys he had also started to take commissions in customizing figures, his "Sharky bite mark" is one of his signature you can find from his customs.
Kelly Vivanco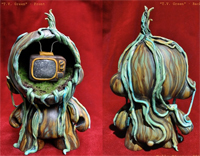 Kelly Vivanco was born and raised in front of a sketchpad and a box of colors in Southern California where she later received her BFA with honors from LCAD. Kelly enjoys setting whimsy to work in many mediums and pulls inspiration from the natural and imagined world, vintage photographs, children's literature and the oddness of her dreams. Kelly lives and works in Escondido, California, and currently maintains a working studio in the Distinction building. A sampling of the solo and in group exhibitions include showings at the California Center for the Arts Museum, The Portsmouth Museum of Art, Thinkspace, SURU, Gallery 1988, Subtext, Rotofugi, Flatcolor, 323 East, London Miles, Art Basel and Orange County Center for Contemporary Arts. Her work is held in collections across the U.S. and abroad.
Kevin Gosselin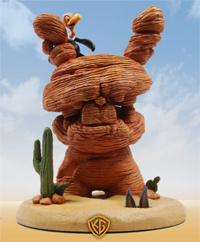 Kevin Gosselin is influenced by sci-fi and
fantasy art
, comic books, anime, the masters and too many contemporary artist to fully list. Amongst the most influencial are Remington, Frazetta, Darrel K. Sweet, Thomas Eakins, Norman Rockwell and J.W. Waterhouse. Kevin has always been inspired by realism but has grown fond of the low brow illustration style fine art scene. Coming to the realization that most every traditional art (figure sculpture, still life and landscapes) has in some way already been done, Kevin has now leaned his art toward the fantastic. It is only by digging in to his own mind that he can possibly create something that has yet to be seen. For this reason Kevin is exploring the designer toy scene. It mixes his love of sculpture, illustration and fine art and is the perfect output for his passions.
Leecifer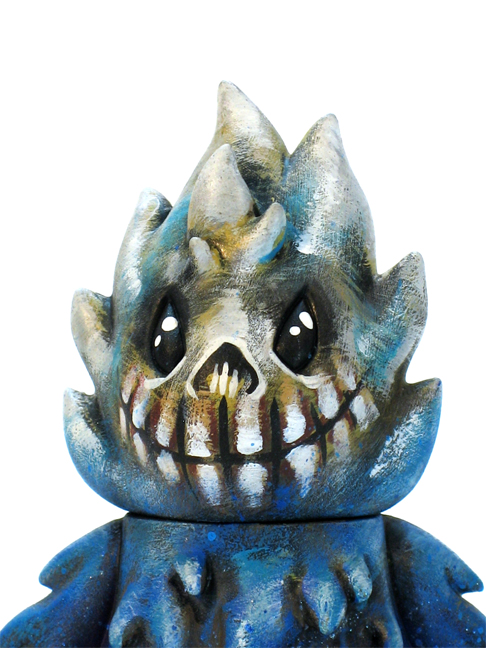 Channeling the influences of tattoo, hotrod, skate, graffiti, gigposter, manga, kaiju and vinyl toy cultures into his very own version of urban contemporary art, Leecifer resides with an amazingly patient wife, three turtles, a large collection of art, innumerable vinyl art toys and a healthy quantity of beer in the Oakland Hills of Northern California.










Lou Pimentel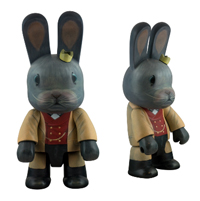 Lou Pimentel is a multidisciplinary artist based out of New York City. Born in Santo Domingo, the heart of the Dominican Republic, he and his family made the move to Florida when he was four years old and subsequently settled in Brooklyn five years later. Having started drawing at age four with the help of his father, he eventually found inspiration in his teenage years from the pages of comic books and the vibrant street art scene of his adopted city. However, not satisfied with relying soley on his self-honed skills, Pimentel applied and was accepted to the prestigious School of
Visual Arts
in NYC, where he earned his BA in Illustration. Upon graduation and now armed with the techniques of the old masters but still retaining the indelible influence of street and pop-art, his work is a visual outpouring, reflective of the inspirations that guide his life - his daughter Maddie, cartoons, graffiti and the art that surrounds us in our every day lives. No matter what the medium, whether it be oils, acrylics, spray paint, water colors and sculpting, Lou takes pleasure in utilizing whatever methods necessary in order to convey his artistic directions.
Luke Chueh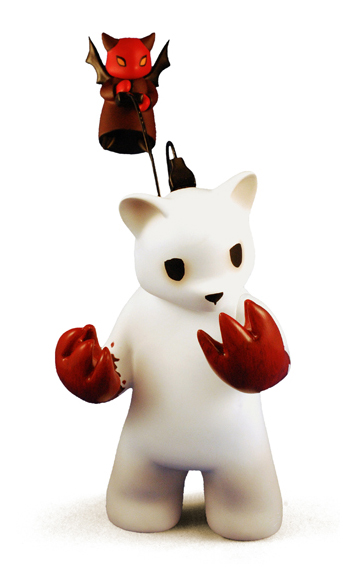 Born in Philadelphia, but raised in Fresno, Luke Chueh (pronounced CHU) studied graphic design at California Polytechnic State University, San Luis Obipso where he earned a BS in Art & Design (Graphic Design concentration). He was employed by the Ernie Ball Company, working in-house as designer/illustrator where he created several award winning designs and was featured in the design annuals of Communication Arts and Print Magazine. Meanwhile, he also created, produced, wrote, designed, edited and published "E.X.P.", a 'zine dedicated to the "Intelligent Dance Music (IDM)" genre. In 2003, Chueh moved to Los Angeles to further pursue a career in design. However, a lack of employment opportunities left him resorting to painting as a way to keep busy (a hobby he picked up while attending Cal Poly). He got his start when the Los Angeles underground art show, Cannibal Flower, invited him to show at their monthly events. Since then Chueh has quickly worked his way up the ranks of the LA art scene, establishing himself as an artist not to be ignored. Employing minimal color schemes, simple animal characters, and a seemingly endless list of ill-fated situations, Chueh stylistically balances cute with brute, walking the fine line between comedy and tragedy. Chueh's work has been featured in galleries around the world, and some of his paitnings have also been reinterpreted into vinyl toys.
NIC ONE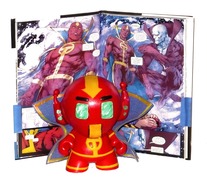 NIC ONE was born in the South Bronx. As a kid growing up there he would become fixated on the New York City Subway movement. Through the many colorful influences that he pick up living close to the subway train lines NIC ONE would become what he came to admire the most a subway artist. Being an active subway writer and loving the artwork that he would often see on the side of the subway trains he would grow to eventually photograph the subway movement. NIC ONE would become known as both an Aerosol artist and a Hip Hop Photographer. He has done many art shows and Gallery and Museum events from New York to LA and Paris, as well as Television and Movie background artwork. His artwork can be seen in various Graffiti books as well as his Graffiti Photography. He's had some of his artwork appeared in Glamour fashion magazine and a Calvin Klein advertisement featured in the New York Times Home Style section, as well as appearing in graffiti news articles in the New York Times newspaper.
Pocket Wookie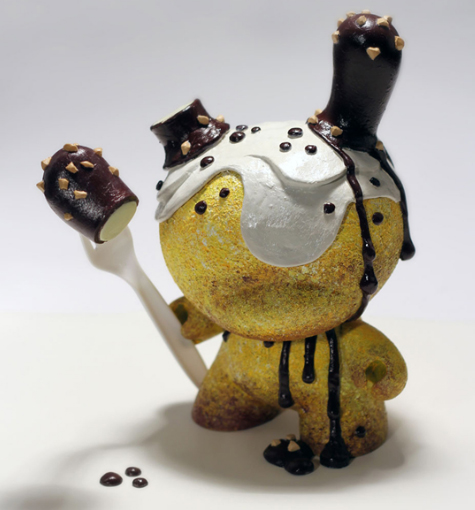 What would you like to know? I've spent most of my adult life in advertising and markeing. I've won awards for my designs and high standards and effectiveness of my communications. But that's the boring stuff. I'm also a university professor, illustrator, and musician. I tried my first custom toys back in '99 and I've been creating ever since. I like Star Trek, Marvel Comics, coffee, MadMen, Taco Bell, Sega Dreamcast, bike riding, Bombay Sapphire, and Prince.
Ritzy Periwinkle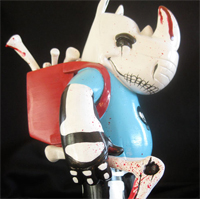 Ritzy Periwinkle is a Los Angeles based cross media visual artist/designer/dreamer on the hustle and grind. Working in Illustration,
graphic design
, mix media and
designer toys
, Ritzy compliments her gritty stylistic tendencies with a positive vibe that is attributed to her eclectic influences and unique background.
Rob Stull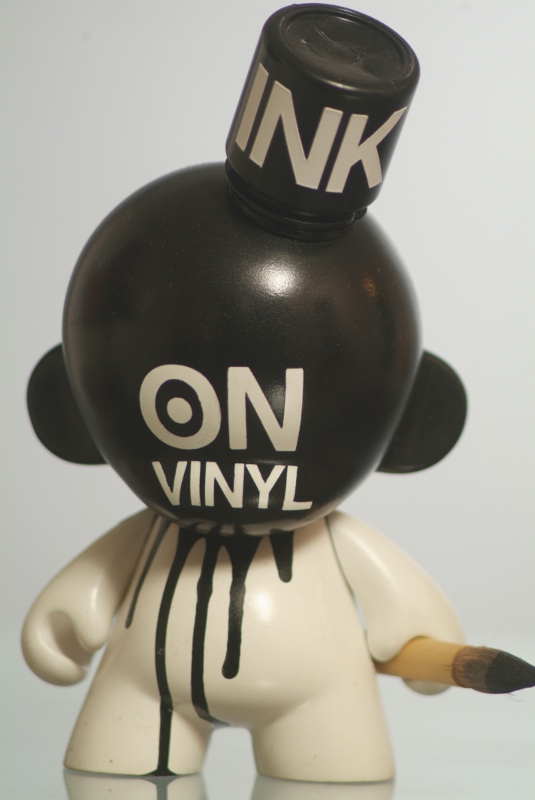 Rob Stull is an accomplished illustrator, penciller, inker, designer, curator and creator of comic books. With a career spanning two decades, he is a comic book industry veteran, who's worked for every major publisher in the industry. At Ink on Paper he worked with several companies across the country, providing services ranging from graphic design to art direction. Stull was also the creator and curator of Sequential Art: The Next Step; a first of its kind traveling exhibit spotlighting the contributions of African Americans to mainstream comic book art and popular culture. Outside of comics, Stull has produced illustration work for clients such as rap legend GURU on Virgin Records Jazzmatazz Streetsoul, CAMP LO, TRIBECA, DJ GREEN LANTERN, TOMMY BOY RECORDS, THE FADER MAGAZINE, CLEAR CHANNEL and BLACKSIDE. Currently Stull is a partner in TRUE ELEMENTS Publishing LLC and a creative force behind the COMnGRAF project; a collaborative grouping together of both sequential and aerosol art by comic book artists and legendary graffiti artists. Simply stated, it is "the fusion of two cultures" celebrating the influence each has on the other. Stull also serves as the Director of Visual Arts for MELTING EARTH PRODUCTION GROUP, a creative services organization focused on three vertical markets: music for video, video for music, and business for artists.
Sket-One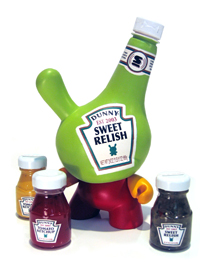 SKET-ONE is a visual artist with an old school urban background. A Connecticut based graffiti artist and founder of the Bode Jam, Sket One, has designed toys for such toymaker heavyweights as Kaching Brands, MINDstyle, Kidrobot, Wheaty Wheat, Red Magic, Circus Punks, and more.
STEVE "KID" LEW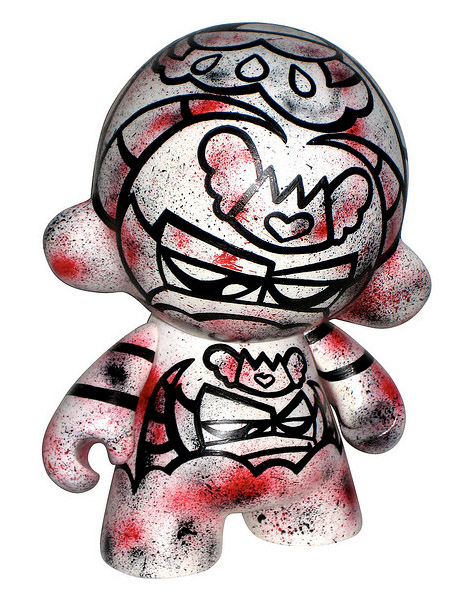 STEVE "KID" LEW is a Queens-based artist with roots in NYC Pop, Street & Graffiti culture. Mixing these influences from the concrete jungle…HALOZ iz the result of everything good 'n bad, the yin 'n yang, the black 'n white and thrown in a blender! Kidlew has shown work around the world…some legal…some not…blah blah blah...does it really matter.
Task One
Tristan Eaton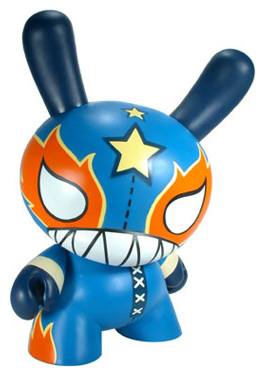 Born in Los Angeles in 1978, Tristan began pursuing street art as a teenager, painting everything from billboards to dumpsters in the urban landscape wherever he lived, including London, Detroit and New York. Eaton designed his first toy for Fisher Price at 18 years old and has since become a driving force in the world of 'Designer Toys'. Eaton's design work for Kidrobot, including the infamous Dunny and Munny toys, led him to international fame and an ever growing fan base. As a leader in the world of advertising and commercial art, Eaton is regularly commissioned as a creative director and consultant for clients such as Nike, Hasbro and Barack Obama on projects that span the globe across all mediums. Tristan's work can be seen in the permanent collection of the New York Museum of Modern Art (MOMA) and in stores worldwide.
Yosiell Lorenzo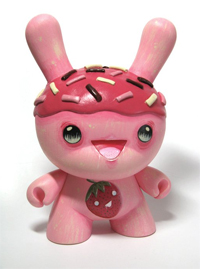 Yosiell Lorenzo was introduced at an early age to art by his eldest sister in a time when hip hop and grafitti defined urban life. Admiring her artwork, a combination of graffiti and fantasy-like creatures, Yosiell followed in his sister's footsteps and found a creative outlet of his own. He dabbled in graffiti in the mid 90's while at the same time developing himself as a musician. He taught himself how to play Bass guitar and has performed in several bands. After graduating from Kolbe Cathedral High School, Yosiell attended Paier College of Art where he graduated with a Bachelor's of Fine Arts in
Graphic Design
. Yosiell worked full time as a Sales Associate at a local retail shop and toured around the United States with his band, while simultaneously finding the time to create a part time internet business under the name of Project Detonate, where he has designed tour paraphernalia, t-shirts, and other projects. After doing this for some time, Yosiell realized he wanted to experiment with his art more hands on versus sitting behind a computer all hours of the day, and quickly fell in love with painting. As a result, Project Detonate has taken a life of its own with its myriad of art projects, available products and designs. After months of debating whether to keep using Project Detonate as his artist name, Yosiell decided to switch over and use his real name and keep Project Detonate only for mass produced products and customs.
Quick and Painful Show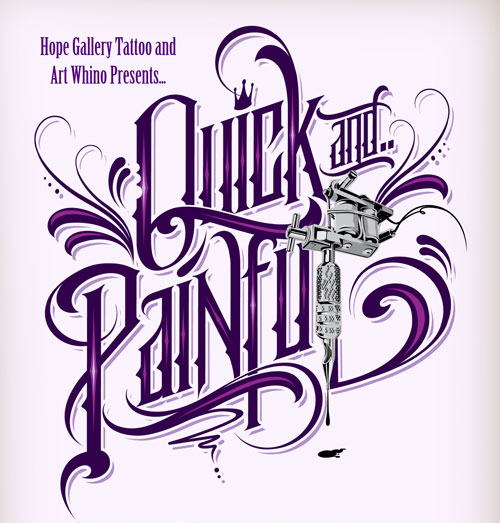 Marrying low brow art to tattoo flash, Quick & Painful, is a traveling exhibition and tattoo event where 15 artists and designers (with backgrounds in fine art, graffiti, and illustration) present their own special take on classic tattoo design sheets. All of the flash sets will be available for purchase and attendees will be able to choose their favorite designs from the sheets off the walls and get them tattooed by renowned artists Joe Capobianco, Eric Merrill, Jesse Smith, and more to be announced.
Quick and Painful Artists
Alex Pardee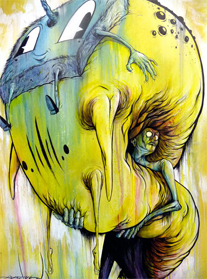 Alex Pardee's unique style is one conceived through watching years of horror movies, writing graffiti, and listening to gangster rap. His work best represents that of a circus sideshow cemetery. Final pieces are often brought to life by translating random shapes and colors into signs of torment and absurdity. By juxtaposing these two conflicting moods, Alex makes his works more personal to his viewers, forcing them to project their own feelings and emotions onto each character in his twisted universe.
In the past five years he has continued to release books like The Secrets of Hollywood and the popular Bunnywith series. The comics have spawned an entire plush line, calendars, and art exhibitions. Alex Pardee's devotion to his art has gained the attention of Warner Bros., Reprise Records, Freeze Management, Hurley International, Kidrobot, Twenty Twenty Skateboards, and more. In 2004 he was tapped by the gold-selling rock group The Used to design the artwork for their album, In Love and Death. Alex's designs were not only applied to record, but also the band's merchandise, Website, marketing campaign, and the music video for the single "All That I've Got." More recently, Alex Has been working with Def Jux recording artist CAGE, as well as STREET DRUM CORPS, TOP-R, EL-P, and high-fashion designer Dr. Romanelli. In addition to demeaning celebrities, Alex continues to use his art as a means of self-medication, creating emotionally charged images on canvases, sketchbooks, and any other surfaces he can cover with his bizarre characters.
Amanda Visell
Amanda Visell's fine art career sprouted from continuing failure. A high school drop out and Cal Arts reject, she moved to Los Angeles to pursue a career in traditional animation eventually finding her way to stop motion animation as a designer and sculptor, working on stylized projects for shows like The Simpsons and the feature film Elf. The challenge of mastering new tools and techniques in this medium taught her to be able to visualize her own style. She has been exhibiting her paintings and sculptures internationally since 2005 including Disneyland USA and has created a thriving world of characters as designer toys.
She is half of Switcheroo, a design jamboree she runs with Michelle Valigura. She has never won an award.
Brandt Peters
Brandt Peters Born in 1974, Santa Monica, CA, Brandt Peters is an illustrator, character, film and animation designer who's commercial work has thrust him to the attention of the fine art gallery circuit — an internationally exhibited self-taught artist whose work is formed from the eclectic backdrop of his childhood, his work is filled with ancient cartoons, Victorian toys and pre-WWII vintage "Pop" ephemera.
Kathy Olivas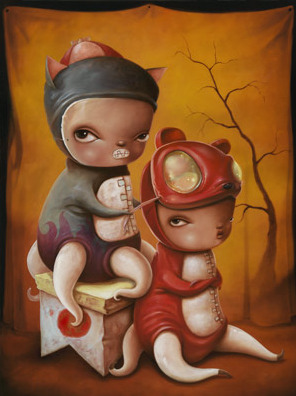 Kathie Olivas is a multi-media artist who resides in Tampa , FL and Albuquerque , NM. She received her bachelor's degree in visual arts from the University of South Florida in 1999 and is currently working on a book of her work and a line of limited edition vinyl toys.
Camilla d'Errico
Camilla d'Errico is a product of her split heritage, Italian and Canadian rolled into one: Italian fiestiness, Canadian politeness, and an early addiction to Saturday morning cartoons, comics and manga. Growing up she was more often doodling sexy damsels and dragons on her textbooks than reading them. In 1998 when Camilla first attended her first San Diego Comic Con she realized that a 9–5 day job would kill her and this was what she wanted to do. Thanks to her relentless energy, dedication, and just enough sleep deprivation, she has followed her dream of working creatively for a living.
David Horvath
Sun-Min Kim and David Horvath have created many stories together, found on TV screens in Tokyo, toy shelves in Manhattan and in book stores around the world. Their works can be found everywhere from the permanent collection at the Louvre and the windows of Barney's New York to their own section at Giant Robot and in a special corner of Bob's Toys and Fishing Tackle in Indiana. Their list of collaborative partners includes Disney, Coca Cola, Sony, NHK, Medicom Toy, UVERworld, Merge Records, Schylling Toys, Universal Pictures, Chronicle Books, Abrams, Random House, Procter and Gamble, Amscan, Nickelodeon and Cartoon Network.
Devilrobots is a five-man design team established in 1997 and based in Tokyo. They design graphics, characters, audio-visuals, websites, toys, CD jackets, apparel, and more! Their taste is a mix of a little evil and robotic fun, resulting in an original world of "Cute and Dark." Their most famous character, TO-FU OYAKO, is well known worldwide. They have collaborated with global brands such as Bandai, Coca-Cola, Levis, Medicom Toy, MoMA Design Store, Nike, Nokia, Paul Smith, Kidrobot, and others. Their major characters are To-Fu Oyako, Evirob, Maffy, and Kiiro to name a few.
Frank Kozik
Frank Kozik was born near Madrid, Spain in 1962 and immigrated to United States, settling in Austin, Texas in the 70′s. Credited with single-handedly reviving the "lost" art of the concert poster, Kozik's art career emerged from his connection to Austin's cultural explosion in the mid 80′s. Starting with band flyers that he posted on telephone poles, Kozik quickly garnered a solid fan-base who dug his graphically compelling and culturally relevant work. To date, Kozik has designed over 1000 concert posters and album covers for artists as diverse as The Sex Pistols and Nirvana; founded Man's Ruin Records; directed music videos for Soundgarden; staged over 60 gallery shows worldwide; created artwork for some of world's biggest companies; and published several volumes of his work. Since 2000, Kozik's main artistic focus has been in the design and production of vinyl art toys. The icon of Kozik's toy empire is his Smorkin' Labbit character, but he is also the guy behind Chumps, Mongers and pretty much everything else that smorks.
Greg "Craola" Simkins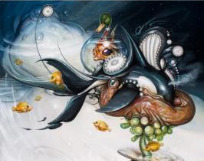 Greg "Craola" Simkins was born in 1975 in Torrance California, just south of Los Angeles. He grew up with a menagerie of animals including a number of rabbits, which often emerge in his paintings. He began drawing at the early age of three and was inspired by various cartoons and books. Some standout books that still find their way into his art are Watership Down by Richard Adams, The Chronicles of Narnia by C.S. Lewis and The Phantom Tollbooth by Norton Juster.
Simkins' art continued to progress to the age of 18, when he started doing graffiti under the name "CRAOLA". Graffiti art became his impetus for creating and gave him the confidence to paint large works. In addition it taught him perspective, color theory and further developed artistic skills, which later translated into his work with acrylics. After receiving his Bachelor's Degree in Studio Art from California State University of Long Beach in 1999, Simkins worked as an Illustrator for various clothing companies. He later moved on to Treyarch/Activision where he worked on video games including Tony Hawk 2X, Spiderman 2 and Ultimate Spiderman while attempting to paint with every free moment he had. In 2005, Simkins pursued his desire to paint as a full time artist. Since then, he has been featured in numerous group exhibitions has had successfully sold out solo exhibitions. His art is seen in a wide variety of industries from clothing to video games and has also come to life in the form of toys. His client/collaboration list includes Disney, Mattel, Upper Playground, Juxtapoz, To Die For, Vans, Converse, AFI, Saosin, Gym Class Heroes, Pennywise, STRANGEco, Ningyoushi, Kid Robot, Zero Friends, Epitaph, Dark Horse, Iron Fist and Pulse International. It is his careful weaving of pop culture, the old masters, nature, carnival kitsch, and (most importantly) his warped imagination, that makes Greg Simkins a sought-after surrealist painter today. Simkins' artwork currently appears in galleries throughout the world.
Huck Gee is a contemporary artist, illustrator, toy maker, and designer best known by toy enthusiasts for his iconic "Skullhead" character and "Gold Life" art creations. Heavily influenced by Japanese and Hong Kong pop art, Gee calls his style "Bastardized Asian Pop Culture". The demand for Huck's Custom Toy Art and illustrations has grown quite immense, with small runs of hand crafted Art Toys and original prints selling out in seconds online and shipping to art collectors worldwide. Huck's works have been exhibited in galleries worldwide and in 2007 his "Hello My Name Is" 8" Dunny was accepted into the permanent collection of the Museum of Modern Art in NYC. In addition, Huck has also consigned several pieces for one of the world's leading fine art auction houses: Christie's Auction House.Most recently Huck collaborated with Ken Block and DC Shoes for Ken's Monster World Rally Team WRC logo entitled "Blockhead". Coinciding with this project were several limited edition shoe and clothing runs. Huck currently maintains a studio in San Francisco and when not busy planning world domination, he spends his free time playing with his daughter and pretending to be a racecar driver. Not necessarily at the same time.
*Huck Gee's extremely limited edition giclee print will only be available at Hope Gallery in New Haven.
Joe Ledbetter
Joe Ledbetter is influenced by classic animation, graphic design, and daily life. Joe's art is… well… a lot of things. Light-hearted in its approach, he often combines cute and cuddly creatures with unfortunate — albeit humorous — situations. With a lean on the subversive and absurd, these scenarios are all too familiar, questioning our tendency of taking life (and ourselves) too seriously. While working as a graphic apparel artist for three years, Ledbetter got involved in the Los Angeles underground art scene, beginning with group shows like Cannibal Flower. By the summer of 2004, he had honed his trademark visual style of emblematic line-work, vibrant colors, and endearing characters to the point of quitting his day job. With international appeal, he has had numerous solo exhibitions in Los Angeles, Tokyo, London, Paris, Rome, Toronto, Taipei, Istanbul, and Amsterdam. His incredible cast of creatures have since been emblazoned on over 100 designer vinyl toys, as well as apparel and lifestyle brands, the world over.
Junko Mizuno
Junko Mizuno self-produced a photocopy booklet called MINA animal DX which brought her to the attention of the publishing industry in Japan in 1996. Her drawing style, which mixes childish sweetness and cuteness with blood and terror has become a sub-genre of the classic manga movement. Mizuno's original designs were highlighted in the BBC's acclaimed documentary series, Japanorama, and her artwork is frequently featured in gallery shows around the world. Junko Mizuno currently resides in San Francisco where she produces new comics, illustrations, paintings and design products ranging from toys to clothing.
Pete Fowler's inspiration comes from his daily life, psychedelic motifs, monsters and landscapes. Forming a backdrop to his ever growing family of characters and creatures, his work inhabits a world where character design meets music and art in a weird and wonderful way. That world is Monsterism Island, a place where banjos are played by horned owls and synths tweaked by mutant horses. His unique instantly recognizable approach and sense of playfulness and visual adventures that have brought his work to the attention of people around the world.
Ron English, One of the most prolific and recognizable artists alive today, has bombed the global landscape with unforgettable images, on the street, in museums, in movies, books and television. English coined the term POPaganda to describe his signature mash-up of high and low cultural touchstones, from superhero mythology to totems of art history, populated with his vast and constantly growing arsenal of original characters, including MC Supersized, the obese fast-food mascot featured in the hit movie "Supersize Me," and Abraham Obama, the fusion of America's 16th and 44th Presidents, an image widely discussed in the media as directly impacting the 2008 election. Other characters carousing through English's art, in paintings, billboards, and sculpture include three-eyed rabbits, udderly delicious cowgirls and grinning skulls, blending stunning visuals with the bitingly humorous undertones of America's Premier Pop Iconoclast.
Sam Flores
Sam Flores was born in 1975, immersed in the stark beauty of the New Mexico desert. In 1995, he moved to San Francisco seeking life as working artist and the Bohemian lifestyle of the Bay Area. Like most teens of the late 80′s and early 90′s, Sam was involved in street cultures of skateboarding and graffiti writing. From 1995-1998, these roots in urban expression helped him land freelance gigs doing graphics for Adrenalin skateboards and Civilian clothing. He's shown at Virgin 69, 5024, and Hotel Biron galleries, as well as traveling shows to New York, Canada, Singapore, Tokyo and throughout Europe.
His focal medium is paint on maps, blue prints and canvas. These paintings touch classic themes of "natural beauty," which is in obvious contrast to his life in the urban landscape. He credits Michael Parkes and Derek Hess as influences. The rich flora of his recent work can be compared to the nouveau stylings of Alphonse Mucha. His figures tend to be somewhat anonymous, even masked in some instances, yet still full of personality and emotion.
He effortlessly combines broad fields of color and finely rendered detail, creating paintings that are engaged on many levels. This palette tends to lean toward earth tones, perhaps an homage to the colors of his youth in New Mexico.
Tado
TADO is Mike and Katie, two happy and rather small people who stay up too late, work too much and drink too much coffee. From their tiny home studio the pair work across a huge range of projects, from advertising work to animation, toys, childrens books and fashion for clients both big and small. When they're not drawing pictures for other people they enjoy putting on exhibitions of their work, including solo shows in the LA, Chicago, Toronto and Paris. They like to play with cars and one day they hope to own a zoo of miniature animals.
Tara McPherson is a New York-based artist who holds a BFA from the prestigious Art Center in Pasadena, CA. Named the crown princess of poster art by ELLE Magazine, she has created numerous posters for rock bands like Beck and Modest Mouse and often has her paintings and sculptures exhibited in galleries around the world. Her array of art also includes painted comics and toy design, plus advertising illustrations for some of the leading brands and publications in the world. Recently, her art was featured in the Oscar Award-winning film, Juno, as well as the hit TV show, Veronica Mars. Known for creating art about people and their odd ways, her characters exude an idealized innocence with a glimpse of hard-earned wisdom in their eyes. Recalling many issues from childhood and good old life experience, she produces images that are both thought provoking and seductive.
Tokidoki Co-Founder and Creative Director Simone Legno
Tokidoki Co-founder and Creative Director Simone Legno Meaning "sometimes" in Japanese, Tokidoki pays homage to Italian artist Simone Legno's obsession with all things Japan. Simone not only specialises in fantastically cute toys, but also in clothing, skateboards and accessories. This includes an incredibly desirable series of bags with LeSportsSac.