Art Without Borders
February 23rd 2013 8-11pm
Custom Vinyl Art Exhibit
Raising Awareness and Funds for the
Doctors Without Borders Organization
Art Without Borders is an international initiative by Pranay Parikh and Mawuli Dzirasa to help raise awareness and funds (20% of of the proceeds go to DWB) for international organizations providing humanitarian aid across the globe. The current show will benefit the charity Doctors Without Borders (Médecins Sans Frontières), and will feature over 40 artists from around the world. This charity provides quality health care to those in crisis irrespective of their race, religion, or political affiliation. Each artist will put his or her own spin on iconic blank Dunny or Munny vinyl figure by Kidrobot in support of Doctors Without Borders and their mission. Art without Borders is both a custom vinyl art show, and opportunity to participate in a unique show of talented artists unified to help people all around the world.

Saturday, February 23rd, from 8-11pm


Location:
Art Whino Gallery
120 American Way
National Harbor, MD 20745
Reception begins at 8pm
Show end date: March 23rd, 2013
Music by DJ Inkognito
Yummy Cupcakes by Dessert Fantasies
http://www.dessertfantasies.com/
COMPLIMENTARY FROSTY BEVERAGES BY PBR.
The event is FREE and open to the public.
About Doctors without Boders:

Doctors Without Borders/Médecins Sans Frontières (MSF) is an international medical humanitarian organization created by doctors and journalists in France in 1971.
Today, MSF provides independent, impartial assistance in more than 60 countries to people whose survival is threatened by violence, neglect, or catastrophe, primarily due to armed conflict, epidemics, malnutrition, exclusion from health care, or natural disasters. MSF provides independent, impartial assistance to those most in need. MSF also reserves the right to speak out to bring attention to neglected crises, challenge inadequacies or abuse of the aid system, and to advocate for improved medical treatments and protocols.
In 1999, MSF received the Nobel Peace Prize
Pranay Parikh
Born and raised in California, I've always had a penchant for the arts. Unfortunately, I learned early in my life that a life of artistry was not for me. There were days that I would complain that my creativity was broken, or that my hand was dumb, and I just couldn't figure out how to draw. I did, however, realize that I was a natural in the sciences, which lead me to pursue a life in medicine, which is my current focus as a 4th year medical student. Though the creativity foci in my brain may be broken or missing for that matter, it didn't drive me away from an appreciation of the arts, and I sought a way to be more involved. Throughout the years, I have had the pleasure to meet many artists from around the world with extremely intelligent hands I might add. Working with them on various projects, and talking to them about what I do; we came up with the idea for this show. A way for artists to showcase their creativity while being able to give back to an organization that does amazing work around the world. A organization that I hope to take part in one day, but until then, I hope to help in any way I can.
Mawuli Dzirasa
I'm a Maryland native who has been a staunch supporter of the "low brow" art scene for many years and is a longtime collector of art, sneakers, and good times. I am an engineer by trade, a DJ, and a member of the N3rdlink team where we help to do our part to report on all things related to nerd culture. Being a member of a community service oriented fraternity, and having health care professionals for family members, I have a deep seeded passion to give back to the community at large, particularly in areas that relate to health. This show is both a way to raise awareness for an amazing
organization, and a way to highlight the culture I enjoy so much.
Participating Artists:
ANTZ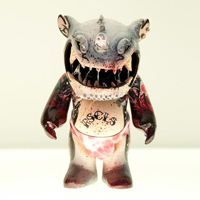 ANTZ's meteoric rise from obscurity to becoming one of the upcoming urban artists to look out for stems from his unique illustrative style. A style which makes heavy references to chinese culture; from mythology to dialect and identity, ANTZ has managed to create an interesting juxtapozed mash of contemporary urban styles with traditional chinese visuals and influences. ANTZ is constantly on the lookout for new approaches in making and creating his art, be it in medium or concept. Apart from being a full time art director professionally, ANTZ is also the co- founder of the design collective The Geeksigners. Along with fellow artist, CLOGTWO,SHEEP, SKL0 and ZERO, ANTZ is part of RSCLS, a collaborative approach of styles, ideas and creative banter.
Ardabus Rubber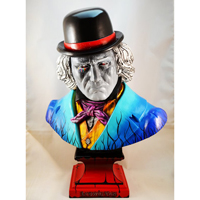 Born in a small town in Maine, I spent most of my childhood watching my Mother paint colorful characters for a series of childrens books and playing on a farm. I moved to Southern California when I was 13 and have since melded the simple life of my early years with the harsh environment that I live in now. In my canvas' and custom toys, I take the ideas of freeness and color from the abstract side of art and combine it with interstellar graffiti-like textures and cartoonish madness to create a unique and interesting style.
I have been painting for over 10 years in a mostly private capacity, but recently started branching out and trying to get my foot in the door, so to speak. Currently, I spend all of my time painting and trying to grow as an artist, always looking to find new platforms of vinyl that would be appropriate for my style and experimenting with new techniques, as well as trying to find a gallery or forum to show my work.
I've had no formal training, and I firmly believe that teachers can turn creativity into commercialism, so I taught myself how to paint from constant review of my many Salvador Dali and Ralph Steadman books, as well as countless hours (and gallons of wasted paint) experimenting with different mediums, colors and techniques.
Arkiv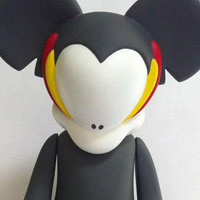 Indonesian artist Arkiv has been painting, illustrating and designing cartoon like figures since 2005. Shortly after finishing his Bachelor degree in Architecture he plunged into the art world citing his love for drawing figures as his inspiration for this change of career path. Arkiv had a strong debut with his first vinyl figurine called "Arkiv Instant." After Arkiv Instant many exciting vinyl toys followed including a redesign of Mickey Mouse for Disney Asia. Arkiv describes himself: "I'm a half animal and half dream. I'm a blend of an overweight panda and Killer whale. I eat kids and I drink bloods. I'm instantly rude and 100% dirty. I sleep longer than any creation the world has ever seen, I sleep like a dead hero and no star. I talk rubbish and my breath smells like it." His description reflects the same silliness and complexity of his characters. Smiling cartoons flipping you the bird. Figures strangling each other. Teddy bears hanging on a rope are just some of the oddities that Arkiv paints with cheery colors and his signature curvy and graphic style.
Artmymind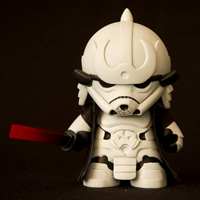 The art of Guillaume & Julia Lachambre. Graphic Designers, Art toys makers and sashimi lovers. Our creatures are born of love and despair.
Baby Vtec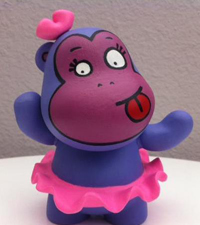 Babyvtec is a food connoisseur on a diet, dog lover with only one dog, and an accountant in love with the arts. She graduated UCLA with no background in art but doodled her way through mathematics and computer programming lectures. Although she found her niche in crunching numbers, her heart belongs to a world of color, creativity, and crafts. Most of babyvtec's work reflect a cartoon personality, inspired by the countless hours she devotes to animations, comic books, and video games.
beTSO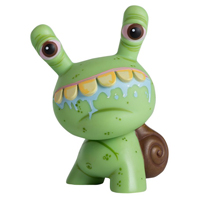 Betso, a self taught artist from Las Vegas influenced by cartoons, graffiti, and the strange world of animals, he puts the love of all three into each one of his paintings.
His work has exhibited in galleries throughout the US including LA, SF, and NY.
Brent Nolasco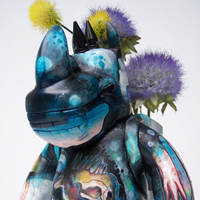 The development of my art involves constant evolution to new ideas and new forms. Progression and change are what I live for. My art gives me the opportunity to create different situations and environments from the landscapes in my mind. I like to break down and rebuild surfaces using various mixed media. Everything in my life and art intermingle into harmony for me.
Carson Catlin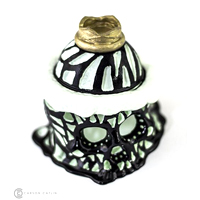 By day I work as a motion designer.
By night I make customs.
I got into doing customs toys in 2010, and what started as a hobby has turned into a lot more. I strive to do things I haven't seen before. Custom toys are the only medium I've been able to look at, see exactly what I want in my head and then create it. My work technique ranges from the extraction of shapes, to threading, to the insertion of toothpicks or blocks. Regardless of the method, I always want my work to stand out.
CLOGTWO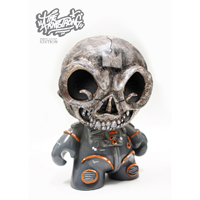 Creating visual interpretation of social behavior in society and problems through the inspirations of questions commonly asked or wandered, personally and generally as a human.
Graduated from Temasek Polytechnic School of Design Interactive Media Design (2007).
Many of the people I've met tend to forget my real birth name sometimes; I think it's not as significant or important after Clogtwo was found in 2004, on a chemically sprayed wall in a dark canal, general known to man as graffiti art and to some, vandalism, and to me, it think it's destroying my lungs from all the fumes I've inhaled for the past 7 years. Clogtwo's works merges from relative questions from social behavior to the mysteries of our religion beliefs. As time goes by, many artists favor to question themselves if their styles are well defined or recognized? I think there's no such definition for style, style is not made, it's yourself. Sad to say I've worked with National Arts Council, National Health Promotion Board, Singapore National Museum, Singapore Arts Museum, OKTO channel and Adidas, to name a few, but it looks like Clogtwo managed to get all the credit.
David Kraig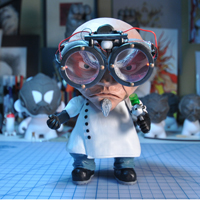 After years of neglecting my artistic abilities, I have rediscovered my love for creating by losing myself in a new craft. I started my artistic career with a traditional based art style using oils and pencils to generate my ideas. I have transformed my style into a more pop based variety. I attended a random workshop 15 months ago and discovered a passion for vinyl based art. While I am still learning to hone my skills I have created some intricate and unusual pieces. I look forward to continuing to challenge myself to become the artist I always wanted to be.
DeeTen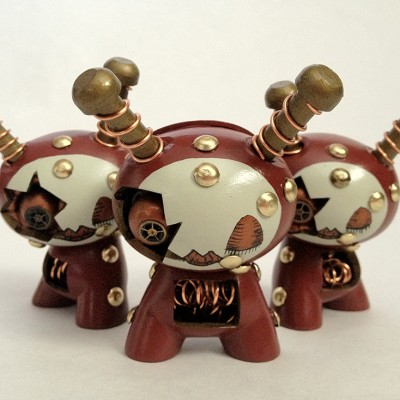 I'm a LA based artist that customizes toys as a hobby and for the love of making something with my hands in a digitally oriented world. My work is influenced by the 1920′s era as well as modern toy art and their artists. Some other influences include art, deco, space westerns, urban cities and drag queens. I mainly work with vinyl toys, acrylic, sculpey clay, and other various materials I find can be of use. I find each custom can be approached differently while still maintaining my style. Each piece evolves as I start making them and they never go 100% according to plan which means a better piece in the end. I figured, I love so many styles, why not create one that mixes them all. Customizing is part of my life now. I love the toy community and plan to be a major artist within it one day.
Dolly Oblong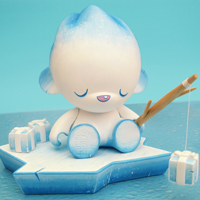 Dolly Oblong is a creative character design toko from Rotterdam (NL), specialized in quirky characters from paper and plush. All 100% handmade! The recipe behind all Dolly designs is keeping it simple with a twist.
Emily Bee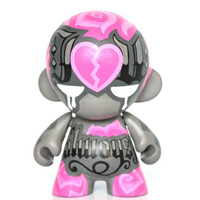 Emily works as an animator on Hollywood movies, and in her spare time she paints vinyl toys, draws and sews plush toys. Each of her vinyl pieces is embedded with a message, often expressed through typography and symbolic elements. She has lived in 5 different countries and carries her art supplies with her around the world.
Josh (f+) Pearce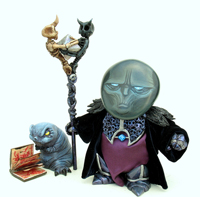 The universe of f+ is an infinite realm of majik. An ever evolving, living, breathing plane of existence, blessed with all the powers of gods, encumbered by all the flaws of man. this realm is an oasis, a nightmare, a metaphor, and it all lives in pure chaos and perfect harmony.
Josh Pearce is powered by a windmill mind, a glass furnace heart, and butterfly anvil for hands. I invite you to explore and enjoy this world as it grows and evolves. Hopefully everyone that comes upon it will find something of inspiration or perhaps, a bit of enlightenment.
Fakir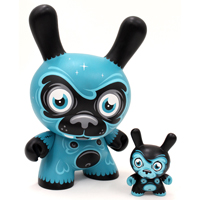 Young parisian artist, Fakir became known of designer toys' fans with its perfectly executed customs. He is also the creator of the Rabbit Qbiq, his self-produced DIY toy. Illustrator, character designer, painter and Toymaker, he captures in his work all the energy of its visual cues to give us an anthology inspired by exalted characters. With a pure graphics and influences from the cartoon, graffiti, manga or tattoo, the world of Fakir is incredibly cool and a Master of surprising.
Fernando Roman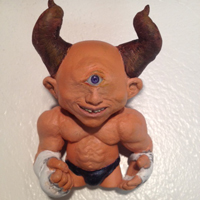 Fernando Frederick Roman was born in 1969 in Brooklyn, NY. Fernando combines a variety of mediums in his sculptures- paint, recycled woods and clay, fallen branches, silk screened fabrics, photography, metals, stones, etc. Fernando's current work is an inspiration of organic elements. Each piece is a one-of-a-kind original. His work includes elements of nature found through his travels of Europe, Latin America and the United states.
Frank Mysterio
Frank Mysterio resides in Mexico City and works as a graphic designer by day, but come night he shifts gears and moves to his art- which consists of graffiti, painting, digital illustration and of course custom art toys. Frank has a range of styles, which are based on Mexican culture and the use of excess color.
Gabriel Carpio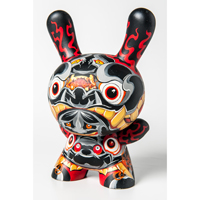 Illustrator, graphic designer, and artist, inspired by all the Eastern culture, (Japan, China, Thailand, India .. ect) their brand colors are red, black and white, "I try to do everything based on Asian culture , characters, stories, legends ... but giving a contemporary and original touch ... I believe in yokais .. (ghosts) "
Graham Franciose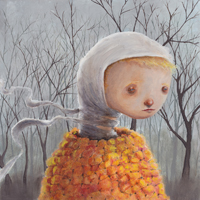 After spending just a few moments with his work, it's not shocking to learn that Graham Franciose was born and reared in the forests of rural Massachusetts. Though trained in photorealism at the Hartford Art School where he received his BFA in illustration, Graham's style has developed into an evocative mixture of illustration and pop surrealism. On the surface, the subjects appear familiar and almost mundane. His work has been characterized as equally whimsical and melancholic - seeking to freeze an ordinary moment in time, often evoking unsettling, yet familiar, emotions. It's easy to picture his style as one you might find in a children's storybook, but on further inspection, Graham appears to be addressing the deeper and sometimes darker recesses of the human experience. Graham lives and works as a freelance illustrator and fine artist in Austin, Texas. He is represented in galleries in Austin, Houston, New Orleans and Washington D.C.
Graphix Chick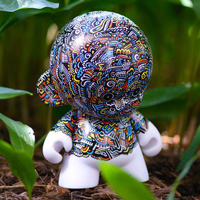 Since 2002, Jessica Esper has created brand identity packages, as well as print and vehicle graphics. She has won many awards including a $32,000 scholarship to the Art Institute of Washington for her impressive senior portfolio. Jessica works with all aspects of design to create truly one-of-a-kind designs for all audiences. She currently works for a small company as a Senior Graphic Designer creating applications for clients, including the U.S. Air Force. If you happen to be visiting Union Square in Baltimore, take a look at the city light post banners and signs she designed.
Grimsheep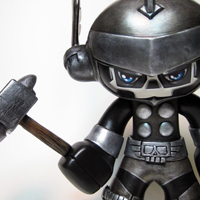 Owen "Grimsheep" DeWitt is a native of Montreal, Quebec, Canada. He currently lives and works in Waterville, Maine in the United States having followed his wife her considerably more sensible career. Owen never outgrew his childhood fascination with toys and with a little luck and a supportive online community he has managed to turn his love of toys and art into the semblance of a job. He is a toy customizer and designer whose work is influenced by comics, 80's pop culture, and Native American art. Owen's career path began with a creative art program in college, followed by an illustration and design program. He then worked as an illustrator for a couple of years until leaving for a more stable web designer position. Owen has participated in over 20 group shows, won several awards in customizing contests, and received the "King of the Boards" honor from Kidrobot. He has a number of production toy projects in the works and is eagerly anticipating the release of his first production designer toy.
Hydro74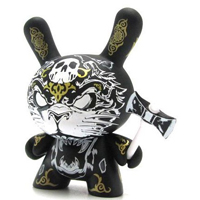 Hydro74 is a Orlando based designer, otherwise known as Joshua M. Smith. The soul purpose of my career is to push the boundaries in doing what I feel is relevant to the market as well as extract various elements and trends to be able to offer them up in my own personal work. But let's be honest. I do what I love because I love it. Not because I have to do it, nor am forced to do it, but rather passionate about doing what I do. I firmly believe in having set style tones, yet a sense of diversity to make any various project unique to the demands that are set forth.
Jeremiah Ketner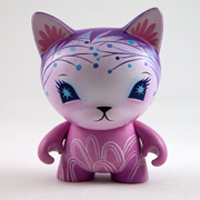 Jeremiah Ketner's paintings are instantly recognizable amongst his contemporaries in the pop surrealism movement. His early work, characterized by mischievous sprites and whimsical patterns, has evolved into lush, richly colored environments inhabited by a cast of pensive, dreamy young women. Each character presents a unique brand of beauty, created entirely within Jeremiah's imagination and painted completely from memory.
Josh Mayhem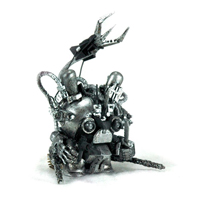 Josh's work displays vibrant colors and crisp lines utilizing simple paint foundations as complimentary backdrops to an overwhelming display of accessories. A recycling element is seen as an underlying tone in his collections. Pieces of scrap metal, wires from vintage electronics and weaponry accessories from the creator's massive collection of vintage action figures serve as a reminder of the rooted toy history and originality each individual piece holds. Figures incorporate some form of a working component to it including working lights, spring loaded and moveable devices, and removable elements that evoke the versatility of a an action figure with the visual aesthetic of a vinyl toy.
JC Rivera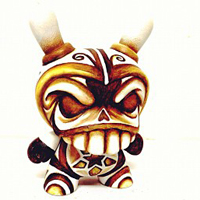 I am an Artist based out of Chicago, IL. I've been illustrating, painting, and doing anything and everything art for the past 7 years. I've done various works from t-shirt design to logos to illustrating books to commission pieces. For the past year, I've gotten the most exposure for my custom work on vinyl toys. My work has been featured on multiple website and online forums as well as in print. Mid 2009 I developed a character named "Jonny Hancock" based on one of Chicago's greatest buildings. Jonny Hancock is currently selling at Rotofugi. One of my custom designer toys was just featured on Kid Robot's blog -The Kronikle. I like just to BE CREATIVE.
Josh Taylor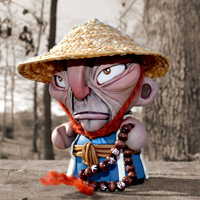 Joshua Taylor's existence was secured in the early summer of 1979 in a modest New Jersey-based womb. Upon his birth February of the following year of 1980, he began the rapid development of his artistic abilities, with particular focus on illustration and character design.His formal education culminated with a BFA in Illustration from Pratt Institute. He has gone on to work as freelance illustrator, as well as garnering extensive recognition for his fine art, showing frequently in galleries across the US and abroad. Accordingly, his work frequently explores themes of the intertwinement of creation, destruction, and the inherent multiversal continuity therein.
Kasey Tararuj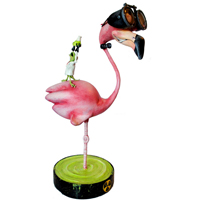 When i was 14, i became a paraplegic, which naturally has caused each and every aspect of my life to change dramatically. the unexpected loss of my legs has become an extremely significant inspiration to create art. art has pretty much always been "my thing," but it wasn't until my situation arose that i really began to use art on a different level than most artists. creating art is basically my only form of ventilation. instead of giving up or screaming, i draw and paint. it's my sanity, especially during unbearable moments. art (in many forms) has slowly formed into a serious addiction, and i love the fact that i can't get it out of my system. i feel like i'd be nothing without my art, as well as the so called "handicap" that has led me to my endless supply of motivation.
Keithing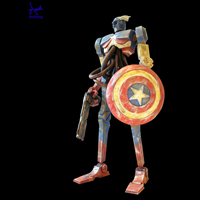 Keith Poon AKA Keithing , is a New York based artist. Born in Hong Kong and moved to NY at the age of 16. Keith has worked on several toy design projects over the years. He has collaboratively worked with Futura Laboratories, 360ToyGroup, Tokidoki, Frank Kozik, Huck Gee and KaNO to name a few. He has worked with various popular artists in promoting their toys and designs too. His projects were influenced by his passion for aquatic life therefore created his vinyl toys based on them.
Kevin Gosselin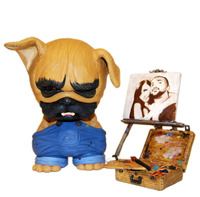 Kevin Gosselin is a custom toy designer and illustrator influenced by sci-fi and fantasy art, comic books, anime, the masters and too many contemporary artist to fully list. Kevin is exploring the designer toy scene. It mixes his love of sculpture, illustration and fine art and is the perfect output for his passions.
Lickyourelbow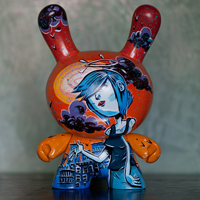 Cemetery caretaker by day, hack artist by night. After a short stint in art school I went on to independently further develop my art into something much more than I could have ever learned in a formal school setting. Reading countless independent comics and watching far too many cartoons I picked and chose bits and pieces of the different styles I absorbed over time to fit into what would become my own. Drawing influence from artists like Scott Morse, Jim Mahfood, Dave Crosland, Rob Schrab, EVISand countless others, things slowly came together and lead me to the vinyl toy scene.
Mark Troup (Gomi)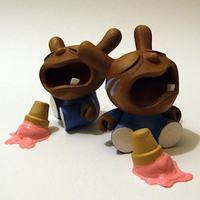 Mark Troup (Gomi) is a graphic designer, toy customizer, sci-fi/fantasy junkie, Scrabble grand-master and general all-purpose nerd who lives in Los Angeles. His character-based toys blend clean simple sculpting with detailed painting, with a healthy dose of humor and bad puns thrown in for good measure.
Mc Baldassari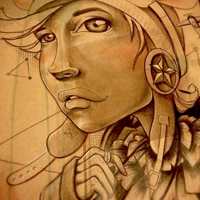 Mc Baldassari has been living in Montreal since 2007, and she's working as a freelance visual artist and illustrator since 2010. Her techniques and creative process have been much influenced by her industrial design background. She likes to experiment and divert traditional tools (color pencils or ink) on all kinds of supports, and also enjoys creating using digital tools. She's a big fan of antique images and objects, as they have lived through out the years and have a story of their own, which makes them unique.
Mr Munk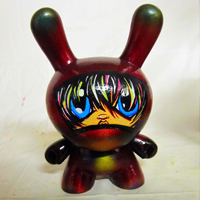 I do this for the love an thankfully i have collectors all over the world, an ive only been in the vinyl toy art world less than 3 yrs, I'm on my way.
Muffinman
Muffinman from hamburg, germany, started customizing vinyl toys in winter 2009 and hasn't stopped since. well, yes, maybe for breath. and he will probably continue to do so forquite a while since he absolutely loves it. so far, he has made friends with munnys, dunnys, teddytroops, mad*ls, 3A WWR bots, squadts...his other creative passion is sculpting stuff.
Nikejerk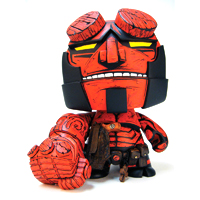 I'm 31, I live in Atlanta, Georgia and I am a full time Graphic Designer. By day I work almost exclusively on a computer so as a contrasting outlet, I started sculpting and painting custom toys. I had already been collecting designer vinyl for a while and when Kidrobot first came out with their DIY figure Munny back in 2006, I picked a few up and ever since the amount of custom work I do
has been gradually growing to now, where I am working on customs every day outside of my day job. The most important things I try to explore in my work are innovation and experimentation through the subject material I enjoy most — movies, cartoons, television, comics and videogames.
Nightmare Mikey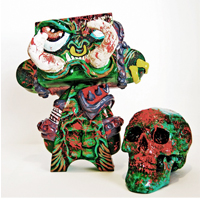 Nightmare Mikey is a Washington D.C based Designer/Illustrator . He graduated College with a BA in Graphic Design in 2008, then shortly after, founded the Company Beautiful Nightmare® in 2009 as a way of introducing his artwork to the world.The purpose of his existence is simply to deliver narratives without words, Majority of his Illustrations/Designs are projects created to deliver specific messages to specific audiences. While some of his projects are pure experiments, meant to grasp the attention of any person willing to think.
Otto Bjornik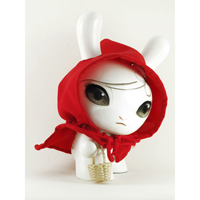 The Pen is Mightier than the Sword. I am more than an illustrator. I am a storyteller. My tales are a rich mixture of precious childhood memories and fairy tales. I weave together lines to celebrate the beauty and elegance of nature and human form. And sprinkled within that tapestry are touches of whimsy that bring to mind the wonderment of childhood and play. It is my way of rekindling youth with a wink and infinite mirth. An architect by training, I create works in pen and ink that are filled with intricate detail and influenced by stringent rules of design. The elements I choose often hold symbolic meaning, and I take care to piece them together like a jigsaw puzzle to tell an overall story. I have drawn millions of lines as an artist and have told many stories, from my initial scenes of houses to the Yahoo! Purplescape campaign to more experimental pieces that have won international competitions and garnered gallery exhibitions. But I still feel that I have many more stories to tell and a million more lines to draw.
Patrick Francisco
Patrick is an artist working as a freelance creative by way of an education in illustration. He happily revisits the act of making paint stick to vinyl surfaces as a contribution to Doctors Without Borders.
Phu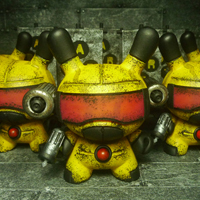 The name Phu in short is a self-created lingo. Entirely imaginative and not based upon adherence to actuality. 3D art is his pursuit, especially in vinyl customizing. Phu's Phuturistic concept is a manifestation through his artistic form of thought and personalized treatment in which he exercises the habit of recycling. And it's with this Phuturistic niche, Phu's customed vinyls have been commissioned and showcased in various international exhibitions and shows worldwide.
Bob Conge / Plaseebo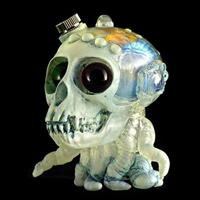 While it has been some 4000 years in the mak­ing, if you believe the back­story, PLASEEBO was finally founded in 2004 as a shop ded­i­cated to cre­at­ing unique one of a kind col­lec­table fig­ures and design­ing orig­i­nal fig­ures for Ultra Lim­ited edi­tions. You can read the PLASEEBO back­story here if you wish: http://www.plaseebo.net/news/backstories/the-legend-of-plaseebo/ What­ever the direc­tion or medium of expres­sion, the drive is to bring to life a per­sonal vision in the form of a new fig­ure, hence the tag line, " PLASEEBO / its not what you think ". To cre­ate is to push the enve­lope, that is to say, I will not make today what I made yes­ter­day. The goal of the work is not in achieve­ment, but rather in that of " ever becoming ".
Roar With Lukas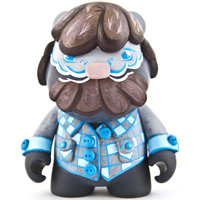 Graphic Artist from Vienna.
Character lover, Toy and Shirt enthusiast,
Customizer
Rsin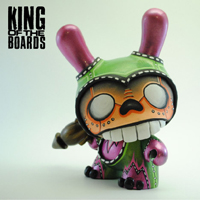 I am a self taught canvas and vinyl artist for the past 3 years. Started painting in December 2007. Working mainly with the Urban Vinyl toys the past 2 years. Participated in over 60 shows at galleries world wide. Have sold more then 100 pieces of art in that time. I continue to teach myself and learn everyday. Bringing the concept of "Things That Whisper" to life.
RunDMB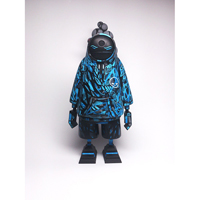 David Bishop aka RunDMB is an English designer and illustrator. A fine art graduate, he is currently creative director at a UK design studio and loves to draw and scribble generally on toys, bits of paper or whatever comes to hand. He's inspired by an english lower-middle-class love of 80s/90s hip-hop, Futura 2000, cinema, art and graffiti.
Sekure D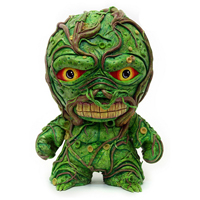 Sekure D is a full time artist and customizing machine that is one of the most established designers in the genre. Transforming people's sneakers since 2006 he has an original and easily identifiable style. Growing up addicted to 80s and 90s cartoons and comics he pulls inspiration from everything he loves to create his designs whether it be cinema, space, comics or graffiti. Welcome to the world of Sekure D, a world filled with sneakers, vinyl collectables, a blue tongue lizard named "Grimlock" and other nonsense!
Southerndrawl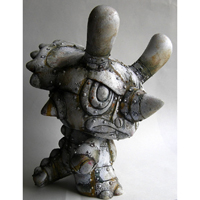 I'm pretty much self-taught though, I had a couple of art classes in college, another at Parsons and two at SoVA (though most of those were in watercolor and aren't helping me out much today, haha).
Sylvia O.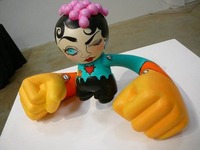 New York born Artist Sylvia O. and "The Beautifully Grotesque", a lifelong thesis, where she pushes and pulls the boundaries of what is considered "Ethereal" and "Abhorrent", is constantly dissecting the definitions, boundaries, standards, and expectations of these two anomalies. In an attempt to lure and seduce the viewer into delving deeper into their own identity and perception of what separates the beautiful from the grotesque by using the human form as an "object" as opposed to the "subject". Her ultimate goal is to convince the viewer that there is no line between the beautiful or the grotesque, but instead they exists as one entity.
Superwaxx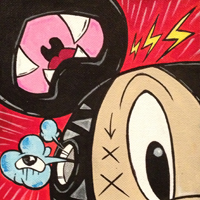 Superwaxx is an up and coming visual lowbrow artist whom is currently based out of Washington, DC. Mostly working with acrylic medium on numerous styles of canvas, the art of Superwaxx is designed to bring artistic awareness to the sometimes not so artistic eye. Superwaxx had an early influence of street art while mimicking the black book sketches of her older brother at a young age. With a crayon and paper in hand, Superwaxx began to find freedom and self expression through the use of her vast imagination and art. She also found artistic influence through comic book art, animation, anime, pop art, 17th century renaissance art and graffiti/street art. Superwaxx is a self trained artist with minimal amount of formal art education. Most artistic training was obtained through hours of watching animation and artistic television programing. As an adult, Superwaxx continues to bring some of those same juvenile attributes and influences from her childhood into recent works. Even in some of her most mature works of art.
Tadeo Mendoza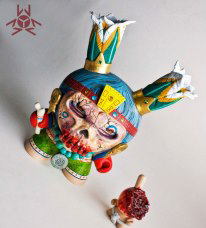 I always say that, in part, I'm still a child who likes toys, bold colors and horror movies, that's my inspiration and the reason for I get in into toy customizing, it's a 3D canvas where I can materialize my dreams, ideas, creatures, anything in my mind, also I can mix different techniques that I use like sculpting, painting, engraving, etc, I love this and I hope been here for a long while.
Task One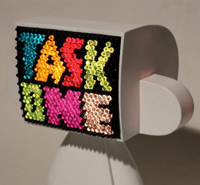 As a boy Task One was devastated when he witnessed his parents' gruesome murder by an unknown gunman and vowed revenge against all who broke the law. As a young adult, he worked to fulfill this vow by traveling the world to learn from masters of various defense disciplines. Eventually he became an exceptional escape artist, master of martial arts, acrobatics, science, technology, boxing, disguises, criminology and detective skills. Having perfected his skills, Task One was prepared to embark on his mission. With the help of his butler Alfred, by day running his family's enterprise and by night keeping the streets of Gotham safe with the ability to strike fear in the hearts of the criminals he will confront while protecting his true identity.
Thanathan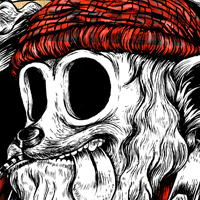 Born and living in Bangkok, Thailand. Worked as a graphic designer in an advertising agency. When tired of the routine. Turned into a work of art. The work has been inspired by Chihuahua puppies, tattoos. Brush and ink.
UMEToys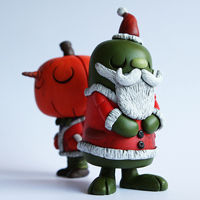 Hello, my name is Richard Page of UMETOYS. Ive been scribbling on anything that stays still long enough for as long as i can remember. Over the last few years i've been sculpting ad resin casting alongside custom toy making. My website is the place to catch up on all my toy and collectable related projects. I am a freelance creative with over 20 years industry experience and love typography, photography and
illustration.
WuzOne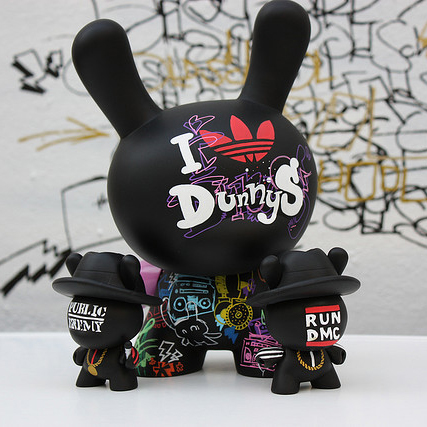 I´m from of the sunny Seville, Spain. I meet the art toys through the graffiti, and it was love at first sight. Since then I painted over 400 customs. Inspired me with the typography, music, cartoons, arabic calligraphy and anything i can see. I love the color and the clean lines. I´ve showed my work in San Diego Comic Con, San Francisco, Paris, Seville, Virginia and in other places.