El Mundo de Los Luchadores
Sunday May 4th, from 2-7pm
El Mundo de Los Luchadores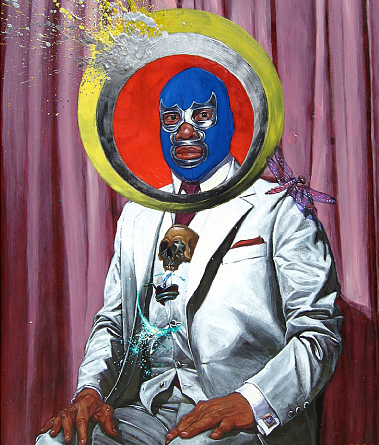 Painting Shown by Tony Phillipou
Live Mexican Wrestling
Live Music from Escarioka
(Brooklyn based psychotropical punk funk) & G-Flux
Mexican Street Food
Mexican Inspired Live Mural Painting
Luchadores Mask Group Show Art Exhibit

Celebrate Cinco de Mayo this year by watching live lucha libre (Mexican professional wrestling). Lucha libre is a battle between good and evil. In lucha libre slang a "tecnico" is a good guy and a fan favorite and a "rudo" is a bad guy and will do anything to win. Lucha libre has been a Mexican tradition for over 80 years. On Sunday, May 4th, come see the glimmer of their colorful masks as wrestlers Pequeno Pierroth, Sangra de Aguila, Hijo de Dr. Wagner, Hijo de La Park, and the Caveman spin through the ring; smell the traditional Mexican street food; and dance to the beat of live music when you attend el Mundo de Los Luchadores -- the world of Mexican pro wrestling -- presented by Art Whino. Head to Navy Yard on Sunday, May 4 for a full day of excitement, including a Mexican-inspired live mural painting, an art exhibit that lets you get up close and personal with the masks of the luchadores, tropical punk music of Escarioka, and more. This is an all ages, family friendly event!
Sunday May 4th, from 2-7pm

Location:
DC Fairgrounds (Directly in front of National Stadium)
1299 Half Street, SE
Washington, DC 20003
Super convenient 50 feet from the Greenline Navy Yard Nationals Ballpark Metro Stop
Featuring famous Lucha Libre wrestlers Pequeno Pierroth, Sangra de Aguila, Hijo de Dr. Wagner, Hijo de La Park, The Caveman, and others.

Musical performance by Escarioka and G-Flux
This is a ticketed event. For a limited time we have a living social deal, buy it before the deal is over! https://www.livingsocial.com/events/cities/1-washington-d-c/1051819-el-mundo-de-los-luchadores-admission
Living Social deal expires Saturday. Tickets will be sold at the door the day of the event.

After Party starts at 7pm

Join us at El Ray Taqueria and Mexican Beer Garden (919 U St NW) on Cinqo de Mayo eve after the "El Mundo de Los Luchadores" event.
THE WRESTLERS:

Hijo de Dr. Wagner
El Hijo Dr. Wagner is part of a legendary family of wrestlers, his father Dr. Wagner Jr. and grandfather Dr. Wagner has been in the wresting business for years. Hijo de Dr. Wagner is a 3rd generation superstar and a household name.
Hijo de LA Park
Hijo de LA Park was also born into the wrestling business. His father, professional wrestler LA Park, he has worked for international companies like World Championship Wrestling (WCW), Consejo Mundial de Lucha Libre (CMLL) and Asistencia Aseroria y Administración known as Triple A. LA Park is an up and coming superstar who is currently working for various promotions across México and the United States.
Pequeño Pierroth
He has traveled the globe doing what he does best, wrestling. One of Mexico's toughest and most representative wrestlers Pierroth has worked for the biggest companies in México and was part of WWE. He is known for his bad guy gimmick and claims to be from Puerto Rico.
Sangre de Aguila
Sangre de Aguila represents the immigrant community. This local superstar works in construction during the week, at night he trains and during the weekends he becomes an impressive wrestler that earns the crowds respect.
Caveman
One of the most charismatic and well-known wrestlers in the New York area has won the recognition of the crowd and the kids and fans in general can't get enough of him.

THE MUSIC:
ESCARIOKA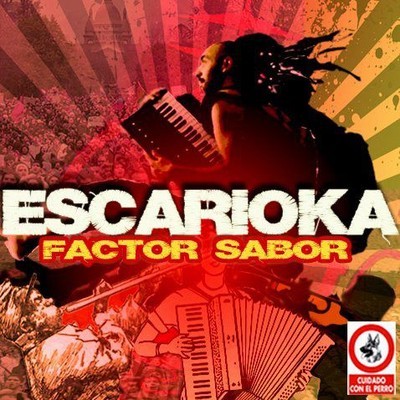 ESCARIOKA is a multicultural collective that started at the end of year 2002 in Elizabeth nj, the band is a explosion of energy that mixes Dub, Cuarteto, Cumbia, Balkan, Ragga in a Psychotripical Punk Rock Descarga and more flavors around the world,the band is leaded by Exequiel & Pablo D'ambrosio, Cristobal Miranda Hidalgo and Fernando Alvarez, the meaning of ESCARIOKA is to keep on sharing the party with real lyrics against falseness of people and society in general and how to combat your ego and the everyday life and lots of hope in the lyrics and everyone to enjoy ''EL BAILONGO'' (the party). ESCARIOKA is considered as the hard-core World Music band of all the music scene in New York city opening for bands such as; Fermin Muguruza, Ska-P, Los Destellos, Chico Truijjillo, Fidel Nadal, Mimi Maura, Sergio, Rotman (Fabulosos Cadillacs) and more. ESCARIOKA releases its first album ''FACTOR SABOR'' under the independent label of MEHANATA RECORDS.
https://soundcloud.com/escariokacrew
G-FLUX
Born and rasied in Mexico City, Gustavo Naranjo didn't become space cumbia producer G-Flux until he relocated to the United States. It was the year 2008 and electronic, sample-based cumbia was the new cool thing happening all over the continent. Through the internet Gustavo first contacted with waht was going on in his hometown's nu-cumbia underground and soon enough up-and-coming artistss starting requesting his services as a remixer/producer. Thus, "El Ciclón Del Caribe" was born, a collaboration with DF's cult cumbia duo Afrodita that would end up becoming one of the biggest hits of the genre, and the first track Gustavo signed as G-Flux.
G-Flux was new to cumbia, not not to music production. Since he moved to Washington, DC over a decade ago, to study music production he had been involved in several projects, such as Pascha and Antifaz, focusing on down-tempo and lounge, jazzy electronica (Antifaz's music was featured on Law and Order and national TV Commercials for McDonalds, Nintendo and an upcoming episode of Dexter). Choosing cumbia was a political statement in itself, even if the lyrics aren't combatvie," explains Gustavo, "because of the place that cumbia has in Latin America as the music of the working classes. It's the most democractic of all genres."
After the success of "El Ciclón Del Caribe," G-Flux kept busy doing remixes and releasing his own productions of digital compliations and through blogs, earning considerable internet explosure. Fans started demanding a G-Flux album, a proper official release. Thats' G-Sound: a collection of some of the best collaborations and remixes signed by G-Flux, plus four previously unreleased tracks. G-Sound includes guest appearances by Mexico's Los Master Plus and Afrodita, Canada's Boogat, DC's Empresarios, and Peruvian chicha guitar legend Jose Luis Carballo, among others.
THE GROUP ART SHOW
Participating Artists
Brendan Tierney
Diana Cruz
El Estabo
in.fa.mousIKB
Jared Davis
Mas Paz
NAM
Nightmare Mikey
Rei21
Tim Rodgers
Timothy Johnston
Toobz noel



About the Fairgrounds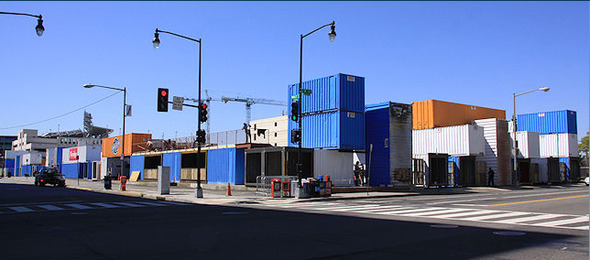 Open daily May 1st through October 3rd, Fairgrounds the "hub" area which comprises 10 retail containers, food trucks, bars and a farmers market. On game days and weekends, the whole block-long venue will open at 11:30 am and stay open until 2 hours after the game ends. On non-game days, Fairgrounds will stay open through happy hour/dinner or the end of any event.
Ideally located at Half & M Streets, SE, on the large block just north of Nationals Park and directly across the street from the Navy Yard Metro station entrance, Fairgrounds is part of the Capitol Riverfront, DC's new mixed-use community and neighborhood on the water.
Fairgrounds will serve customers coming to the ballpark for games; for a lunch, happy hour and dinner spot seven days a week; and as a unique shopping destination for the many office workers, residents and visitors to the neighborhood.
Weekend art markets, food and music festivals, including concerts, fundraisers, art fairs, Truckeroos, and an ESPN container broadcasting live, will augment the eighty-two scheduled baseball games to offer an exciting and eclectic center of activity in the Southeast Waterfront neighborhood and a regional destination as a fun, creative and always-interesting outdoor party.
http://www.fairgroundsdc.com