Mid Summer Mardi Gras
June 28th 2-8pm
Join us for some Mardi Gras fun with New Orleans-style brass bands like Brooklyn's own PitchBlak Brass Band
and the always amazing White Ford Bronco!
Also have two chances to win $500 with best costume contest and shopping cart float contest!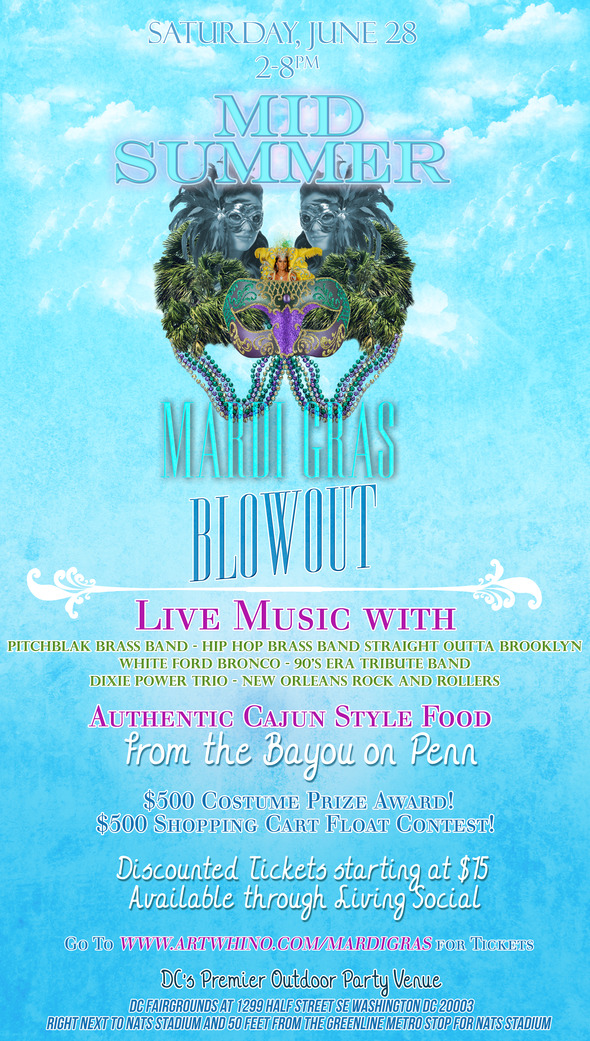 Art Whino knows you don't need to wait until the right time of year to celebrate your favorite holidays -- that's why they're throwing a Mid-Summer Mardi Gras Party at the DC Fairgrounds on Saturday, June 28. Complete with classic New Orleans cuisine like jambalaya and gumbo catered by DC's own Bayou on Penn, New Orleans-style brass bands like Brooklyn's own PitchBlak Brass Band, White Ford Bronco and costume contests, and a Mardi Gras-themed art exhibit, this event lets you make new purple, green, and gold memories all over again.
Parades are a huge part of Mardi Gras, and what's a parade without a float?!....The concept is simple, create a 'float' using whatever materials you'd like to fabricate your extravagant, funny, or satirical creation using a shopping cart as its base. Roll it over to Mid Summer Mardi Gras on the day of the event and join the parade for a chance to win a $500 cash prize!
Saturday June 28th, from 2-8pm

Location:
DC Fairgrounds (Directly in front of National Stadium)
1299 Half Street, SE
Washington, DC
20003
This is a ticketed event. Admission prices vary.
For a limited time we have a living social deal. So buy it before the deal is over HERE
To enter the Shopping Contest please email Elisa@artwhino.com
No preentry for the Costume Contest.
THE MUSIC:
PITCHBLACK BRASS BAND

PitchBlak Brass Band is a Brooklyn-based 10-piece band whose style and sound represents hip-hop from the 1980s to present day. A collective of young musicians, composers and artists, PitchBlak embodies the contemporary and vibrant undercurrents of New York City. PitchBlak's members have incredibly diverse musical backgrounds, allowing them to infuse hip-hop driven music with anything under the sun.
PitchBlak has performed at such prestigious venues as The Kennedy Center, Brooklyn Bowl, Le Poisson Rouge, 92YTribeca, Southpaw, The Shrine, Toronto's NXNE Music Festival, Savannah Stopover Festival, Vermont's legendary Nectar's, Albany's Red Square, and took home first prize at the 1st Annual Bob Stewart Tuba Competition. In addition to performing live, PitchBlak trains and mentors young musicians in community outreach programs and classrooms throughout the country. PitchBlak released its debut album, You See Us, in fall 2013.
http://www.pitchblakbrassband.com/
https://www.youtube.com/watch?v=gKGQfKRId-4#t=38
WHITE FORD BRONCO
Long a mere dream kicking around in the overactive imaginations of its founders, White Ford Bronco officially came into being in the Spring of 2008. Since then our five member ensemble has been sparking bouts of flannel-laden, slap-bracelet-snapping, pog-playing, big-butt-loving nostalgia across the Washington, D.C. area that we call home. If you're longing for the days when Danny Tanner could solve everything with a hug and presidential scandals only involved ruining a marriage, allow us to take you on a musical journey to that magical last decade of the 20th century. Whatever flavor -- be it Alternative, Rock, Pop, R&B, Hip Hop, or Country -- if it's 90s, we'll play it.
DIXIE POWER TRIO
One of the East Coast's premier New Orleans music ensemble's. In a typical set the DPT will play a gumbo of different styles including zydeco, Cajun, New Orleans jazz, funk, street parade, and rock. The songs are a mix of Louisiana-flavored originals and covers—all with a unique, happy-go-lucky attitude. The band's music has been featured on NPR's "All Thing's Considered" and on several WB television shows. Over the past few years the DPT has shared the concert stage with many Louisiana music luminaries including Wynton Marsalis, the Neville Brothers, Dr. John, Terrence Simien, Chubby Carrier, the Dirty Dozen Brass Band, the Olympia Brass Band, and Beausoleil.
http://www.dixiepowertrio.com/
THE FOOD:
BAYOU
New Orleans inspired cooking, and that laid back Big Easy vibe, there's only one place in Washington DC to go. Located at 2519 Pennsylvania Avenue NW, just steps from the Foggy Bottom metro, Bayou brings together the award winning cuisine of executive chef Rusty Holman, hand crafted New Orleans cocktails, and a rotating line-up of both local and national recording artists. With two funky floors of dining and dancing, Bayou suits any occasion.
MARDI GRAS THEMED GROUP ART SHOW
Participating Artists
Diana Cruz
In.fa.mousIKB
Jared Davis
NAM
Nightmare Mikey
Rei21
Tim Rodgers
Timothy Johnston
Toobz noel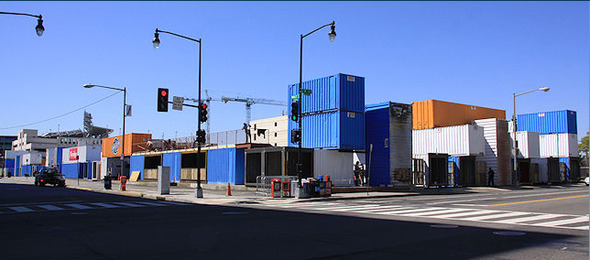 Open daily May 1st through October 3rd, Fairgrounds the "hub" area which comprises 10 retail containers, food trucks, bars and a farmers market. On game days and weekends, the whole block-long venue will open at 11:30 am and stay open until 2 hours after the game ends. On non-game days, Fairgrounds will stay open through happy hour/dinner or the end of any event.
Ideally located at Half & M Streets, SE, on the large block just north of Nationals Park and directly across the street from the Navy Yard Metro station entrance, Fairgrounds is part of the Capitol Riverfront, DC's new mixed-use community and neighborhood on the water.
Fairgrounds will serve customers coming to the ballpark for games; for a lunch, happy hour and dinner spot seven days a week; and as a unique shopping destination for the many office workers, residents and visitors to the neighborhood.
Weekend art markets, food and music festivals, including concerts, fundraisers, art fairs, Truckeroos, and an ESPN container broadcasting live, will augment the eighty-two scheduled baseball games to offer an exciting and eclectic center of activity in the Southeast Waterfront neighborhood and a regional destination as a fun, creative and always-interesting outdoor party.
http://www.fairgroundsdc.com