Querencia
Saturday June 25th, 8PM - 11PM
"Querencia"
First US Solo Exhibition of Taylor White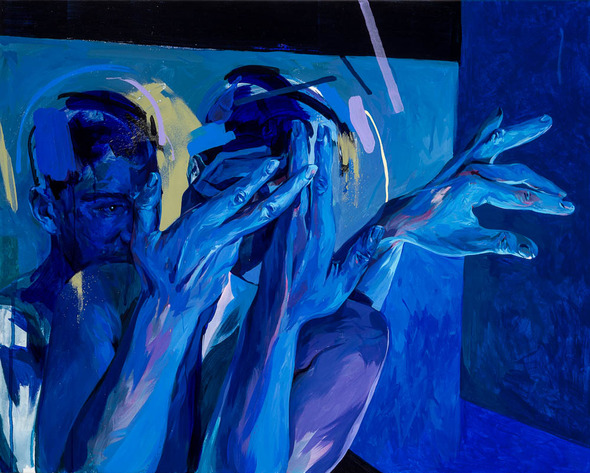 "Querencia" marks the first US solo exhibition of North Carolina-based painter Taylor White. Equal parts measured and chaotic, White's work explores the mysteries of human nature, the alchemy of emotion, and the cathartic points at which the soul confronts its physical form. Influenced heavily by experiences in improvisational dance, White bases her visual vocabulary on the exquisitely expressive movements of the human figure. Combining refined techniques of classical training with bright, unexpected color choices born of a street art and pop culture influence, White's work is a bold and kinetic pursuit of the delicate harmonies that exist in that sweet spot between order and chaos.



Reception:
Saturday June 25th, 8PM - 11PM


Location:
Blind Whino
700 Delaware Ave, SW
Washington DC 20024


Show end date: July 30th
Live Beats and Sounds by KEV BROWN
The event is FREE and open to the public.

Exhibit hours:
Saturday & Sunday 10am-2pm
or by appointment

ABOUT THE ARTIST
Taylor White was born in 1985 and grew up outside of Raleigh, North Carolina. Following a creative path that began early in life, White studied at the Savannah College of Art and Design and received a BFA in illustration in 2007. Pursuant to her degree White spent three years working as a storyboard artist for acclaimed Oslo-based advertising agency TRY/Apt, as the first and only full-time illustrator hired in a Norwegian agency at the time. Three years later she relocated to Australia to pursue painting full time, finding a certain spiritual renewal in traversing the textures of urban environments, and furnishing the streets and galleries of Melbourne with her uniquely haunting, expressive portraits of forlorn youth. White relocated to the US in 2014 where she works semi-itinerantly, basing her studio in Raleigh while she continues to travel and pursue opportunities to share her work.