Richmond Mural Project 2015
July 13-24th, 2015
2015 Richmond Mural Project

July 13-24th
10 Muralists. 2 Weeks. 20+ Murals throughout the City of Richmond
Art Whino returns to Richmond, VA for the Fourth installment of the Richmond Mural Project. With over 60 murals since the inception of the project, Art Whino will return bringing another 10 muralists for another round of murals. Entering the fourth year we have reached many milestones and the project has brought worldwide attention to Richmond, VA as a destination for Mural Lovers worldwide. Expanding on the body of murals we will be curating a dynamic range of styles and subject matter providing a glimpse into a worldwide movement in one city. In response to people's requests to expand the murals beyond the arts district we will be implementing kickstarters for specific neighborhoods to allow for the organic growth of the project as people rally together to dictate where the murals go.
MISSION: The Richmond Mural Project is a yearly event with the goal of creating over 100 murals by world renown talent in the first 5 years alone. The recurrence and solidification of the project throughout this time will establish Richmond as a landmark destination for internationally recognized murals and will create exposure for the city, establishing it as a premier art destination. By concentrating a large number of murals throughout the city the project will increase tourism and will bring the much needed "Feet on the Street" which will help local business thrive.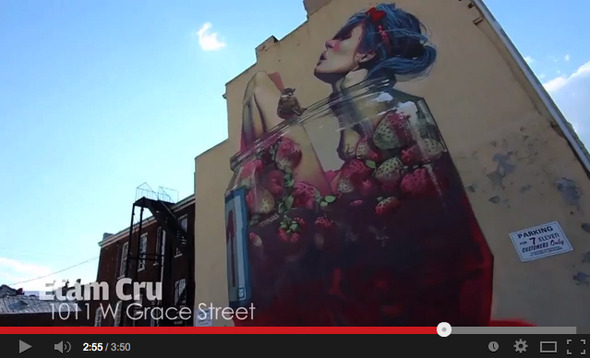 July 13th- July 24th

Muralist begin painting the week of July 13th and will finish their murals by
July24th

Mural Locations:
Various Locations
2014, 2013 & 2012 locations listed here
http://artwhino.com/murals
Main Reception
July 18th 4-8pm
Outdoor reception
2727 West Broad St Richmond, VA
Live Painting by Mas Paz, Live Music by 3 local bands and 2 Dj's. Drinks and food will be available
Showcasing Licking Holes release of Batchelor's Delight (Rum Barrel Belgian Quad)
Video projection of murals in progress
During the day check out Licking Hole Creeks Pirate Beer festival with live painting
and free shuttle to our evening reception.
To sign up for the shuttle to the reception and to get more info on the Licking Hole Creeks event please visit :
http://www.lickingholecreek.com


Kickoff Reception July 13th 8-11pm

Come out and give a warm welcome to the muralists
Sabia Restaurant
2727 West Broad St Richmond, VA
RSVP Here
Information
and to see last years murals go to
http://richmondmuralproject.wordpress.com/
Art Whino Gallery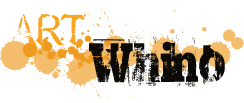 Art Whino is a DC based art gallery whose mission is to bring together the pioneers and freshest talent from around the world. With over 1200 artists in the Art Whino arsenal, ranging from California to New York, Germany to Japan and beyond, Art Whino has become an all encompassing force in the art world. Exhibitions cover the whole spectrum of new art forms ranging from exposing emerging stencil and wheat pasting artists to showcasing the most skilled leaders of many different genres.
http://www.artwhino.com/
RVA Magazine
- OFFICIAL CULTURAL & PRESS PARTNER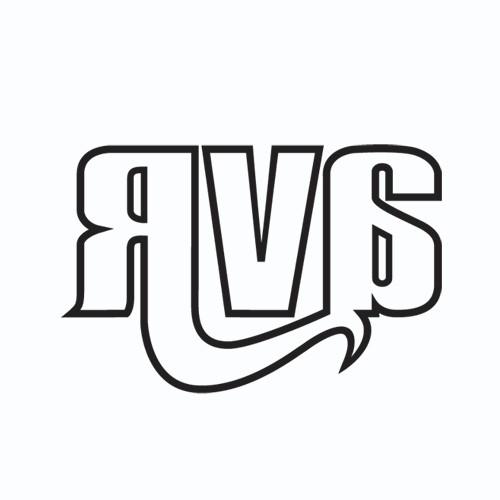 From day one (April 2005) we set out to lend voice to a subdued creative class of Richmond. RVA has succeeded in creating a brand that searches out the best artists, ideas, events, bands, photographers and culture-jammers Richmond has to offer and gives them a platform for exhibition that "gets" them.
Access to talented and creative people is to modern business what access to coal and iron ore was to steelmaking. --Richard Florida, economist and author. In a city best known for it's role in the Civil War (insert eye-rolling here,) the battle to be bigger than our past has been formidable. For generations, city leaders have banked on the faded silver of dubious honors - Capital of the Confederacy etc, and ignored the 21st (and 20th) centuries. With world-class schools such as VCU growing organically on their own record of excellence, media giants like the Martin Agency cementing their footprint in our cobblestones, and Fortune 100 companies relocating to attract the hordes of creatives emerging here, Richmond is exploding. New construction and development is rampant in heretofore decaying downtown retail and nightlife centers.
http://rvamag.com/magazine

2015 Muralists:

Caratoes
(Hong Kong)
Caratoes is born and raised in Belgium. Currently located in Hong Kong. Has an educational background of biochemistry followed by game design. Worked in Amsterdam for a postproduction house and later in Wieden and Kennedy add agency. She moved to Hong Kong, to reflect on what she wants to do in life and discover her roots. In an unknown city, not knowing anyone or anything, things led her to find and realize her dream to travel and paint.
Clog two (Singapore)

Eman Jeman aka Clogtwo is a Singapore-based visual anarchist whose disciplines include being an accomplished graffiti artist and fine arts practitioner. Influenced by his parents, he explored his artistic abilities from an early age. With a multi-disciplinary approach, he creates works of art on various mediums from walls, canvases to customised vinyl toys with his unique vision. Inspired by his daily observations of society, the narratives in his work explores the elements of dark humour and social behaviour. Currently, he has set up his own studio together with partner in crime Ink where he is constantly creating new works to showcase around the world.
D*Face (London)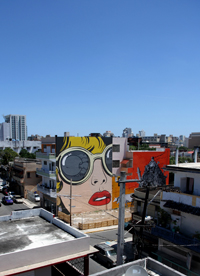 D*Face a.k.a Dean Stockton has been a leading figure in Urban Contemporary Art, inaugurating his career on the streets over 15 years ago by hand-drawing stickers and posters and adhering them for the unsuspecting public to discover in the streets of London and beyond, he is one of the best known figures to rise from the British scene having had a constant leading presence throughout it's meteoric rise into popular culture. With his particular fusion of pop culture and graffiti meshed with a rebellious streak and an ingenious imagination, London artist D*Face has become notorious for his witty, glossy veneered cultural critiques that conceal more malicious undertones. Using the term - aPOPcalyptic - to define his work, a blend of 'pop art' spliced with fragility of life, Stockton's work reflects popular culture, centering around the ideals of the American dream and notion of 'good' triumphing over 'evil'. He aims to encourage the public not just to 'see', but to look at what surrounds them and their lives and our increasingly bizarre fascination with celebrity, fame and consumerism. In his re-thinking and subverting of popular imagery; iconic motifs, cultural figures all are reworked and crafted, Queen Elizabeth with a nose ring, skeletal Marilyn Monroe busts, and Jean-Michel Basquiat blowing raspberries, delivering the viewer a moral dilemma; embrace or reject, laugh or
deny. Incorporating a broad range of street influence throughout his fine art gallery work, drawing both our eyes and minds into his vision using his graphic black and white winged character the 'D*Dog' - the linking element between his work in the street and gallery. This character satirises all that falls into it's grasp – a welcome jolt of subversion in today's media-saturated environment.


Evoca1 (Florida)

Dominican born figurative painter, muralist and designer based out of Miami, Florida. Born in the Dominican Republic in 1984, where he spent most of his childhood drawing on walls and playing baseball, until eventually moving to Hollywood, Florida at age 11. He has been making art his whole life without any formal art school training, teaching himself how to paint with oil, acrylic, latex and spray paint. He is currently living and working out of Miami, Florida, where he continues to develop his craft.
Inkten (Singapore)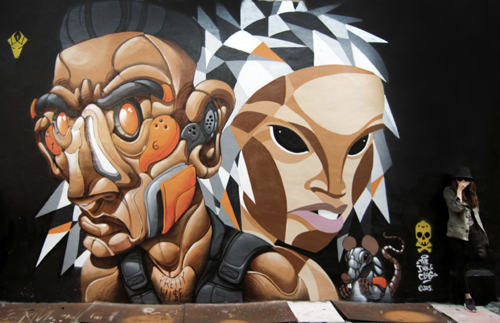 INKTEN is a visual artist whose disciplines include being a graffiti practitioner and graphic designer. She creates works of art on various mediums such as digital, concrete and canvases. Currently, she has set up her own studio with her partner Clogtwo where she creates new works to showcase around the world.
James Bullough (Berlin)

As a child growing up in the suburbs of Washington DC, James was enamored with the edgy, "in your face" graffiti art that he saw through the windows of the DC subway. As he began feeling the need to make art of his own, it was no surprise that this was the type of imagery that came naturally to him. His obsessive graffiti sketches and graphic paintings eventually gave way to a new interest in realism and oil painting. He began studying the techniques of the Dutch Masters and painting highly rendered oil paintings of contemporary imagery. Since moving from the US in 2010 to Berlin Germany, Bullough finds himself reaching more and more for the spray can rather than the paintbrush. His seamless transition from photorealistic oil paintings to photorealistic spray-paint murals has gained a lot of attention. From 2011-2013 he worked under the name of JBAK with fellow American born/Berlin based artists Addison Karl. Together the duo gained a lot of attention for their various projects and large-scale murals throughout Germany and America.
Jason Woodside (New York)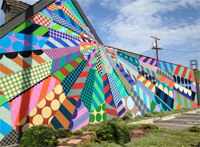 Jason Woodside is an artist living and working in New York City. Recent commissions and collaborations include Colette, Adidas, Saatchi and Saatchi, Faberge, We Work and Jeffery Deithch. Woodside's large scale exterior works grace wall in major cities including Paris, Los Angeles, Washington DC, Sydney and New York City.
Jerkface (New York)
New York Native. Clean on canvas. Clean on walls. Definitely a Jerk. When using iconic characters, he minimizes facial expressions so that the more obvious mood generated from the face does not override the composition and the subtle mood created by the color play.
Moya (Japan)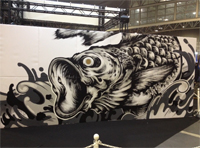 Born in 1982, from Okayama prefecture, Japan. While in Art College he discovered live drawing where an artist was solely using black ink on an enormous white wall. This prompted him to pick up a black ballpoint pen and begin developing his own style, akin to calligraphy brush painting. MOYA's largest influence is traditional Japanese paintings and India-ink paintings. One of his biggest influences is Jakuchu Ito, a painter from the Edo period who is known for his dynamic brush painting style of wildlife. MOYA describes his own style as a fusion of traditional Japanese style and street art. Now living in Kyoto, he paints and collaborates on commissioned murals, does design work, and regularly participates in exhibitions across Japan.
Nils Westergard (Richmond)

Nils Westergard is a nomadic Belgian American street artist and film maker who's murals and stencilled works can be found across the US, Europe, and Australia. Using imagery of social unrest, his friends, and increasingly surreal portraiture he approaches a variety of subjects with a characteristic style. He is proudly based in Richmond, Virginia.



Onur (Switerzland)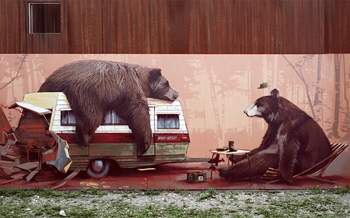 Onur Dinc was born in Solothurn on the 11 th of September 1979 and grew up in Zuchwil. After leaving school, he served an apprenticeship as a painter followed by an apprenticeship as a set painter at the city theatre in Solothurn. After a period of training as a graphic designer in a graphic agency in Basel, he worked for a year in Berne as a graphic designer. Onur returned to the theatre in 2007, this time in Lucerne. He turned freelance at the end of 2008, and has since worked for a number of different exhibitions and customers. Onur's artistic tool of choice is the paint roller. Using it, he is creating photo-realistic imagery. His former profession as a scenery painter displays itself in preference for large-scale works. Many of his creations capture moments of every day life, freezing the instant in time. People and Animals seem detached from their surroundings in the situations captured and display the most fundamental feelings of human existence. Bigger projects of Onur have been recognized internationally in collaboration with Wes21.
Taylor White (North Carolina)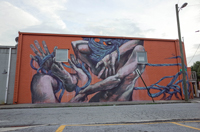 Taylor White is an internationally acclaimed producer of fine pictorial convention. Since earning her BFA in illustration from the Savannah College of Art and Design in 2007, her active mark-making pursuit has taken her from Norway to Australia, Europe and beyond. Taylor is recognized across the continents for her unique, expressive fluidity and bold, delicate rendering, creating kinetic expressions across static surfaces. Exploring the mysteries of human nature, the movement of energies and the alchemy of emotion, White's work is an unending pursuit of the delicate harmony that exists in that sweet spot between order and chaos. Currently based in her hometown of Raleigh, North Carolina, White continues to travel and pursue solo and collaborative efforts to explore, grow and communicate her art.
Thank You To Our Sponsors