2016 Richmond Mural Project
July 11-22nd
2016 Richmond Mural Project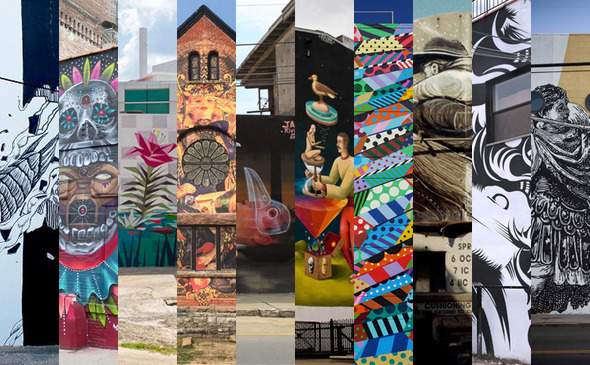 10+ Muralists. 2 Weeks. 20+ Murals throughout the City of Richmond
Art Whino returns to Richmond, VA for the Fifth installment of the Richmond Mural Project. This year marks we celebrate reaching our short term goal of 100 Murals. The short term goal was established to reach critical mass of murals in which visitor to Richmond to see the murals would not only take a weekend trip but several trips with the vast of murals spanning from the Fan to the VMFA. With 86 murals since the inception of the project, the roster of artists who have participated are some of the highest regarded muralists in the world. This year Art Whino will return bringing another 10 muralists for another round of murals and as in every year will bring a diverse mix of artistic styles to show a cross section of what is forefront of the mural world. Entering the fifth year and as we accomplish our short term goal we will continue with the project in subsequent years with the new focus now be the indefinite long term goal of having a collection of murals from muralist worldwide in one city. This collection of murals has establish Richmond as a landmark destination for worldwide recognized murals and creates exposure for the city, establishing it as a premier art destination for murals. By concentrating a large number of murals throughout the city the project will increase tourism and will bring the much needed "Feet on the Street" which will help local business thrive.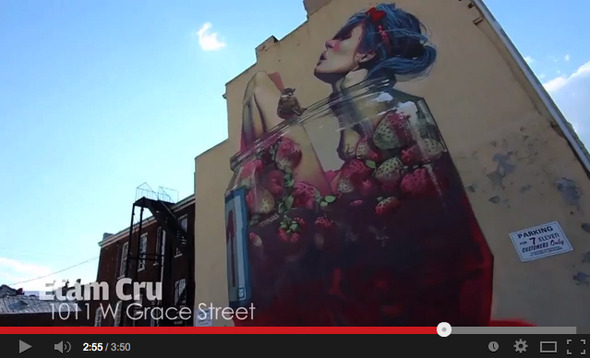 RICHMOND MURAL PROJECT INFO:



July 11- July 22nd

Muralist begin painting the week of July 13th and will finish their murals by July 24th


Mural Locations:
Various Locations
Locations listed here
Kickoff Reception July 11th 8-11pm
Come out and give a warm welcome to the muralists
Thirst & Fifth
Hilton Richmond Downtown
501 E Broad St, Richmond, VA 23219
RSVP Only event. RSVP Here
All ages event
Main Reception
July 16th 8pm - Midnight
Sabai
2727 W Broad St, Richmond, VA 23220
RSVP Only event.
RSVP Here
Dj Mic Murphy- Funk and soul
Dj Weirdsailboat- Obscure Boogie
DJ Williams- Acoustic latin hip hop
All ages event
100 Mural Celebration
July 21st 8pm - 11pm
Casa Del Barco
320 S 12th St, Richmond, VA 23219
RSVP Only event.
RSVP Here
Photo Recap of 5 years & Sign up to receive
the Richmond Mural Project Book
All ages event
For More Information
and to see last years murals go to
http://rvamurals.com/
2016 Mural Locations
Handiedan
168 s 15th st
No Longer there

Waone of Interesni Kazki
115 E Main St

Jacob Eveland
8 north plum st
521 n Adams
414 N. 2nd street

Jade
609 Idlewood Ave

Jason Woodside
807 Oliver Hill Way
3436 Ellwood Ave
Marka27
6 W Cary St
Naturel
11 S. Foushee Street.
Taylor White
2614 W Cary St
Vero Rivera
934 W Grace St
Asvp
2315 w main st
Art Whino Gallery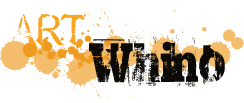 Art Whino is a DC based art gallery whose mission is to bring together the pioneers and freshest talent from around the world. With over 1200 artists in the Art Whino arsenal, ranging from California to New York, Germany to Japan and beyond, Art Whino has become an all encompassing force in the art world. Exhibitions cover the whole spectrum of new art forms ranging from exposing emerging stencil and wheat pasting artists to showcasing the most skilled leaders of many different genres.
http://www.artwhino.com/
RVA Magazine
- OFFICIAL CULTURAL & PRESS PARTNER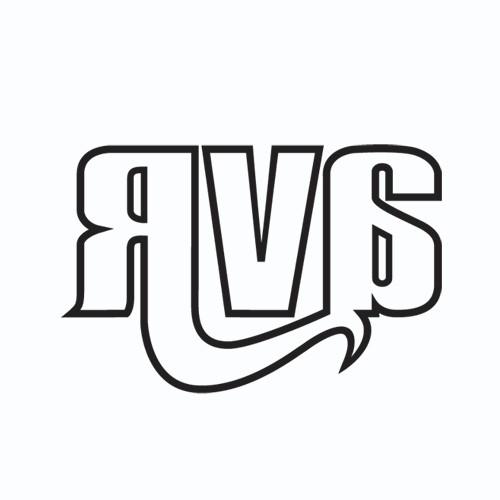 From day one (April 2005) we set out to lend voice to a subdued creative class of Richmond. RVA has succeeded in creating a brand that searches out the best artists, ideas, events, bands, photographers and culture-jammers Richmond has to offer and gives them a platform for exhibition that "gets" them. Access to talented and creative people is to modern business what access to coal and iron ore was to steelmaking. --Richard Florida, economist and author. In a city best known for it's role in the Civil War (insert eye-rolling here,) the battle to be bigger than our past has been formidable. For generations, city leaders have banked on the faded silver of dubious honors - Capital of the Confederacy etc, and ignored the 21st (and 20th) centuries. With world-class schools such as VCU growing organically on their own record of excellence, media giants like the Martin Agency cementing their footprint in our cobblestones, and Fortune 100 companies relocating to attract the hordes of creatives emerging here, Richmond is exploding. New construction and development is rampant in heretofore decaying downtown retail and nightlife centers.
http://rvamag.com/magazine

2016 Muralists:

ASVP
(New York)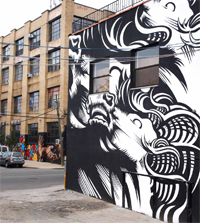 ASVP began working as a team in 2008, developing a unique, hand drawn, multi-layered graphic style, often marrying iconic eastern and western imagery with recurring nods to advertising, pop and comic book culture. Their work often includes messaging e.g., "We Can Give You What You Want," intermittently revealing the artists' dissent from commercial art. ASVP's work has been showcased internationally in auction houses and galleries, including Doyle New York's Street Art Auction and Doyle's Annual Contemporary Sale and most recently at the 2015 Art Basel Festival in Switzerland. ASVP has created outdoor murals in locations as diverse as New York City, Wicker Park, Chicago, Basel, Switzerland and Varanasi, India.
Handiedan (Amsterdam)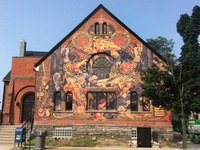 Handiedan's artistic universe revolves around some leading visual motifs and yet it amazes thanks to its complexity, both in terms of formal composition and in terms of the technique she uses for making them. These two aspects together determine the irresistible charm of her art. Undisputed protagonists of Handiedan's sculptural hand-cut collages, her vintage pin-ups immediately recall the burlesque genre. However if we look into them further many sources of inspiration are revealed: the Neo-Classical and Victorian ages, the Parisian Belle Époque, up to the 1940's and Post-War sexy imagery. But none of Handiedan's 'models' really existed. In fact each of them is composed through by assembling anatomical parts of different pre-existing images. The newly formed woman is the result of a complex layering process that gives to Handiedan's art a three-dimensional quality and makes a collaged bas-relief out of every work. Her cheerfully sexy creatures seem to lively bend in and out of their background.
Waone of Interesni Kazki (Kiev)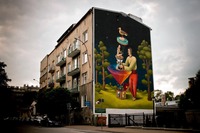 Vladimir Manzhos aka Waone started painting on the streets as far back as 1999. After several years of painting classical graffiti, as part of the Ingenious Kids crew in Kiev, he got bored of letters. In 2003 Waone teamed with Aec and shifted to visual storytelling, painting massive murals without letters and developing a fairy tale visual language. They formed a style of contemporary muralism with a transcendental, ethereal form of public art. In 2005 Waone and Aec established a duo, called Interesni Kazki, which means, "Interesting fairy tales." During the next 10 years, the guys travelled around the globe painting their colorful surrealistic large scale murals. Famous for their unusual and imaginative imagery, the wide range of characters, elements and symbols, and usage of bright colors and smooth gradients in their works have graced walls from India to Mexico and from Miami to Moscow. Vladimir has an interest in the spiritual and religious traditions of the world and cultures of ancient world. He has been learning the connection between art and spiritual traditions. Once, he even got ordained into an orthodox Christian tradition and studied yoga. Waone believes that art is one of the paths to perfection and divine worlds, and the main goal of an artist is to make the highest divine values understandable for the common man through art. Since 2016 Waone works as a single artist.
Jacob Eveland (Richmond)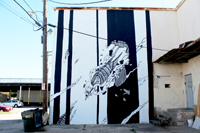 Jacob Eveland, has been based in Richmond Virginia since 2008. He spent over a decade growing up in his grandparents antique shop and living on the midwest land in Lebanon, IL. He has a love for animals and the natural landscape he lived on. He works in multiple mediums to show his story of a world that represents his past. Jacob creates pieces that stand for past experience in his life. He blends items and animals he grew up around to make something new.
Jade (Peru)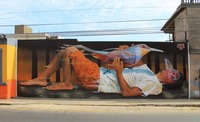 Jade was born in Junin, Peru (1983) and him and his mother moved to Lima when he was seven months old. He grew up in the district of Chorrillos, and went to the national school, where he got interested into art at the age of eleven. His growing interest in art motivated him to devote more time to drawing and painting and at the age of seventeen he intended to attend the Pre National Fine Arts School. However, he dropped out at the last minute to develop his work empirically. Since 1997,Rivera has directed his work as an autodidact and to date he insists on using painting as a reflection of what his perception daily absorbs and keep meeting again with it's Andean roots for the development of it's graphic style.
Jason Woodside (New York)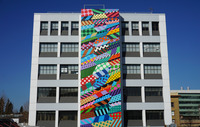 Jason Woodside is an artist living and working in New York City. Recent commissions and collaborations include Colette, Adidas, Saatchi and Saatchi, Faberge, We Work and Jeffery Deithch. Woodside's large scale exterior works grace wall in major cities including Paris, Los Angeles, Washington DC, Sydney and New York City.
Marka27 (New York)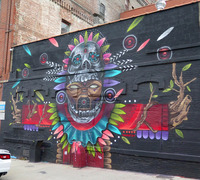 Born in Juarez, Mexico, and raised in Dallas, Texas, Marka27's foray into the art world began in the city's streets mastering the art of graffiti. Advancing to earn his BFA from The Museum School of Fine Arts in Boston, Massachusetts, Marka27 became a household name for his "audio canvas" series and elaborately executed installation art and murals. He has been featured in many lifestyle magazines/ books such as Graffiti Planet, Burning New York, I am Plastic Too and made the cover of "Flux-Designer Toys. Marka27's artwork has been exhibited in high end galleries through out the east and west coast such as, Gallery 1988, Think Space, La Luz de Jesus, The Mills Gallery Boston, and the Isabella Stewart Gardner Museum. His artwork has been shown along side established artists, Futura, David Choe, Ron English and Gary Basemen. Marka27 also sold artwork through the world renowned Freeman's Auction House. Marka27 has been commissioned to collaborate artistically by some of today's most well know brands such as, Levis, Pioneer, Scion, Converse, Heineken, VH1, Disney, New Balance and Kidrobot.


Naturel (Maryland)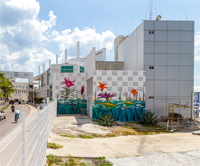 Lawrence Atoigue, professionally known as Naturel, is an illustrative based artist who's quickly emerging in today's postmodern scene. His futuristic illustrations have successfully blended methods of Pop and Cubism with a Surrealist vision. Considered an influencer himself with tens of thousands of Instagram fans, his talents have attracted the eyes and support of celebrity clients such as Rihanna, LeBron James, Spike Lee, Swizz Beatz and countless others. Born and raised in Prince Georges County, Maryland, Naturel'swork is deeply rooted within today's urban millennial community. After studying Graphic Design at Pratt Institute in Brooklyn, New York, he began a career as a Designer and Art Director for several notable fashion brands. Moving forward after 10 years of industry work, Naturel's craft evolved into the highly sought after fine art paintings and prints that followers are mostly familiar with today. Selling out his debut solo show at Poppington Art Gallery in New York, Naturel began to exhibit his work to much fanfare at gallery's from Miami to London. Shortly after his New york exhibition, the artist began painting murals at several invitational festivals such as Pangea Seed's "Seawalls" in Miami and Cozumel, Mexico, and the popular PowWow! Hawaii. Naturel's countless collaborative projects with brands like Crooks & Castles, Nike, Pepsi, Fiat and others, have all seamlessly brought together his foundation as a designer with his recently mastered fine artistry to make for exciting and successful campaigns and products.
Pat Perry (Detroit)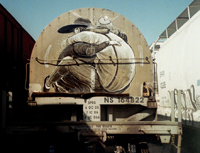 Pat Perry is an artist from Michigan who writes and makes pictures through careful and cautious observation. He works itinerantly, and is currently based in Detroit
Taylor White (North Carolina)

Taylor White was born in 1985 and grew up outside of Raleigh, North Carolina. Following a creative path that began early in life, White studied at the Savannah College of Art and Design and received a BFA in illustration in 2007. Pursuant to her degree White spent three years working as a storyboard artist for acclaimed Oslo-based advertising agency TRY/Apt, as the first and only full-time illustrator hired in a Norwegian agency at the time. Three years later she relocated to Australia to pursue painting full time, finding a certain spiritual renewal in traversing the textures of urban environments, and furnishing the streets and galleries of Melbourne with her uniquely haunting, expressive portraits of forlorn youth. White relocated to the US in 2014 where she works semi-itinerantly, basing her studio in Raleigh while she continues to travel and pursue opportunities to share her work.

Vero Rivera (Puerto Rico)
Vero Rivera was born in Puerto Rico where she currently lives and works. She always felt a great passion for visual arts but decided to study Interior Design. She obtains an associates degree in 2006 only to see she still felt the desire to study visual arts. In 2011 she completed her BFA in painting at Escuela de Artes Plásicas de Puerto Rico. She first entered the urban art scene working on a series of wheatpaste on abandoned buildings around the city, and then evolved into painting murals in 2013. With her work she tries to make people think of their surroundings and question themselves whether there is enough nature around us.


Thank You To Our Sponsors

Official Paint Sponsor for the Richmond Mural Project


Official Printing Sponsor for the Richmond Mural Project