Star Wars Dance Party
Saturday, December 19th, 2015 8pm-Midnight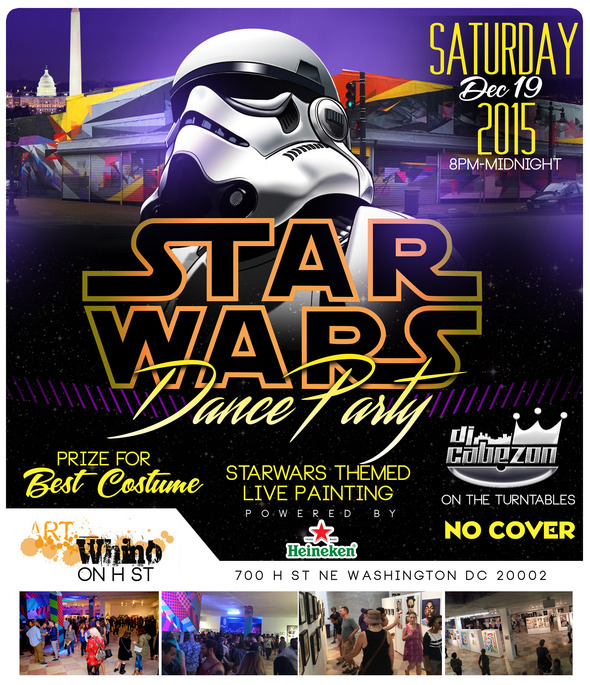 Storm troopers and Jedis from galaxies far and near rejoice for Art Whino's: Star Wars Dance Party! Show us your best moves as you traverse through our intergalactic 9000sqft terrain as we celebrate the release of the much anticipated movie. Grab a frosty beverage at Chalmun's Cantina while you watch Star Wars themed live painting. Come dressed as your favorite character and have a chance to win prizes. Already have your storm trooper outfit ready? Then get ready to capture your fun with a photo booth ready for you to take your memories as you continue your adventures to other galaxies.




Saturday, December 19th, 2015
8pm-Midnight

Location:
WHINO on H St
700 H St NE
Washington, DC 20002
DJ Cabezon on the Galactic Wheels of Steel!
Star Wars Live Screen Printing by Soul & Ink!
Donate today to help Soul & Ink fund DC's 1st mobile screen printing truck!
They have until January 5th to reach their goal.

Live Painting and Artwork by
Brendon Palmer
Christian Harrell
Fithi Abraham
Jacob Eve
Jacobe Noonan
James Walker
Jason White
JunctionXXL
Keyhan
Kevinbednarz
Jake eve
Mikey G
Nick Zimbro
Rodrigo Pradel
Shawn Yu
Superwaxxx
Tim Rodgers
FREE WITH RSVP!
RSVP Here http://goo.gl/forms/T7kpZ7LyXE