zombiefest 2014
Saturday November 1, 2014. 8:00pm - Midnight
A Zombie Art Dance Party to release your inner Zombie
To keep the Halloween spirit alive Art Whino is throwing a zombiefest to let your inner Zombie out. With two floors of music and an amazing line up of DJ's you will have no option but to join the fun. Embracing the spirit of the Zombie ambiance, dress code will require you to come in full zombie gear. Dont fret though if you need help, we will have a zombie factory where we will instantly transform you to a zombie at the event. We will also have a large group show with Zombie inspired artwork on display as well as live painting. Admittance comes with a complimentary zombie drink (Brain matter included)

Saturday November 1, 2014. 8:00pm - Midnight
Location:
Blind Whino
700 Delaware Ave SW
Washington, DC 20024
Located less than one mile from the US Capitol, within 4 blocks of 3 Metro Stations
Tickets:
This is a ticketed event. $30 at the door Advance ticket deal available at $15 which includes a complimentary Zombie drink. Purchase ticket HERE
DJ Oso Fresh spinning Old School Hip on the 1st floor
Congo Sanchez (from Thievery Corporation) will be spinning Funky Zombie Dance jams on the 2nd floor
800 Zombies, 2 Djs, Live Zombie Painting, Zombiefactory to make you a zombie from the walking dead make up artists.... You dont want to miss this!
Video of the Last Zombiefest we did! 800+ Hungry Zombies!

About Congo Sanchez
Still red hot from a rip-roaring 2013, Congo Sanchez hits the ground running this year, spreading his brand of hypnotic grooves from coast to coast. Recently you have seen him drumming for electronic music icons Thievery Corporation,Spinning DJ sets at ESPN's X Games, or curating sound for the Alexander Mijares Art Opening at Hoodlab San Fransisco. Congo has also been a D.C. mainstay as the drummer for See-I, and the ever popular 18th st. Lounge Reggae Night. Not to mention that the Congo Sanchez Live show has yet to leave an audience member void of perspiration. When he takes it to the stage, Congo features rapper/MC Flex Mathews, as well as vocalist Haile Supreme . The trio bring an energy that is unrivaled with their blend of Electronic, World, Hip Hop and Reggae. Congo, Flex, and Haile, have recently finished their second tour, where they played in markets from Portsmouth NH, to Portland OR, with 20 shows over the course of 4 weeks. Now back in the lab, Congo is putting together new material with the fellas and is gearing up for another big run this fall, following the release of his next project. You can catch Congo's DJ set every Friday at Tropicalia DC where he co-curates the Pura Vibra Fridays alongside his partner DJ Castro.
http://www.eslmusic.com/#!/artist-profile/congo-sanchez/
About DJ Oso Fresh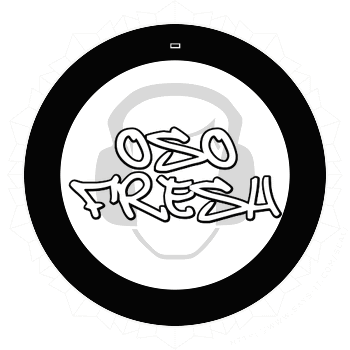 The first hip hop song I heard was "Rapper's Delight" by The Sugar Hill Gang shortly after I arrived in the United States in 1979. In the early 80's as B-boying (or breakdancing) started to get national exposure, my friends and I formed our own B-boy crew. We practiced after school for hours on end. We performed at all of our High School events. As I was always into art, it was easy for me to fall in love with graffiti art, as well. A DCU student named Frank Ski hosted an hour-long radio show called "Breaker's Delight", which turned me on to a lot of new music. I hadn't started deejaying yet, but I bought all my favorite records and recorded the music on cassette tapes, so my friends and I could listen to them while we practiced dancing. Soon, I was known as the guy with the newest music and was regularly asked to bring my records to local parties. In 1985, I met a Puerto Rican guy from the Bronx named Juan Ortiz, aka DJ Boom, who lived in my building and had his own deejaying equipment. I began to practice and when he moved out, he used to bring his equipment (one turntable, mixer, and a crate of records) to school and after school he would ride the bus to my house to set up and practice until i pieced together my own deejay set. I started making mixtapes and deejaying parties, but I was still too young to work in nightclubs. Finally, in 1993, I entered a deejay competition at a club called The Vault in downtown DC and came in second place. I didn't realize the club owner, Kommi, had been standing behind me during my set. He contacted me through the promoter, M.C. Bitch, a few days later and offered me a chance to play at the Vault on a regular basis.
One night DJ Palash, one of the best promoters in the DC area, stopped by, listened for few minutes and left. Later that night he asked me to do a guest spot at his party. I went on to play for his events at Down Under and Chicago's and eventually as a regular deejay at his club, the Chamber. I started working at a lot of clubs with a lot of promoters. One of my favorites was Josh Segman, who had the PUMP party at Spy Club, where I was the resident hip hop deejay for two years. I did a guest spot one night at party called "Pollen", a weekly rave style party in the 90's, which was held at the Edge night club in Washington DC. The promoters liked me so much that they made me the resident hip hop dj and i ended up staying for three years and joining the Pollen Family with Pejman, Sina, Chris Styles and Jimmy. Now I own over 35,000 records and the collection grows daily. I've come a long way since practicing with DJ Boom's turntables and I've met a lot of nice people along the way. I owe everything to a select few of my friends who gave me the support and encouragement I needed to continue and I'll always be grateful.
http://www.osofresh.com
Photo Slideshow of last Zombiefest