Art Whino and the Army of Snipers team up to bring "Weapons of Mass Change" a traveling group show to benefit humanitarian missions around the world. Bringing the eclectic mix of talented artists from the Army of Snipers and the driving force that is Art Whino, they come together to bring a 4 city tour of the who's who in the art world. Each artist will be transforming weapons which once was used to oppress the masses and deconstructing, re-skinning and transforming them as unique works of art in the vain of helping humanity. The pieces ranging from handguns to armored vehicles will be sold with 20% of all art proceeds going to the "Sniper Campaigns" which are humanitarian missions throughout the world with the very own army of sniper members. The first sniper campaign currently underway is the Little Lotus Project
http://littlelotusproject.org/
in the Thai/Burma border and with the funds raised many more campaigns around the world to follow. The traveling show will be begin in Richmond at the G40 show in April, San Diego Comic Con in July, New York Comic Con in October and Art Basel in December. Each city stop will expand its arsenal of artists on exhibit to bring throughout the United States a relentless exhibit of amazing artists.
Weapons of Mass Change Show Schedule:

Richmond, VA
April 6th, 2012
G40 Art Summit
New York City, NY

October 12th, 2012
During New York Comic con
8pm-2am
Miami, FL
TBD
During Art Basel Miami
Art Whino is a DC based art gallery whose mission is to bring together the pioneers and freshest talent from around the world. With over 1200 artists in the Art Whino arsenal, ranging from California to New York, Germany to Japan and beyond, Art Whino has become an all encompassing force in the art world. Exhibitions cover the whole spectrum of new art forms ranging from exposing emerging stencil and wheat pasting artists to showcasing the most skilled leaders of many different genres.
We are the
Army of Snipers International
, a crew of artists spanning the globe, picking our creative targets and hitting them without fail.
Started by Aaron "Angry Woebots" Martin in 2009, AOS was originally a collective of top-tier artists that he had met through his various travels around the world. As Woes invited more like-minded creatives to join his crew, the mission and purpose of the Snipers started to evolve as well.
Now with members spanning the globe from countries like the US, Singapore, Italy, Scotland, Cambodia, Switzerland, New Zealand, Malaysia and more, the collective goal is to bring our individual talents together, coalesce them into an unstoppable artistic force, and use it to spread art and do good works all over the world.
The roster of artists committed to this goal bring a litany of skills to the table, from graffiti, to painting, to sculpture, filmmaking, to animation, to photography and beyond, so that no project is insurmountable for us to handle.
Whether we are painting 5 story buildings, making customized sculptures and toys, organizing humanitarian missions, helping companies find that creative vision or creating the next level of fashion and gear, there is only one goal in mind when it comes to hitting our creative targets:
One Shot. One Kill. Never miss. We are the Army of Snipers
Scribe's Weapon of Mass Change
Participating Artists
Adrian Viajero Roman (New York)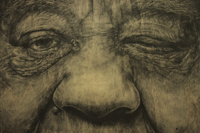 Adrian Roman is a mixed media artist focusing primarily on sculpture and drawing. His paths in life have been dedicated to the pursuit of simultaneously exposing himself to a wide range of learning experiences and cultures and sharing that information and knowledge with those he encounters. Exploring his search for identity and assimilation in the face of cultural differences and the impact it has in the reflection of a people. His work demonstrates that one's life is nothing more than a voyage of infinite possibilities. Through our travels, we stop briefly to meet, love and share encounters with one another; however precious, these moments are transient and serve as vessels to influence the lives of others.
Andrew Bell (New York)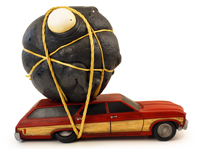 Andrew Bell was born in England in the waning days of the rip-roaring 70's. As a wee lad he packed a lunch and headed for the U.S.A. to pursue dreams of monster truck racing and professional skateboarding. Having failed in these endeavors, Andrew now lives, works, and slowly absorbs industrial waste in Brooklyn, NYC. From his shelter he operates Dead Zebra Inc, producing artwork and projects such as 'the Creatures in my Head'. His work straddles the line between the humorous and the grotesque, and is often accompanied by underlying social commentary. He has been featured in publications from the New York Times, Wired, Kidrobot, MTV, Juxtapoz and more.
Angry Woebots (California)
Army Of Snipers Leader

Aaron Martin was born on the island Oahu 1977, Hawaii. Most of his childhood was spent growing up and moving from Southern California to Nevada before finally landing back into Hawaii during his Junior year in high school. In 1999 a car accident changed everything; this life-threatening experience inspired him to leave the island once again, this time to Seattle, Washington. Inspired by the rain and being indoors, he started playing around with different art mediums again. He then left back to Hawaii with a new perspective, Aaron had his first show in 2002 and has not stopped. He has showed in galleries up and down California, the east coast, and even in shows that have traveled from the U.S. to Hong Kong. His focal medium is acrylic paintings on wood and canvas. Using minimal colors and detailed character design, these paintings are usually comprised of stressed out emotional pandas. The pandas tend to represent the story of struggle.
Bibichun(Malaysia)
Army Of Sniper Member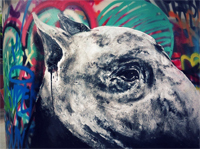 Khor Zew Wey or more known as Bibichun, is currently one of Malaysia's most prominent street artists. He majored in Graphic Design at Tunku Abdul Rahman College, graduating with a Diploma in Mass Communication in 2005. Since then he has completed several commission projects and taken part in exhibitions and live events in urban centers all over Malaysia. Bibichun has participated for the mural painting of the Malaysian Pavilion at the Shanghai World Expo in PR China in 2010. His works also form part of graffiti collections of the National Art Gallery.
Boosher(Switzerland)
Army Of Sniper Member
Boosher was born in 1978 in Geneva, Switzerland. She is an artist and dolls killers who use pens, brushs, acrylics, butcher knife and darning needle for draw a universe inspired by memories of childhood, nightmares, and chimeras. Through them, she create monsters as cute as mutilated and a strange world who « invites you in for a joyride along the razor-blade
Brendan Tierney (California)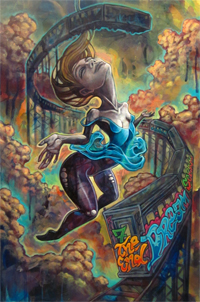 I was born in the magical land of New Jersey. Ever since my mother gave me my first set of crayons and then proceeded to cover her walls and furniture with imaginary creatures; I have been expressing myself with visual art of all sorts. From graffiti, to punk rock album covers, to fine art galleries, I have scrawled my way across the country. I started tattooing eight years ago, and love to do big, colorful, unique pieces that I sit down and design with each client until they know they can live with it for the rest of their lives.
Caia Koopman (California)
From the land of surf and sea, Caia Koopman has emerged as one of lowbrow's preeminent female artists. With a well-rounded background from her years spent obtaining her BA in Fine arts from UC Santa Cruz, to her time spent in the skateboarding and snowboarding scenes, Caia's environment has both molded and provided an eclectic background that makes her paintings come to life. With her fine detail for beauty, inclinations toward nature, and collectiveness of the female spirit, Caia has quickly become one of the quintessential artists fully encompassing the elegance, strengths, and vulnerabilities of femininity.
David Flores (California)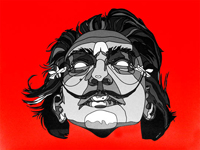 Flores is best known for his self proclaimed "Stained Glass" or mosaic or segmented style. The impact of Flores' graphic style comes in its ability to allow the viewer to reinterpret a popular image they already have associations with. Flores' murals, acrylic paintings and sculptures have many iconic images, including images of late artists such as Andy Warhol, Salvador Dalí, Jean-Michel Basquiat and Robert Crumb.
Ekundayo (California)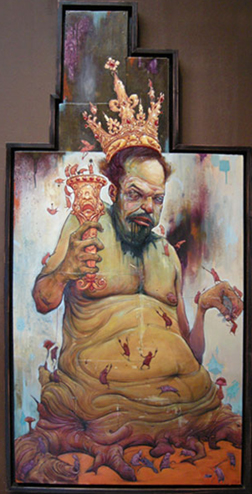 Ekundayo (Dayo) was born in Honolulu, Hi, in 1983 where he lived with his mother and father until the age of five when his mother and father could no longer get along. Ekundayo's father snuck him out of the state without his mother's knowledge, and for seven years Ekundayo and his father moved from place to place living a life on the run. Meanwhile in her desperate need to find her son, Ekundayo's mother helped start Hawaii's first clearing house for missing children. The life on the run ended in 1994 when his father moved to California with Ekundayo's sister because his father was dying from cancer. In early 1995, Ekundayo's father passed away from lung cancer; Ekundayo was eleven…

Ekundayo lived with his sister, brother in-law, four nieces and his sister's mother in a small three-bedroom and one-bath house in Pacoima, Ca. It was in this house at the age of 13 that Ekundayo discovered his love for art. After being involved in school fights, stealing and hanging with the wrong people, he was suspended from school. One day while in the garage, he found one of his uncle's black books. This uncle wrote for a graff crew in L.A. called C.H.B. This book completely changed Ekundayo's life. He became obsessed with drawing and copied every single page in that little book. Meanwhile, the Dept of Justice had located Ekundayo at his sister's home and returned him to the custody of his mother. Ekundayo went back to Hawaii to live with his mother. His drive to create didn't stop, and the encouragement from his family only fueled that ambition. Shortly after graduating high-school, Ekundayo moved back with his sister and brother in-law in much more spacious accommodations. He attended Pierce College in Winnetka, Ca, where he practiced his craft and worked on his portfolio until 2003 when he was accepted into Art Center College of Art and Design on a scholarship. Although the teachers he studied under and the friends he met while going to Art Center were priceless to his development, Ekundayo dropped out after completing his foundation courses in order to create his own path in the fine art world. He combines both subversive graffiti aesthetics in combination with art-historical erudition using acrylic, gouache, watercolor, ink and various carving techniques. Ekundayo's work expresses the struggle of life and how those struggles and burdens can either inspire us to change in a constructive way or weigh us down by our own inability to change.
Fernando Frederick Roman (New York)
Fernando Frederick Roman was born in 1969 in Brooklyn, NY. He studied at and became a member of the Art Students League. Fernando combines a variety of mediums in his sculptures- paint, recycled woods and clay, fallen branches, silk screened fabrics, photography, metals, stones, etc. His work has been displayed in the New York Public Library and sold on the private market and in retail stores throughout New York and Florida. Fernando has had many inspirations for his work throughout his life; however from early childhood his mother provided him with the most motivation behind his artistic abilities. She instilled a deep sense of appreciation for the art of life, its diversity, and how to find the beauty in every element. He sees nature and life as an art form - from the clouds in the sky to the cracks on the ground. Fernando's current work is an inspiration of organic elements. He has taken his appreciation for the wonder and beauty of nature and replanted it into something new that can eternally live on. Each piece is a one-of-a-kind original. His work includes clay and paint mediums with added elements of nature found through his travels of Europe, Latin America and the United states such as roots from a nonliving plants or fallen branches from a tree, seeds from exotic trees, semi precious stones for their healing properties, and rocks from the ground. He has joined many of these elements into single artistic creations which can each be admired from very different perspectives.
Graham Franciose (Texas)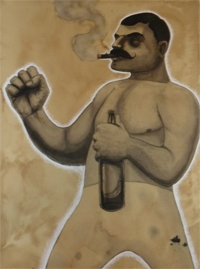 Relatable and honest, Graham's works are some of the most gentle, yet emotionally evocative works ever featured at Art Whino. His imaginative illustrative paintings are small in size and big on emotion, each depicting its own little narrative, often dreamily reminiscent, reaching deep into the human condition and showing us all little pieces of ourselves along the way. "A lot of my work deals with the quiet moments in a story, between the excitement and action where characters deal with internal conflicts, doubt, loneliness, wonder, apprehension. My work often comes across as sad and melancholy, but there is always a sense of hope that I am trying to portray." Graham Franciose graduated with a BFA in Illustration from the Hartford Art School in 2005. He has exhibited his work for the last five years across the United States and has been published in various art publications and children's educational books. When he is not painting he is probably riding his skateboard, rolling skeeballs, spending time with his girlfriend, or wishing he was doing any of those things.
Huck Gee (California)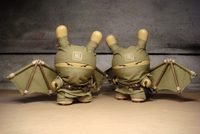 A UK native, Huck Gee is a contemporary artist, illustrator, toy maker, and designer best known by toy enthusiasts for his iconic "Skullhead" character and "Gold Life" art creations. Heavily influenced by Japanese and Hong Kong pop art, Gee calls his style "Bastardized Asian Pop Culture". The demand for Huck's Custom Toy Art and illustrations has grown quite immense, with small runs of hand crafted Art Toys and original prints selling out in seconds online and shipping to art collectors worldwide. Huck's works have been exhibited in galleries worldwide and in 2007 his "Hello My Name Is" 8" Dunny was accepted into the permanent collection of the Museum of Modern Art in NYC. In addition, Huck has also consigned several pieces for one of the world's leading fine art auction houses: Christie's Auction House.
Hugh Lee Man (California)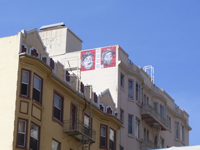 Hugh Leeman is a self taught, San Francisco based artist. His gallery work has been exhibited in New York, San Francisco and at The Museum of Mexico City. Recognized for his gallery portraiture which captures in raw emotion the lives of his subjects whom he meets on the inner city streets, though best known for his street art which has adorned walls from Varanasi, India to Indiana and from New York, London, and the divided Palestinian Territories to Bogota, Colombia. Most recently Leeman created the first ever MLK mural overlooking his historic birth house. His subjects, often marginalized by society, are recast into potentially heroic roles before being pasted all over the world. His street art has additionally evolved into the "t-shirt project" in which he gives back to his subjects by printing his art onto shirts which they sell and keep 100% of the profits from.
J★RYU (North Carolina)
Army Of Sniper Member

J★RYU, AKA the Purdy Supremacy, is an east coast-based designer/sculptor/artist focused primarily on exploring the themes of life and death and more intriguingly, what lies beyond. Primarily recognized for his signature Forest of Sorrows series, with its emotive, eerie and ghostly themes, J★RYU has garnered an avid fanbase of fans who eagerly look forward to seeing each subsequent new piece and how the accompanying narratives add to the ongoing story. In his career, J★RYU has worked on projects for clients such as Marvel Ent., Sony Ericsson, Wonderbra, AT&T, NCAA Final Four, Columbia Pictures, TOPPS, Mia Hamm, Michael Crichton, IBM, Slim Jim and more and has shown in Los Angeles, San Francisco, San Diego, Sacramento, New York, Nebraska, Washington DC and Miami. He is a proud member of the world famous Army of Snipers as well as TEAM PIKA and OLS crews.
James Walker (Virginia)
…..I never made a conscious decision to become an artist, it's something I've always done for as long as I can remember. I take pictures and draw and paint and collage debris and objects as intuitively as possible and I've never specialized in anything except making the best art that I can. Real artists don't have a choice about making art, it's simply a matter of satisfying an insatiable urgency to create…..
Jason Limon (Texas)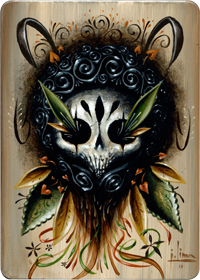 Jason Limon was born in San Antonio, Texas, where he continues to reside with his wife and two daughters. In early 2007 he moved from a twelve year career in graphic design to painting and illustrating full-time. He has had a recent solo exhibition at Bold Hype Gallery in New York city and has exhibited work in galleries across the U.S. and in parts of Europe. His art has been published in a variety of publications and have received awards and accolades from Communication Arts, American Illustration, Society of Illustrators of Los Angeles, Print Regional and Graphis Design Annual.
Jeremiah Ketner (Illinois)
Jeremiah Ketner's paintings are instantly recognizable amongst his contemporaries in the pop surrealism movement. His early work, characterized by mischievous sprites and whimsical patterns, has evolved into lush, richly colored environments inhabited by a cast of pensive, dreamy young women. Each character presents a unique brand of beauty, created entirely within Jeremiah's imagination and painted completely from memory. Jeremiah's pop culture-inspired style and unconventional creations have a traditional foundation. With his family's encouragement, he began formal art studies at the age of 12. He holds a BFA from Columbus College of Art and Design and an MFA from Southern Illinois University. Jeremiah's paintings and toys have been featured in solo and group exhibitions in more than 50 galleries across North America, and he's acquired a strong international following through his dedication to the Internet and social media.

Jim Mahfood aka Food One (California)
Jim Mahfood aka Food One is a freelance artist working professionally in the fields of illustration, advertising, comic books, murals, fine art, animation, live art in nightclubs, and custom body-painting. He has worked for every major comic book company and his illustrations have appeared in such publications as Playboy, Spin, Spectrum Illustration Annual, Star Wars Gamer, URB, the Hollywood Reporter, BPM, the Phoenix New Times, Mad Magazine, Heavy Metal, and more. Highlights of his career include illustrating director Kevin Smith's "Clerks" comics, handling the art chores on the entire ad campaign for Colt 45 malt liquor in 2007-08, painting the murals on Comedy Central's "Sarah Silverman Show", illustrating the "Kickpuncher" comic book that was included in the Season 1 DVD of NBC's hit show, "Community", illustrating and art directing reggae legend Ziggy Marley's "MarijuanaMan" project, and providing custom car art for Nissan's new "Juke" Artist Series. His current project is illustrating the new Tank Girl graphic novel, due out in 2012.
Joe Iurato (New Jersey)
Once upon a time Joe Iurato worked as a magazine editor in NYC, where he'd escape into the streets of SoHo during lunch break to explore the art and occasionally contribute some of his own. At the time, stenciling was more of an obsession than a passion. Like every other moment in Joe's life when his desire to create art was challenged by a strong, "responsible" work ethic, the latter prevailed. But as fate would have it, the two worlds collided after Joe was laid off last year. While the economy fell to pieces and decent jobs were scarce to come by, Joe used every bit of his free time to let his art out and grow creatively. He now applies that same work ethic into developing his craft. While he's usually found in his garage painting on reclaimed cabinet doors and scrap pieces of wood, he also enjoys painting in the street, where his work is tagged with the name :01. He doesn't use it as a means to hide his identity – it serves as a reminder to him, and he hopes as a message to others, that it only takes one single second to decide you're going to move forward, regardless of circumstance or struggle, and never look back.
Jophen Stein (California)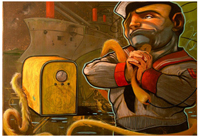 Jophen Stein is a graduate of the Laguna College of Art and Design. After establishing the Snootson family showcase in 2004 his distinctive style has gained national recognition over the past couple of years. Despite the minor set backs of being banned from Idaho and Iowa Jophen Stein continues the SFSC series from his studio in Pomona.
Josh Taylor (California)
JOSHUA TAYLOR was born in New Jersey and continued his downward trajectory in hellish locales in up-state New York and North Carolina before honing his art skills at Pratt Institute. Upon earning his degree, he traversed the country, from California to Vermont, pursuing his art career. His fine art has appeared in galleries in LA, NY, Europe, and the Philippines, and has also been featured in various publications worldwide. Taylor's current body of work focuses on the history, myths and legends of his "Gastonian Multiverse", an odd ancient doppleganger reality where the laws of physics and the very fabric of time and space are falling apart at the seams. He currently resides in Baltimore where he paints, pays for parking, and works on a series of graphic novels and web comics entitled Bird & Girl.
Julie West (California)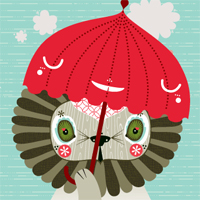 American born and UK-based artist Julie's West creates sweet and otherworldly female characters that have been accurately described as a cross between a robot and a Russian doll. Birds and bees also turn up constantly in her work (literally, rather than in the naughty sense), though we do wonder if she's trying to tell us something… Julie has also produced her characters Bumble and Tweet as vinyl toys for STRANGEco (complete with magnetized birds and bees), made embroidery patterns for Sublime Stitching and her work has appeared on Flow snowboards, Jansport bags and in Wired and Complex magazines.
KaNO(California)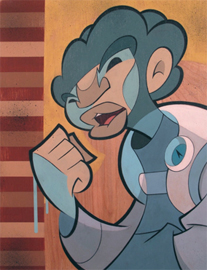 Born and raised on the streets of New York City, kaNO now makes a living as an illustrator, designer and animation artist. From the silver screen to billboards and even on to toy shelves across the world. kaNO is a jack of all trades.With up to 10 years of experience as a commercial artist, he now focuses on creating urban content for his company kaNO kid, LLC. His clients include: ASPCA, Nike, Jordan, Upper Deck, Disney and Hasbro to name a few.
Keithing (New York)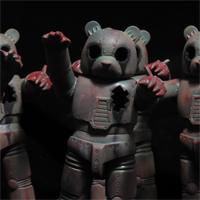 Keith Poon AKA Keithing , is a New York based artist. Born in Hong Kong and moved to NY at the age of 16. Keith has worked on several toy design projects over the years. He has collaboratively worked with Futura Laboratories, 360ToyGroup, Tokidoki, Frank Kozik, Huck Gee and KaNO to name a few. He has worked with various popular artists in promoting their toys and designs too. His projects were influenced by his passion for aquatic life therefore created his vinyl toys based on them. In 2009, besides making his toys he had also started to take commissions in customizing figures, his "Sharky bite mark" is one of his signature you can find from his customs.
Kelly Denato (New York)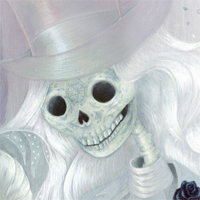 Kelly Denato has been working professionally in illustration and animation for more than 6 years. Her work has spanned from character and background design to album artwork, comics, and children's books. Currently, Kelly is focusing on painting, character art, and plush toy design. Kelly lives and works in Brooklyn, NY
Lamour Supreme (California)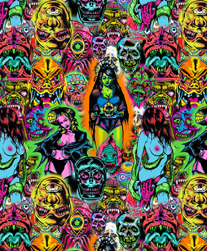 Lamour Supreme is currently working as a freelance artist and designer choosing various types of mediums ranging from vinyl toys to large moving 3d objects to convey his message. He also works as an architectural designer . His current base of operations is the MiSHKA ware house in Brooklyn, NY. Lamour Supreme's list of clientele includes Nike, Mishka, Super 7, Major Lazer and Scion.
Lou Pimentel (New York)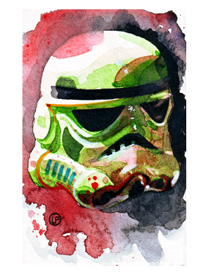 Lou Pimentel is a multidisciplinary artist based out of New York City. Born in Santo Domingo, the heart of the Dominican Republic, he and his family made the move to Florida when he was four years old and subsequently settled in Brooklyn five years later. Having started drawing at age four with the help of his father, he eventually found inspiration in his teenage years from the pages of comic books and the vibrant street art scene of his adopted city. However, not satisfied with relying soley on his self-honed skills, Pimentel applied and was accepted to the prestigious School of Visual Arts in NYC, where he earned his BA in Illustration. Upon graduation and now armed with the techniques of the old masters but still retaining the indelible influence of street and pop-art, his work is a visual outpouring, reflective of the inspirations that guide his life - his daughter Maddie, cartoons, graffiti and the art that surrounds us in our every day lives. No matter what the medium, whether it be oils, acrylics, spray paint, water colors and sculpting, Lou takes pleasure in utilizing whatever methods necessary in order to convey his artistic directions. Recent projects include artist sketch cards based on Lucasfilm's Star Wars series via Topps Trading Cards and collectible toy designs for myplasticheart, a NY-city designer toy institution, shop and gallery.

Luke Chueh (California)
Army Of Snipers Member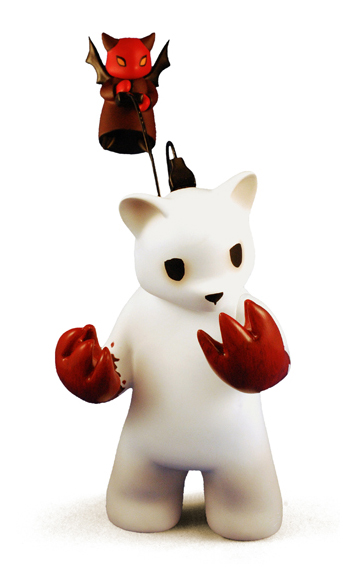 Born in Philadelphia, but raised in Fresno, Luke Chueh (pronounced CHU) studied graphic design at California Polytechnic State University, San Luis Obipso where he earned a BS in Art & Design (Graphic Design concentration). He was employed by the Ernie Ball Company, working in-house as designer/illustrator where he created several award winning designs and was featured in the design annuals of Communication Arts and Print Magazine. Meanwhile, he also created, produced, wrote, designed, edited and published "E.X.P.", a 'zine dedicated to the "Intelligent Dance Music (IDM)" genre. In 2003, Chueh moved to Los Angeles to further pursue a career in design. However, a lack of employment opportunities left him resorting to painting as a way to keep busy (a hobby he picked up while attending Cal Poly). He got his start when the Los Angeles underground art show, Cannibal Flower, invited him to show at their monthly events. Since then Chueh has quickly worked his way up the ranks of the LA art scene, establishing himself as an artist not to be ignored. Employing minimal color schemes, simple animal characters, and a seemingly endless list of ill-fated situations, Chueh stylistically balances cute with brute, walking the fine line between comedy and tragedy. Chueh's work has been featured in galleries around the world, and some of his paitnings have also been reinterpreted into vinyl toys.
Mathew Curran (North Carolina)
Army Of Snipers Member
Mathew Curran received his Bachelors of Fine Arts in Art and Design at the University of North Carolina at Greensboro. Curran is best known for his elaborate and large scale stencil work. He sites street art and graffiti from around the world as major influences. Recent gallery shows include NCNC at SECCA in Winston Salem, North Carolina;Divergence at North Art Space in Jakarta, Indonesia and Fat Cap Gallery in Sao Paulo, Brazil. He has a mural currently on view at the North Carolina Museum of Art in Raleigh, North Carolina and Gallery AM in St. Louis, Missouri.
Meggs(Australia)
Initially recognized for his multi-layer street stencils and posters, Meggs has become a well respected member of Australia's street art culture. With a background of graffiti, skateboarding, heavy metal and graphic design Meggs has developed his painting skills from street to galleries with a mixture of aerosol based character work and stencil based expressive canvases. Being a member of the renowned 'Everfresh' studio, a unique collective/studio space in Melbourne, has helped Meggs to develop skills in aerosol painting and screen printing and participate in numerous large scale solo and collective Everfresh mural works. He has recently applied his design knowledge to the art direction and production of the Everfresh:Blackbook, a 256 page book, documenting the life and works of the Everfresh artists from 2004-2010.
Nathan Spoor (California)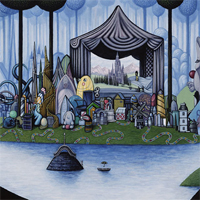 Nathan is an artist and writer living in Los Angeles, CA, whose work is highly regarded by several prestigious collections and publications worldwide. Spoor's paintings involve images of transition and growth; fluid narratives that chronicle a world rich with the mystery, joy, pain, and delicate balance of personal and spiritual evolution. Believing that continuous study of technique and process are critical to his own growth as an artist. No image or canvas is too precious to wipe, repaint, and even burn on his own journey to discovery and expression. In this way, Spoor makes a personal and transformative connection with each piece that for him lives on beyond the finished works.
Pixel Pancho (Italy)

Army Of Sniper Member
Pixel Pancho was born in Turin Italy in 1984. As a child he found interest in color and form, thanks to his grandfather, an occasional painter. Pixel always has had a passion for art and design and knew that this would be part of his life since the beginning. In 2003, he inscribed at Albertina Academy of Fine Arts School in Turin, after two years he transferred to the Academy of Fine Arts in Valencia where he is to obtain his degree this year. His years in the School of Fine Arts has led him to the world of design, graphics, and above all the graffiti and street-art scene. Pixel's studies and his determination for experimenting with different mediums opposed to the classic formula of the academy made him stand out from the others, as he followed his passion for using spray cans and marker and working on out door surfaces opposed to the classic paper and canvas. Traveling between his hometown of Torino and Valencia Pixel Pancho took every occasion to be noticed on the streets, using different mediums such as tiles, wall painting, sticker/poster art, etc. Like every artist Pixel Pancho has been influenced by many different artists of the past and the present, such as the historic painter Joaquin Sorolla, the surrealist Salvador Dali, the political painter group El Equipo Cronica to the more modern Ron English, San and Takashi Murakami. Traveling to countries such as Paris, Amsterdam, Warsaw, Vienna and many others for graffiti jams and expositions in galleries has made it possible for Pixel Pancho's style to evolve from the simple Robot character to the more complex compositions that we can see in his work today. Pixel Pancho moved back to Turin in 2010 and has opened his first painting studio where he produces his art works. There is a lot to be expected from this young and motivated artist, the work of Pixel Pancho has just begun
Ritzy Periwinkle (California)
Army Of Sniper Member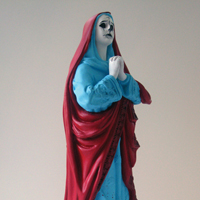 Ritzy Periwinkle is a Los Angeles based cross media visual artist/designer/dreamer on the hustle and grind. Working in Illustration, graphic design, mix media and designer toys, Ritzy compliments her gritty stylistic tendencies with a positive vibe that is attributed to her eclectic influences and unique background.
Scribe (Missouri)
Army Of Sniper Member
Donald Ross also known as "scribe" is 36 years old and currently lives in Kansas City, Missouri of the United States. The animated, public murals by Scribe are readily recognizable in Midtown Kansas City and throughout different part of the United States, Canada and down into Mexico where he has both painted murals and had gallery shows. Scribe incorporates a menagerie of animal characters developed over many years representing a particular, self-referential trait that he inserts in various scenarios. Scribe intersperses personal iconography, biblical and fairytale references, animation and metaphor in works intended as contemporary parables for public audiences, hence the use of his artist name and persona. Through accessible idiom and image, Scribe incorporates humor and play in the conveyance of serious messages regarding personal integrity, attainment of knowledge, and adventure.
Sheryo (New York)
Army Of Sniper Member
Sheryo paints imperfect gnarly characters that are calming to disoriented souls, and might cause skitter skatter explosions in the brain...
Sket-One (California)
SKET-ONE is a visual artist with an old school urban background. A Connecticut based graffiti artist and founder of the Bode Jam, Sket One, has designed toys for such toymaker heavyweights as Kaching Brands, MINDstyle, Kidrobot, Wheaty Wheat, Red Magic, Circus Punks, and more.
Skinner (California)
Skinner is a self-taught artist from Sacramento, California who has meticulously crafted a balance of extraordinary mural work, mighty powerful wall to wall installations and a prolific commercial career. Influenced by 80's pop culture, human struggle, myths and violence dungeons and dragons and the heavy metal gods, Skinner's mind is one full of mayhem fueled by a calculated chaos. His work has been shown all over the Universe at places like the museum of graphic design in Breta, Netherlands, Japan, Illustrative festival in Berlin, Germany, France and the states from LA to New York and in between…recently participating in the epic suggestivism show at the Grand Central Arts Center. His most recent solo exhibit entitled The Fear You May Know reigned at the White Walls Gallery in San Francisco in the summer of 2010. Skinner's work has made known in various publications including Blisss, Juxtapoz, Hi Fructose and Beautiful/Decay.
Stella Im Hultberg (New York)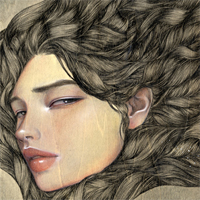 Stella Im Hultberg is a painter living and working in Brooklyn, NYC. Born in South Korea, raised in Seoul, Hong Kong, Taiwan, and later in California, she studied Industrial Design and worked as a product designer before serendipitously falling into the art world in late 2005.
Tatiana Suarez (New York)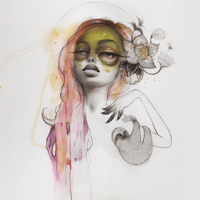 Tatiana Suarez (b. 1983) is a Brooklyn-based Miami native. Her charming style is distinctive -- first, the trademark eyes that draw the viewer into a beautiful and surreal world. Suarez takes full advantage of the oil paint's ability to create creamy, soft images on canvas. Rich with symbols that stem from her Brazilian and El Salvadorian heritage, subjects appear as if they are under water, frozen in lovely stillness. The doe-eyed figures look childlike, but also exude sexual overtones, ornamented with plants, insects and other unsettling accompaniments. Beauty is presented concurrently with exotic -- even creepy -- creatures to create enchanted narratives.
The Yok (New York)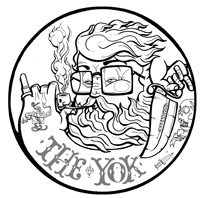 For some years now, the droopy eyes and twisted mustaches of Yok's black-lined characters have been staring aimlessly from Australian alleyways, zines and gallery walls. These intriguing Characters are not only infamous Down-Under, but also around the globe. You have to like their freshness, charm and clean style.


They (Malaysia)
Army Of Sniper Member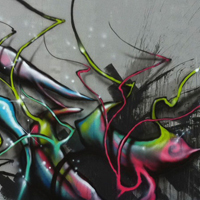 THEY (b.1982) Graffiti Artist has been active in graffiti scene in Malaysia since 1999. The crew member of international Crew- AOS ( Army Of Snipers)
He actively collaborates in locally and international Graffiti shows, Art Exhibition and Art Tour Project. He has painted a gigantic artwork for Malaysia Pavilion rooftop project for Shanghai World Expo 2010 in China and his mural and painting artwork is permanent collection of National Visual Art Gallery.
Tim Maclean (Scotland)
Tim Maclean is an artist from the Highlands of Scotland. He creates surreal paintings which explore the mystery of consciousness and how it is shaped by language and culture. Focus is placed upon our everyday conceptions of the mind, along with past and present discoveries in psychology and neuroscience and how we engage with these to better understand ourselves. The otherworldly environments of Tim's paintings are populated with characters and figures inspired by the ages of history, pop culture and myth, among others and his own unique imagination supplies the rest.
Ursula Xanthe Young (California)
Over the past fourteen years Illustrator, Painter and Designer Ursula Xanthe Young has become known for her unique flowery urban fairytale illustrations. Graduate of Parsons School of Design (Illustration, BFA, New York 1996) Ursula exhibits frequently in the bay area and has sold paintings in New York, London, Singapore, Manila, Hong Kong and all across the U.S. Ursula finds inspiration in the organic yet urban landscape of San Francisco and its surrounds; the crossed wires, victorian buildings and fog-filled horizons, that are oft backdrop to her brightly painted doe-eyed flower girls. She is also highly influenced by her frequent travels to the far-flung reaches of the globe and the variety of colorful characters that she encounters - both real and imagined - along the way. Due to her love of electronic music since the early 90's, and the culture that surrounds it, Ursula's art can be seen on CD & record covers of dance music labels including Om records, Safe In Sound Music, Loveslap recordings, 2 Block Radius & Panhandle records. Along with murals, apparel & club flyers, her art can be spotted in magazines & ipod covers and in boutiques across the city of San Francisco and beyond. Originating from the green rural dales of Northern England, Ursula has spent much of her time since then traveling and has studied art in New York City, Florence, Vermont, Oslo, and London. After ten years making her mark in the Lower Haight neighborhood of San Francisco, she recently relocated to the Sierra Nevada foothills of Northern California - this time to a remote spot in the forest - where she's busy finding a whole host of new inspirations.